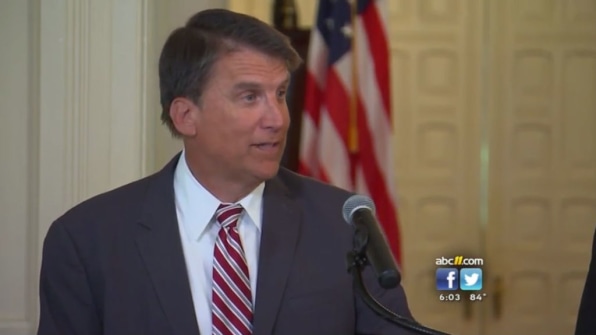 The idea of police body cams was to increase transparency and accountability in a time of growing police violence—wasn't it? North Carolina governor Pat McCrory signed a bill today allowing law enforcement agencies in his state to withhold body cam and dash cam footage from the public, unless the requestor comes with a court order. McCrory says raw footage of police scenes can be misleading. "My goal is to protect those who protect us," he said at the signing of the bill Monday. 
The ACLU, naturally, isn't very happy about it: "These barriers are significant and we expect them to drastically reduce any potential this technology had to make law enforcement more accountable to community members," said ACLU North Carolina attorney Susanna Birdsong in a statement.
The timing of the passage of the bill speaks volumes. It comes just after the bloodiest week on record in relations between police and citizens, and as the national debate over unnecessary police violence —especially against black men—reaches a fever pitch. 
McCrory attracted national attention last March after signing HB2, a law that requires transgender people to use public bathrooms or locker rooms that are labeled the same gender as appears on their birth certificate.