• It has been confirmed that five police officers were shot dead in Dallas with another six injured in the shootings, reports the Guardian.
• The Guardian also says three suspects are in custody, while a fourth suspect is reported to have shot himself after a standoff with police.
• One civilian was wounded in the shooting, says Dallas News. 
• UPS worker and psychology student at the University of Phoenix Michael Kevin Bautista live streamed this footage of the shooting.
• One of the officers killed has been named as Brent Thompson, 43. The Guardian says he is the first Dart transit officer to be killed in the line of duty.
• ABC News is reporting that this event has been the deadliest day for law enforcement since 9/11.
• Dallas Area Rapid Transit (Dart) has released the names of three police officers injured in the shooting.
Injured @dartmedia officers identified as Omar Cannon, 44; Misty McBride, 32; Jesus Retana, 39. All 3 expected to survive.

— Brandon Formby (@brandonformby) July 8, 2016
• Facebook has activated its Safety Check feature for Dallas.
• One of the suspects has since been cleared of any involvement. Mark Hughes was pictured with a gun and turned himself into police as soon as he learned he had been named a suspect.
KTVT found the man Dallas Police earlier called a shooting suspect. He's pissed. pic.twitter.com/wXhmGektYo

— Matthew Keys (@MatthewKeysLive) July 8, 2016
• A senior Dallas police officer, Major Max Geron has said extensive bomb sweeps are being carried out across Dallas after one of the shooters who is now dead claimed bombs were left "all over the place."
There are extensive sweeps of downtown for explosives underway. This will take quite a while. #dallasshooting

— Maj. Max Geron (@MaxDPD) July 8, 2016
• President Obama has addressed the shooting, saying "Yesterday I spoke about our need to be concerned as all Americans, about racial disparities in our criminal justice system. I also said yesterday our police have an extraordinarily difficult job and the vast majority of them do their job in outstanding fashion. Today is a wrenching reminder of the sacrifices that they make for us."
Obama after #Dallas shooting: "Remember to express our profound gratitude" to police https://t.co/Vts0UZjC1b pic.twitter.com/293NVGObhH

— CNN International (@cnni) July 8, 2016
• Dallas Area Rapid Transit says trains will run through downtown Dallas this morning, but they will not serve West End station.
DART will operate trains through downtown this morning, however, they will not serve West End Station. TRE will operate to Union Station.

— DARTAlerts (@DARTAlerts) July 8, 2016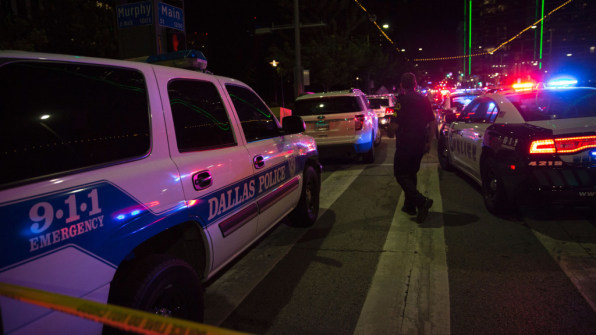 [Photo: LAURA BUCKMAN/AFP/Getty Images]