This week the New Yorker ran a story about how the writers on HBO's Silicon Valley conduct their research, and boy does it contain some gems. Our personal favorite comes from a writers' meeting with GoogleX director Astro Teller (yes, that's his real name). Silicon Valley parodies Google as a company called Hooli, and Teller did not take kindly to the show's suggestion that GoogleX moonshot projects might occasionally border on the absurd. 
Teller ended the meeting by standing up in a huff, but his attempt at a dramatic exit was marred by the fact that he was wearing Rollerblades. He wobbled to the door in silence. "Then there was this awkward moment of him fumbling with his I.D. badge, trying to get the door to open," [writer Carrie] Kemper said. "It felt like it lasted an hour." … In the end, the joke was deemed "too hacky to use on the show."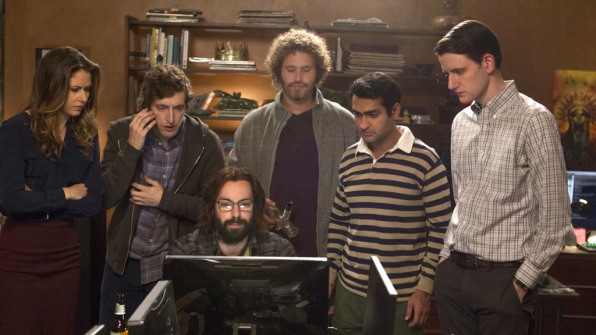 Read Andrew Marantz's full story for the scoop on the show's interactions with Elon Musk, Peter Thiel, and more. 
[Photo: John P. Fleenor, courtesy HBO]