Apple's refresh of its iPad line this morning is about more than just demonstrating the company's faith in the product—it's also about the company trying to crack the enterprise market.
The new low-cost $329 9.7-inch iPad with more power essentially replaces the iPad Air 2.
It's a key move for the iPad business, and, arguably, long overdue. After all, iPad sales have been slumping in recent years, and for fairly obvious reasons. The tablet's sales are cannibalized on two sides. As iPhones have gotten bigger and bigger and more sophisticated, a shrinking number of tasks—mostly content consumption tasks—have required the larger screen space of the iPad.
And yet for more advanced content creation tasks, most people still turn to their laptops—which, in Apple's case, have been getting smaller and smaller, further infringing on the iPad's territory. (Apple sold 13.3 million iPads in the last quarter of 2016, a 19% drop from the same quarter a year earlier.)
But that's a dynamic that applies to the consumer space. It doesn't apply so neatly to the enterprise space. Many enterprise apps simply call for both mobility and well more than 5.5 inches (on the diagonal) of screen space.
There's room to move for Apple in the enterprise space, where clunky, hard-to-use and harder-to-look-at applications running on stationary computers are commonplace—despite the fact that most workers use far friendlier apps and devices in their personal lives.
In recent years Apple has been accelerating its push into enterprise via partnerships with players like IBM, SAP, and Cisco. The model involves Apple lending its app-building expertise to the partner to create specialized apps for enterprise clients. The partner then sells or leases to the client Apple devices on which to run the apps.
For example, Apple helped IBM create an app called Passenger+ for airline flight attendants. They use it to manage special requests and needs from passengers, deal with flight delays and connection issues, and to sell personalized upgrades and other products and services to individual passengers. The app's main screen provides a look at the whole cabin, then allows the user to zoom in for personal data on this passenger or that. It's a pointing and tapping app; it doesn't require much text input, so a physical keyboard isn't really necessary.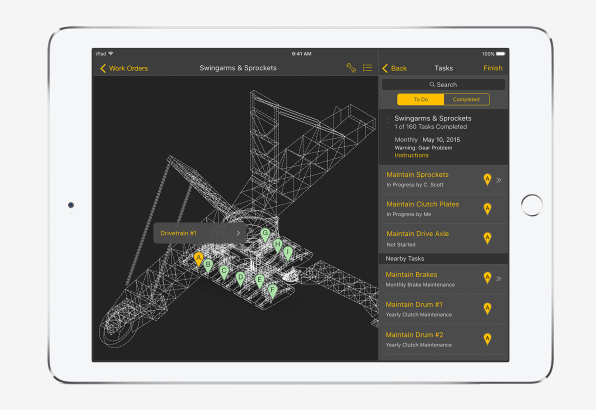 There are many such examples in the enterprise world. Apple and IBM worked together to create a patient management app for nurses. The app provides a detailed graphic look at all the patients in the ward at any given time and features notifications and alarms for those situations when patients need attention.
Similarly, a doctor might have a far easier time doing rounds with a patient list displayed on an iPad than trying to read vitals on an iPhone (even a Plus-sized one) or with a MacBook Pro, which is unwieldy. An ER doc does far better running the triage list on a small iPad for the same reasons: She needs a mobile device with plenty of screen space, but relies on input methods that don't necessarily require a keyboard.
iPads also work well in retail environments, especially when a sale requires some data entry or extraction, capturing customer signatures, or processing a credit card payment.
In the hospitality industry, more hotels are loaning guests an iPad to use as their personal control panel for the room. They swipe and touch to control entertainment, lights, and temperature in the room, and to order food and additional services from downstairs.
The iPad will also be better suited to some specialized consumer uses. The hotel suite has many of the same features as the Smart Home, a setting for which Apple is steadily growing a new ecosystem of apps and devices. Apple introduced its Home app last year (well after it started building the Home ecosystem), which is now a built-in part of iOS. It's mainly showed the app running on the iPhone; but as the number of connected appliances, sensors, fixtures, and other connected things start to add up, the larger screen of the iPad makes the job of controlling and coordinating all that stuff easier.
And there may be other specialized consumer uses or ecosystems we don't yet know about. The iPad might play a central role in Apple's Augmented Reality strategy for all we know.
At any rate it's clear that the iPad line is getting refreshed with more regularity that the Mac line. So Apple clearly still believes that there's a major role in the world for the device, whether it's in the workplace, or wedged between the iPhone and the Mac in the consumer space.
Apple also announced new 32GB and 128GB versions of the iPhone SE, a red Red iPhone 7 and 7 Plus, new Apple Watch bands, and a new video app called Clips.