After a highly-publicized exit from his Comedy Central show in 2005, Dave Chappelle has maintained a relatively discreet profile. The Chappelle Show was the flashpoint to a career 30 years in the making, yet Chappelle found himself ill-at-ease with fame, leading to a brief retreat in South Africa and a string of low-key gigs.
But now in his first concert specials in 12 years, Chappelle is returning to the level of notoriety he walked away from.
Chappelle inked a deal with Netflix for three comedy specials: one that he's currently on tour filming and two previous sets from The Palladium in Los Angeles in March 2016 and at Austin City Limits in April 2015, which both debuted this week on Netflix.
Little has changed about Chappelle's stand-up in the sense that he's as laser-focused as ever on social issues. However, given the hyper-speed at which the news cycle operates, you may need to brush up on the stories Chappelle references merely one-to-two years ago–not to mention all his nods to pop culture.
The Age of Spin: Dave Chappelle Live at The Hollywood Palladium
2:40 – In 2015, Chappelle gave a disastrous performance at The Fillmore Detroit, provoking the crowd to demand a refund of which they never saw one cent of, even though the price of tickets reportedly topped out at $240.
10:40 – The California Highway Patrol awarded Marlene Pinnock $1.5 million after footage of her being repeatedly punched by a police officer along a Santa Monica Freeway was caught on tape.
16:50 – On the same night as the 2016 Oscars which had been riddled with controversy after the all-but-diverse nominees were announced, a benefit for the residents of Flint, Michigan was held to raise awareness for the city's water crisis, where stars, including Jesse Williams, Ryan Coogler, Hannibal Buress, Stevie Wonder, and Janelle Monaé (and not Chappelle) were attendance.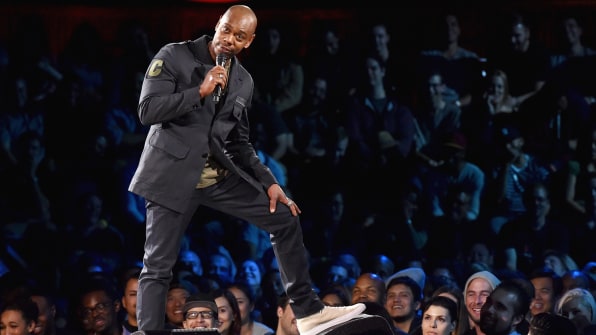 27:03 – Boxer Manny Pacquiao faced intense backlash following his remarks on gay people during an interview in which he said: "It's common sense. Do you see animals mating with the same sex? Animals are better because they can distinguish male from female. If men mate with men and women mate with women, they are worse than animals."
28:50 – A 2013 study found that more women than men were leaving the Philippines for the U.S. in order to land jobs stateside and send money back home to care for their families.
43:30 – Although the original 1980s Care Bears TV and movies have been rebooted several times over the years–and may see another iteration after the toy firm behind the brand was recently acquired by a private equity firm–the original squad can still hold it down…stare it down?
48:00 – Bill Cosby has ducked and dodged allegations of sexual assault for a large portion of his career, but the tipping point came in 2014 when comedian Hannibal Buress brought up those allegations in a set that instantly went viral. To date, Cosby has allegedly sexually assaulted and/or drugged more than 50 women.
59:25 – Drake, "All Me"

1:01:12 – From 1984 to 1993, Dr. Alvin Poussaint served as a consultant for both The Cosby Show and its spin-off A Different World to ensure the TV series were representing African-American in a positive light.
Deep In the Heart of Texas: Dave Chappelle Live Austin City Limits
2:50 – Christian Englander was arrested in 2015 after throwing a banana peel at Chappelle as he was performing in Sante Fe. Englander threw a banana peel at yet another black man, Jay Wills, following an argument over his first one-sided fruit fight with Chappelle.
11:00 – In 2014, Thomas Eric Duncan became the only Ebola patient to die in the U.S. Duncan's family reached a settlement with Texas Health Resources following questions of how Duncan was treated and cared for at the hospital.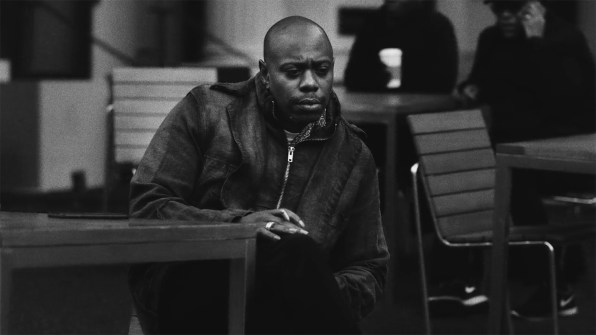 18:20 – Celebrity chef Paula Deen found herself in the middle of a lawsuit back in 2013 when it was alleged that she had made racist comments against black people. In her deposition, Deen admitted to using the "N" word in the past.
19:55 – Former Los Angeles Clippers owner Don Sterling's rapid fall from grace began after a recorded conversation between him and his female "companion" V. Stiviano went public. After Stiviano posted a photo of herself with Magic Johnson, Sterling chided her, allegedly saying, "It bothers me a lot that you want to broadcast that you're associating with black people."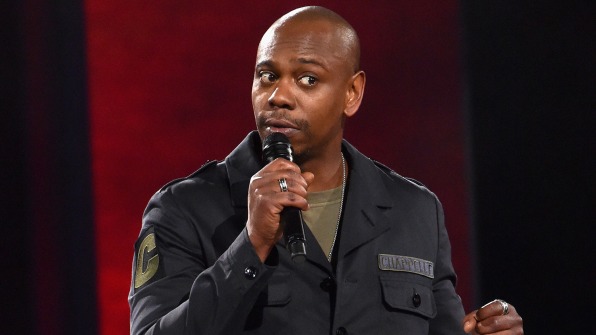 24:12 – Running back Ray Rice was fired from the Baltimore Ravens in 2014 when security camera footage from an elevator captured him punching and knocking out his wife Janay Palmer.
34:00 – LoveRance feat. 50 Cent, "UP!"

35:50 – Chris Brown feat. Lil Wayne and Busta Rhymes, "Look At Me Now"

59:00 – 2Pac, "Hit 'Em Up"