In the thick of Women's History Month, calls for greater gender parity have companies and nonprofits joining forces with artists, writers, actors, and scientists to more creatively honor women's contributions and illustrate gender inequity.
You probably read about State Street Global Advisors placing their "fearless girl" statue staring down the Wall Street bull statue as a challenge to finance companies to increase the number of female board members. (A petition is circulating to make this permanent.)
#SheMakesADifference in business. Now you can make a difference through investing. https://t.co/NMSUjBZRFy pic.twitter.com/7PumbQsaN8

— State Street (@StateStreet) March 7, 2017
Not to mention the Twitter and Medium disturbing revelations of two writers—male and female—on their vastly different treatments by clients after switching emails.
Meanwhile, Cleveland bookstore Loganberry Books ran an Illustrating the Fiction Gender Gap promotion by turning male-authored books around and leaving the spines with titles of female-authored books facing customers.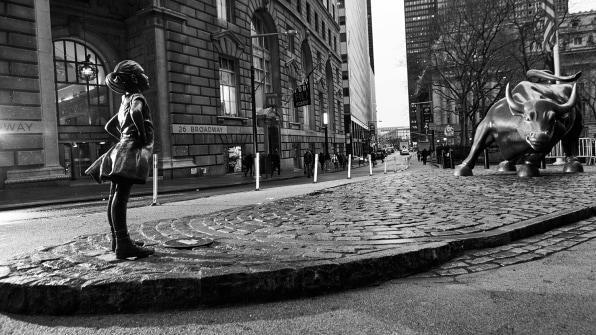 Women in Fine Art
Now, Artfinder, a London-headquartered online marketplace for fine artists has teamed with New York artist Jennifer Dalton (known for her work on gender inequity) to create a piece visualizing disparities between the number and sales of female artists on Artfinder vs. high-end brick-and-mortar galleries. Artfinder is now asking galleries and institutions to disclose their artist gender data for greater transparency.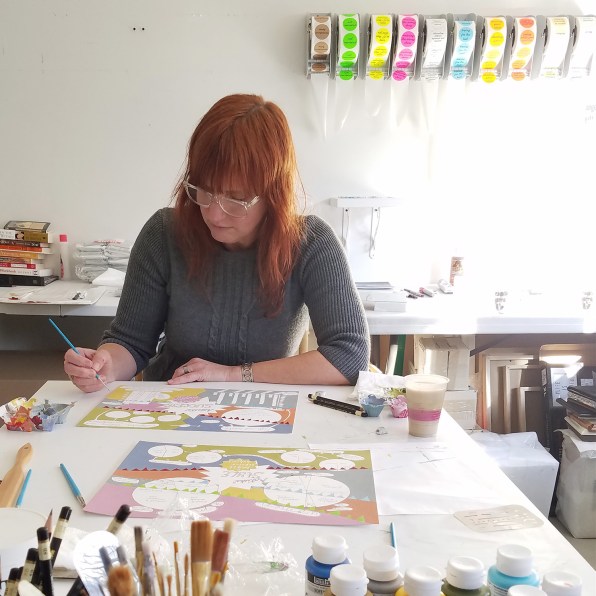 Artfinder's report found that, unlike the mostly male gallery scene, half of the artists on its site were women, better at strategic pricing (an average $124 less), and therefore selling a greater total value.
"It highlights that gender bias at the high end is caused by the gatekeepers, gallerists, and curators, not by lack of skilled female artists. If you remove the gatekeepers, the market is fair and even," says Artfinder CEO Jonas Algren.
"The second aspect is the business acumen of the women, who are pricing their artwork better [than the men] and hence selling for a higher total value," he adds. "Only a high-end mindset makes a lower price be seen as a failure if it means selling for a higher total value. We don't think of Nike as less successful than Ferragamo, just because their shoes are cheaper. It's about proper pricing based on supply and demand. Adaptation to the financial reality, rather than living in the artificial bubble that is the high end."
Dalton's piece is an acrylic briefcase—symbolizing transparency and reference to Mitt Romney's "binders full of women" comment during his 2012 presidential run—housing two signed and numbered limited-edition prints displaying the data and statistics in the Artfinder report. Half of the sale's profits will go to the Elizabeth A. Sackler Center for Feminist Art at the Brooklyn Museum.
Contributions in Science
On March 23 in Paris, the 19th annual L'Oréal-UNESCO For Women in Science Awards celebrates the excellence, creativity, and intelligence of five eminent women scientists in quantum physics, physical science, and astrophysics with awards of $108,000 each and week of public speaking training sessions in preparation for an international public awareness campaign. Paris and Dubai airports are currently displaying exhibitions of their work.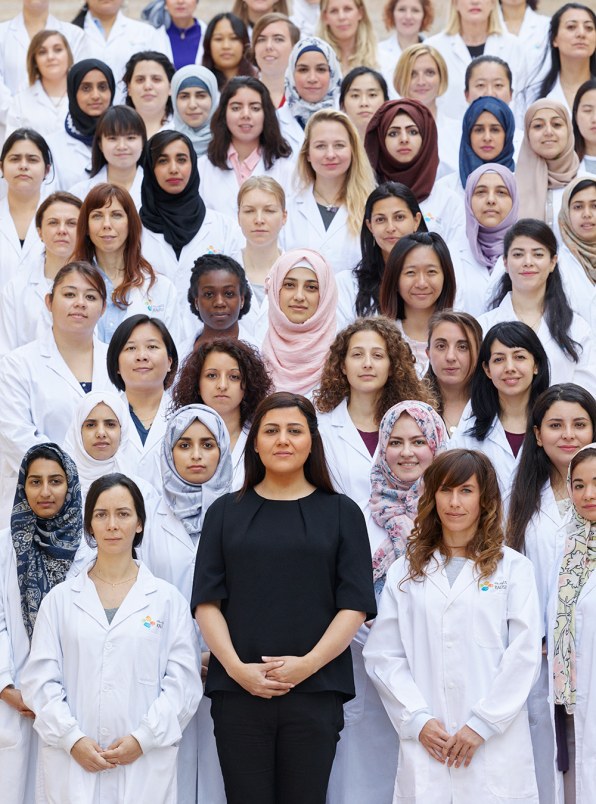 The laureates are Saudi nanochemist Niveen Khashab, Australian quantum computer scientist Michelle Simmons, Swiss materials theory scientist Nicola Spaldin, Chilean astrophysicist Maria Teresa Ruiz, and American chemical engineer Zhenan Bao. This year's ceremony will stream live on For Women in Science, French Elle, and UNESCO social networks, with a documentary series planned for French television.
Non-profits, public policy, and creative activism
Pop culture celebrities joined activists Friday for a United Nations panel on the impact of media on gender equality as part of its Commission on the Status of Women Conference on Closing the Gender Gap.
Sponsored by Pop Culture Hero Coalition, which combats bullying through entertainment, and the United Nations Association San Diego Chapter, the panel features Teen Vogue editor Lauren Duca, fashion designer Mara Hoffman, Women's March co-chair Carmen Perez, DC Comics writer Gail Simone, psychologist Janina Scarlet, historian Jennifer Stuller, UN's Ravi Karkara and Bettina Hausman, and Hero Coalition founders author Carrie Goldman and actor Chase Masterson.
It streamed on Facebook Live (here and here) and Periscope, with the resulting video living on the sponsor sites.
And finally, Nasty Woman Portraits, a non-profit using photography to promote feminist leaders, will honor Michelle Obama and raise money for the Southern Poverty Law Center at a March 26 Los Angeles event where guests can have their portraits taken in the style of photo of Michelle Obama.