Earlier this week, Racked published a story about period underwear brand Thinx that chronicled a series of troubling allegations from former and current employees, ranging from Thinx's paltry parental leave policies to a slew of complaints about founder Miki Agrawal's management style.
Agrawal officially announced today that she had stepped down as CEO of both Thinx and sister company Icon, which offers a similar product for incontinence. (The news was previously reported by Jezebel and Racked.) Agrawal remains the face of both brands, but the company is reportedly now seeking a "professional CEO."
"At the moment, we're working together with Miki Agrawal to redefine her role at the company as she moves on from CEO of Thinx, Inc.," a Thinx spokesperson said in a statement. "We're also making moves to put new leadership and policies in place so Thinx can continue to grow and thrive."
This comes on the heels of Thinx expanding its product lineup with organic tampons and period-proof activewear, and news that the 35-person startup is bringing in tens of millions of dollars in revenue.
VIDEO: Former Thinx CEO Miki Agrawal On Why Thinx Didn't Offer Period Leave
Since its launch in 2014, Agrawal has used her charisma and marketing know-how to draw in customers, most famously through a brazen ad campaign that ran on the New York City subway. Thinx's taboo-busting copy and inventive products have made the brand into a feminist icon. Yet revelations that the company offered only two weeks of fully paid maternity leave and low pay with little opportunity for raises have leveled criticism against Agrawal for not living the values of her company.
Agrawal, however, says the allegations don't paint an accurate picture of Thinx's internal workings. "It was deeply troubling to read that article, as it doesn't reflect the reality of what happens at Thinx," Agrawal said in a statement to Fast Company. "Like any startup in growth mode, growth often brings change, and with it, evolution of the team."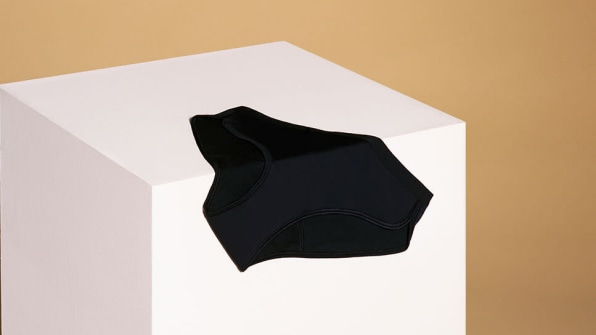 In a Medium post today, Agrawal addressed the allegations at length, copping to some of the mistakes she made in not hiring an HR team and not thinking deeply about benefits. (That's changing: Agrawal wrote that Thinx is bringing on an "HR manager who will be putting much more rigid HR practices in place.") Agrawal is not alone in skipping HR in the early stages of a startup, but increasingly companies are realizing the pitfalls of doing so.
Agrawal attributes the majority of her missteps—particularly when it came to handling HR issues—to Thinx's dizzying growth and the fact that she spent so much time doing press for the brand.
That may be true: Racked's story, which says Thinx has lost 10 employees since January, has echoes of accounts from Rent the Runway employees in 2015, when the e-commerce startup was facing its own growing pains. We've heard stories of internal strife from countless other fast-growing startups, from Nasty Gal to Blue Apron and Zenefits. These stories have even surfaced at established companies like Amazon.
But while being an early-stage startup can somewhat explain substandard pay and benefits, it's hard to reconcile that with Thinx's stated mission, something Agrawal doesn't address in her post. It's impossible not to see the hypocrisy in Thinx–a company fighting the period taboo–not offering women more than two weeks of fully paid maternity leave or being unreceptive to female employees negotiating a raise. From Racked:
Whenever anybody would try to negotiate with her, [Agrawal] would go back to the fact that we're young, and just be like, 'Oh, you're in your 20s. You don't need a lot of money,' says one former employee.

She treated it 'as if it were selfish to take a salary representative of your worth,' says another. While yearly raises were given based on performance and revenue, the dollar amount was considered non-negotiable, and, says a third source, the only employees who the source ever knew to have successfully argued for additional money were two of the few white men who worked at the company.
Even the company's warm embrace of the trans community—creating a boyshort for trans men who get their periods and using a trans model to advertise the product—seems at odds with its treatment of a trans model who almost participated in Thinx's show at New York Fashion Week this past fall:
i was floored. they continued, 'so what's your angle? what makes you different from [white trans man who models for us]? you need an angle'

— Tyler Ford (@tywrent) March 14, 2017
they continued, 'everyone who works with us has an angle. like, we have a refugee, this trans man,' etc. you know, casual tokenization.

— Tyler Ford (@tywrent) March 14, 2017
This is a brand that has a weekly newsletter called "This Week in Feminism" and recently started a Thinx-branded nonprofit to help teach girls in developing countries about women's health issues. Agrawal's other brand, Icon, makes urine-proof underwear for women who suffer from incontinence—something that often afflicts pregnant and postpartum women. The theme of Thinx's show at New York Fashion Week was intersectionality, and invites to the event included slabs of concrete that Thinx instructed recipients to break on the floor, a symbolic tip of the hat to smashing the patriarchy.
While the tone of Agrawal's Medium post was more conciliatory than some other leaders when faced with accusations of mismanagement, feminism was an issue that was baked into Thinx branding from the start. It should have also been baked into its management.