The old saying seems applicable here: You can take the exploding body parts out of a filmmaker, but you can't take the filmmaker out of exploding body parts. Or at least not for very long.
James Gunn made his name with sleek, gory horror fare like Thir13en Ghosts, Dawn of the Dead, and Slither, in which blood and guts are extra combustible. Less than a decade later, however, Gunn is now known as the visionary director who corralled a far-flung group of obscure superheroes into one of Marvel's best-loved movies with Guardians of the Galaxy. What's a genre filmmaker to do between making the biggest box office smash of 2014 and starting on its inevitable sequel? For Gunn, the answer was: channel his energy into a hard-R splatterfest that would make the average Rocket Raccoon fan puke all over their toy laser pistol.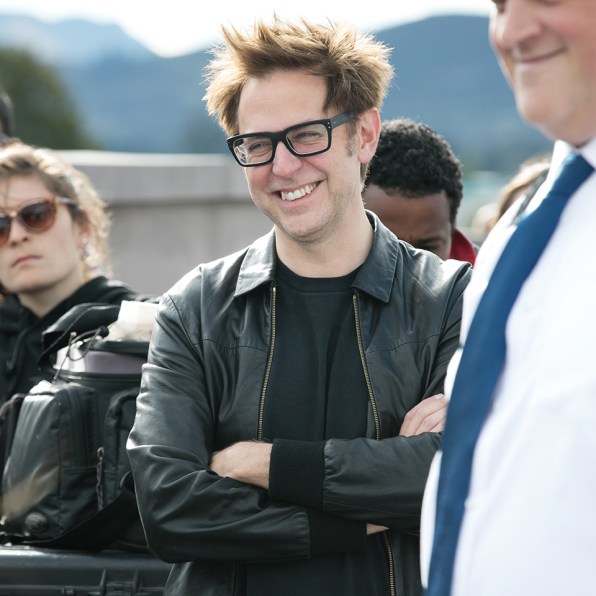 The Belko Experiment, which is out in theaters today, is a brutal, balls-to-the-wall horror-thriller with an economical pace and an astronomical body count. Its hard-to-resist logline is "Office Space meets Battle Royale," a boast which the film proves accurate, although thankfully not derivative. In it, a corporate hierarchy of workers with varying degrees of cushy jobs find their office on lockdown one day, and suddenly flooded with a chilling, disembodied voice on a loudspeaker, instructing the employees to kill a certain amount of their coworkers . . . or else. The premise is established damn-near immediately, and it's only a matter of time before the employees begin following their gristly orders. The rest of the movie provides a moral (and mortal) quandary that leaves the audience wondering who will survive.
We're a long way away from the intergalactic adventures of Star-Lord here.
"It was an opportunity to do something a little different, and I wanted to switch it up," says James Gunn, who wrote and produced the film. "It allowed me to focus on something else, clean my brain a bit, and have fun down in Columbia with the most amazing cast I've ever worked with."
John Gallagher Jr, from last year's 10 Cloverfield Lane and Hush, plays the film's lead. He's joined by Tony Goldwyn from Scandal, John C. McGinley from Scrubs and every single Oliver Stone movie, Josh Brener from Silicon Valley, and Michael Rooker, along with a stacked roster of familiar faces mostly comprised of Gunn's pals. The Belko Experiment's cast is like The Expendables of character actors, a description which feels exceedingly apt as more and more of them die savagely violent deaths.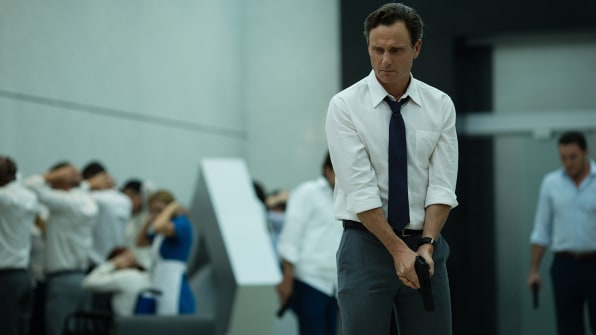 Gunn first conceived of the film a decade ago, following what sounds like a pretty rad dream. He claims to have essentially seen what became the trailer and woke up riveted.
"I got out of bed, and I thought, I have to write this movie," Gunn says. "Just to see what happens. So I approached it very similarly to how an audience member would."
He wrote the original draft in a feverish, sedentary couple of weeks, and quickly sold the script. Gunn was all set to direct the film down in Brazil, but then something happened in his personal life that made him pump the breaks. Going through a divorce with his then-wife, The Office's Jenna Fischer, made the filmmaker rethink spending months of his life in a claustrophobic, blood-soaked setting. So, he backed out of the project.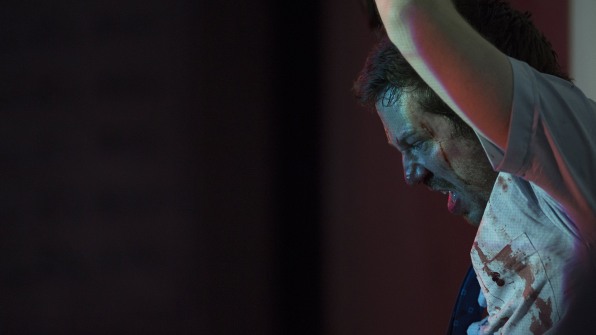 "It seemed like the most healthy thing I could do at the time," Gunn says.
It wasn't that the movie's violence had rendered him squeamish, it was also how adhering to the script would keep his mind encircling a dark place like a goldfish in a bowl. In order to write the movie, he'd had to visit some of the bleakest recesses of his consciousness. Each character's plan for survival in the film's hellish set-up represents how an aspect of Gunn's personality would handle a kill-or-be-killed situation.
"They all are different parts of me," Gunn says, "I hope John C. McGinley's character is less a part of me than the others, but even that's probably lurking there the sick bastard."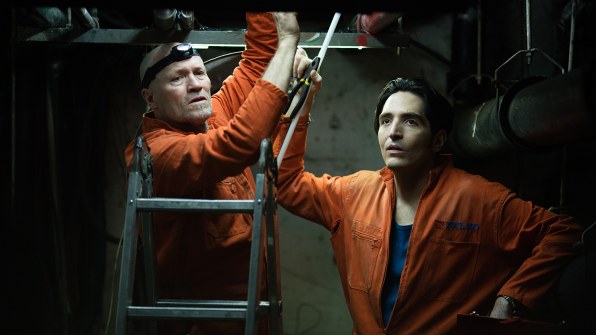 It was not a mentality he'd wanted to be steeped in at the moment. He almost made the movie several other times between then and now but it was only after Guardians of the Galaxy's robust success that Jonathan Glickman from MGM came calling. He still had possession of the Belko script and he wanted to know if Gunn still had the desire to produce it. For his part, Gunn only had two conditions: 1.) He'd get to choose the director he wanted, and 2.) He'd get to make it as extreme as it is on the page, without balking in any way. Glickman agreed, which is how Wolf Creek director Greg McLean ended up coming aboard to help make the film an exercise in ferocious dismemberment.
It was now the right time in Gunn's life for him to do it too. In between Guardians movies, the emotionally evolved filmmaker found himself ready to become reacquainted with his angrier side. He was happy for the opportunity to play in both sandboxes.
"When you have these great conversations with different people at a dinner party, you're not the same person in each conversation," Gunn says. "So I'm just having different conversations now. I'm conversing with a different person with Guardians than I am with Belko."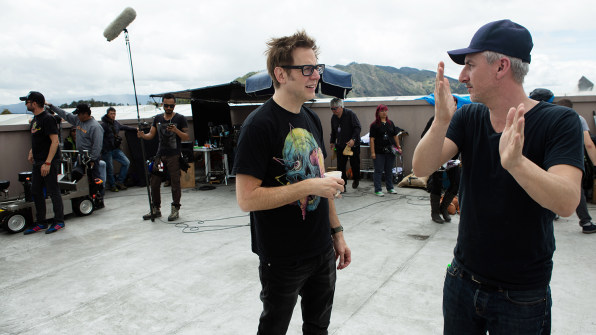 The people he's having a conversation with for the latter are the kinds of people who never tire of seeing a parade of detonated craniums. It's a conversation he's only too happy to have right now. But does Gunn see his own movie as part of the Exploding Head Movie canon?
"Oh, totally," he says. "It's right up there with Sophie's Choice."