So you're in Austin this weekend and overwhelmed by all that SXSW has to offer. Fear not: We've put together a cheat sheet for you, which includes a sampling of events Fast Company is hosting. If all else fails, head to the Fast Company Grill, where we'll have programming through Monday.
Dawn of the Labs: The Next Gen of Tech Innovation 11 a.m.-12 p.m.
Featuring Fast Company's own Chuck Salter, this panel will touch on why labs programs like PARC, Acquia, and HubSpot are crucial to developing new technologies, from artificial intelligence to virtual reality.
Biometric Social Storytelling on Mt. Everest 11 a.m.-12 p.m.
Recommended by Neal Ungerleider, writer
Mountaineer Adrian Ballinger will talk to Andrew Vontz of Strava, the social network for athletes, about his experience using the app to document his expedition to Mt. Everest, and how biometric data can enhance that kind of storytelling.
Most Creative People LIVE! 12-12:40 p.m.
Gather 'round as Fast Company writer Diana Budds leads a lively conversation at the Fast Company Grill with members of our Most Creative People in Business community: Beautycon Media CEO Moj Mahdara; Candice Morgan, Pinterest's head of diversity and inclusion; Sama Group founder and CEO Leila Janah; and Sundial Brands cofounder Richelieu Dennis.
Covering POTUS: A Conversation with the Failing NYT 9:30-10:30 a.m.
Recommended by Harry McCracken, tech editor
How do you cover a president who has dubbed news organizations the "opposition party" and the "enemy of the American people"? New York Times executive editor Dean Baquet and media columnist Jim Rutenberg talk journalism in the age of Trump.
Vint Cerf: An Internet For And By The People 11 a.m.-12 p.m.
Recommended by Harry McCracken, tech editor
Tune into this session with one of the founding fathers of the Internet, Vint Cerf, to learn what the future Internet will look like.
The Boomer Millennial: A Retiree Becomes an Intern 11 a.m.-12 p.m.
After watching the movie The Intern, Pfizer exec Sally Susman was inspired to hire 70-year-old Paul Critchlow as an intern. Here, Critchlow and Susman talk about the experience and are joined by Fast Company writer David Zax.
World Changing Ideas: Meet Leaders Reexamining the Ways We Live, Work, Help, and Learn 12-12:45 p.m.
In a conversation moderated by CBS News correspondent Vladimir Duthiers, leaders who work on challenges as diverse as global poverty, immigrant rights, and economic justice will offer answers to questions like: Where do you start when you want to change the world? How do you stay motivated in your work when faced with what can sometimes seem like insurmountable challenges? Head to the Fast Company Grill to hear from Ai-jen Poo, director of the National Domestic Workers Alliance; Richard Wolffe, the chief marketing and digital officer of Global Citizen; and Jean Case, CEO of the Case Foundation.
The Urgency of Now: Launching the Biden Cancer Initiative 3:30-4:30 p.m.
Recommended by Harry McCracken, tech editor
Don't miss this keynote by former Vice President and eternal Obama bro Joe Biden, in which he'll reiterate his commitment to fighting cancer through the Biden cancer initiative.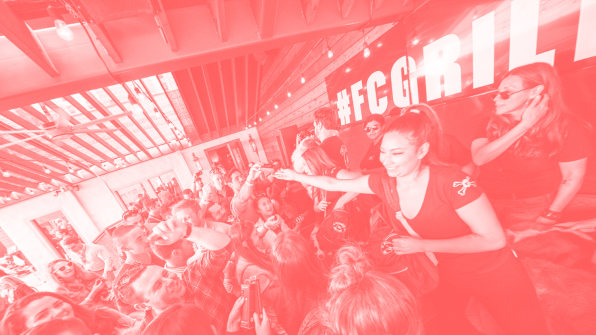 GAFA: The Relentless Rise of the Tech Giants 12:30-1:30 p.m.
Recommended by Harry McCracken, tech editor
We Grow Startups founder James Schad on how Google, Apple, Facebook, and Amazon came to dominate so many industries, what that means for competition and privacy, and how it affects you.
Ray and Amy Kurzweil on Collaboration and the Future 12:30-1:30 p.m.
Recommended by Neal Ungerleider, writer
This daughter-father duo will talk about their respective work in cartooning and engineering, as well as writing, cross-disciplinary collaboration, and the future of storytelling.
Innovation by Design: What's Next? 3-3:40 p.m.
Each year with Fast Company's Innovation by Design issue and awards, we seek to answer the question: Where is design headed next? Fast Company tech editor Harry McCracken will talk to designers working in graphic, experiential, and digital about where design and design thinking are having the most impact right now—and where it isn't being put to use. Featuring Imaginary Forces director Karin Fong, Argodesign founder Mark Rolston, and John Couch, Hulu's VP of UX and design.
The Building Diet: Social-Onus in the 21st Century 3:30-4:30 p.m.
We often think about what we put into our bodies by way of food or drink. But what about the things we consume through our environment–specifically, the buildings we frequent? Fast Company's Diana Budds joins a panel with Josh Wise, Etsy's director of workplace ecology and design; Gensler Architects partner Amanda Carroll; and EvensonBest project director Gary Wilkin.
Kimbal Musk on Trust: The Currency of Our Generation 3:30-4:30 p.m.
Fast Company's Amy Farley chats with Kimbal Musk, cofounder of The Kitchen, a network of farm-to-table restaurants. (You might also know him as the brother of Elon Musk.)
How an Emoji Becomes an Emoji: The Unicode Process 11 a.m.-12 p.m.
Recommended by Harry McCracken, tech editor
Need we say more? Find out how your favorite emoji became an emoji, and how you can submit your own emoji proposal.
Media War: Publishers vs. Platforms & Influencers 12:30-1:30 p.m.
Recommended by Harry McCracken, tech editor
Do publishers stand a chance against big-name influencers and platforms like Facebook and LinkedIn? Hear from Fast Company's Harry McCracken, along with Blendle senior editor Jessica Best; Contently editor-in-chief Joe Lazauskas; and Jay Acunzo, VP of platform at NextView Ventures.
Beyond Driverless Cars: Our Transportation Future 3:30-4:30 p.m.
Recommended by Neal Ungerleider, writer
Fast Company's Neal Ungerleider digs into the future of autonomous tech, ride sharing, and connected cars with former secretary of transportation Anthony Foxx; Don Civgin, president of emerging businesses at Allstate; and Chandra Bhat, head of transportation research at the University of Texas at Austin.