Here they are: the winners of the first-ever World Changing Ideas Awards. We sifted through more than 1,000 truly impressive entries to find the ones our panel of judges thought were the best combination of creative problem solving and potential to change our world for the better. We have crowned 12 winners–along with 192 finalists–which you can read more about below (make sure you also read our predictions for the world changing ideas of next year). Each of these projects represents the best of social entrepreneurship, where innovation and impact are intersecting.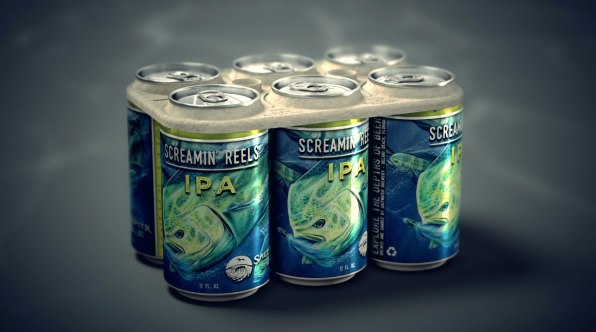 World Changing Idea
Edible Six Pack Rings
E6PR
The six-pack ring is a ubiquitous piece of waste that people likely encounter nearly every single day. Even for those conscientious citizens who cut them to avoid trapping wildlife, the plastic is still entering the waste stream, often ending up in the ocean, and from there into the stomach of wildlife. The rings started as a marketing scheme: The ad agency We Believers constructed them for craft brewers Salt Water Brewery as part of an ad campaign. But they hit upon a real need, and now the new rings–made from wheat and barley instead of petroleum—should start appearing on six-packs this summer. The new company spun off from the ad agency to make them is exploring deals with bigger beer companies and factories to mass-produce them and make them the new industry standard.
Transportation
Fair Value Commuting
Joint Venture Silicon Valley
In the car-loving Bay Area, where around 75% of employees commute solo to work, it will take more than a soft advocacy campaign to reduce traffic and introduce a fundamental shift toward ride-sharing and alternative forms of transportation. Bay Area Fair Value Commuting, an ambitious, overarching plan developed by the nonprofit Joint Venture Silicon Valley (JVSV), aims to do just that. The five-part strategy will involve cities, transit agencies, mobility service providers, and businesses; the plan incentivizes shared commuting by aggregating mobility services like Lyft and Car2Go in a single platform, incentivizing employees to make use of those services by fining single-occupancy vehicle commuters (who will be tracked on real-time commute dashboard), and supporting better public transportation and bike infrastructure. With the aim of reducing single-occupancy vehicle commuting in the Bay Area by 25%, the plan will combine policy–JVSV is also drafting a state bill to support the strategy–business, and technology to bring about real change in the region's commuting habits.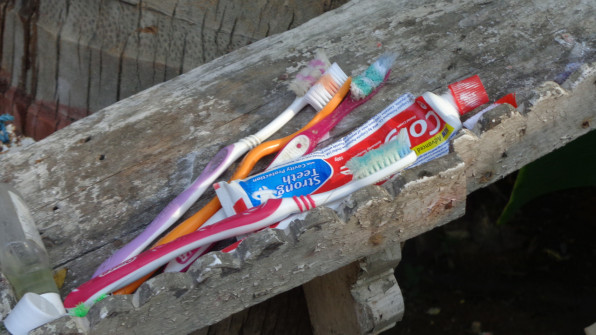 Photography and Visualization
Dollar Street
Gapminder
The idea of a person who lives on a dollar a day is familiar, but we often think about it as an abstraction. Dollar Street, a project from the Gapminder Foundation, makes it a reality, by placing global poverty in the context of material culture. Photographs shown side by side illustrate the different possessions of people around the world living at different income levels: For people on the wealthiest end of the spectrum, a toothbrush might be a fancy electric model. For people at the other end, it might be nothing more than a stick. Instead of charts to illustrate global poverty, Dollar Street brings them to life, offering a deeper understanding of what income inequality means around the world.
Apps
Information for Action
Information for Action
With so much happening in the world right now, it's hard to open a browser tab, scan to the end of news article, and not feel the urge to do something about what you just read. A new browser extension, Information for Action, connects that motivation with concrete outlets for it. Based on the articles you read, Information for Action will suggest opportunities—from donations to volunteering–to impact the causes you care about. The founders, John Toner and Emily Thomas, both have backgrounds working for the United Nations; through this tool, they hope to merge media consumption with empathy to effect real change.
Advertising
Songs of Violence
FCB Brasil for Estadão Digital
Buried in the second verse of D12's 2002 song "Fight Music" is the line: "I f-king hate you, I'll take your drawers down and rape you." Thousands of songs broadcasting violence against women are pumped through the airwaves each day; a campaign from Brazil, "Songs of Violence," aims to call them out. Each time a Shazam user identifies a song containing lyrics that depict rape or aggression toward women, they'll receive an alert: The song will stop, and instead, the listener will hear a testimonial from a woman who suffered the same type of violence. The campaign, which was sponsored by the newspaper Estadão, reached over 1 million people, who were directed to a website where they could donate money to anti-violence campaigns, instead of downloading the song they just heard. Misogyny and abuse ubiquitous and too often ignored; by disrupting pop-culture narratives, "Songs of Violence" sends the signal that violence should never be normalized.
Food
Fruit and Vegetable Prescription Program
Wholesome Wave
An unhealthy diet has become the number-one cause of death in this country. But people on a budget can't always make the best food choices. To solve that, Wholesome Wave's fruit and vegetable prescription program lets health care providers write prescriptions for free produce for people at risk for diet-related diseases (think: obesity, hypertension or type-2 diabetes) that are redeemable at farmers markets or Target stores. In June, it launched its largest FVRx program yet, reaching 500 at-risk kids and their families in Los Angeles, who can also take free nutrition classes. Since starting in 2007, the group, which also provides a similar subsidy for SNAP recipients, has developed partners at over 700 locations in 46 states. It recently awarded over $200,000 in grants to nine other partners in their National Nutritional Incentive Network, who are trying to grow similar success.
Health
3D Printer for Replacement Tissues and Organs
Wake Forest Institute for Regenerative Medicine
With a massive shortage of organ donors in the U.S., . While some have proposed paying living donors, scientists at the Wake Forest Institute for Regenerative Medicine have a different solution: a 3D printer that can print living tissues and organs. Using a custom printer that can keep cells alive and form large structures that are strong enough for transplant, the team has successfully printed tissues and bones and implanted them in rodents. Preclinical trials are underway for potential use in patients.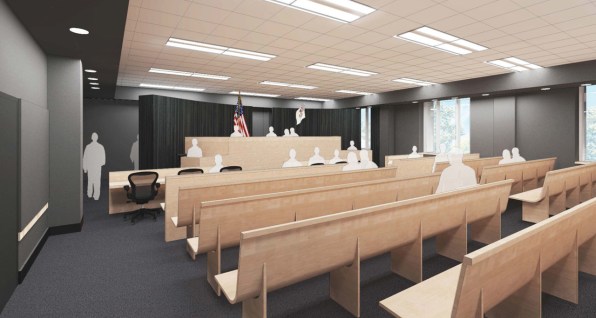 Urban Design
Cook County Bond Court
CannonDesign
It takes less than a minute for a judge to set bond–the amount of cash a defendant has to pay to stay out of jail before trial–in Chicago's Cook County Bond Court. With bond set too high, someone can lose their job or be forced to drop out of school as they sit in jail, sometimes for hundreds of days. Part of the solution may be a better courtroom. By redesigning the physical space–which was previously crowded, noisy, confusing, and unorganized–designers from CannonDesign aimed to improve fairness and dignity in the court. The designers spent months observing bond court proceedings before coming up with a plan that improves acoustics, minimizes distracting movement, aligns parties with the judge, and features signage that clearly explains the bond ruling process to family members waiting in the corridor outside. The new courtroom set to open this spring.
Energy
GridOS
Opus One Solutions
GridOS isn't a clean energy source: It's a better way of managing the impact of clean energy on the grid. Increasing the volume of distributed energy resources like solar and wind, storage and EV charging is a challenge for grid operators. Turbines and panels have variable performance, and managers have to worry about strong two-way power flows. GridOS's data analysis software models the impacts in real time, bringing greater visibility "inside" the grid. The Ontario-based startup has helped developed several microgrids in Canada, and successfully showcased its "transactive energy platform" in Buffalo, New York, as part of the state's innovative Rev re-regulation program. If we're going to get to 100% renewable energy, the sort of control and intelligence Opus One Solutions offers will be vital.
Developing World Technology
Kio Kit
BRCK Education
KioKit is a mobile and very robust kit packing everything you need to build a connected classroom. With the amazing BRCK—a powerful, ruggedized battery—40 tablets, and wireless charging facilities, the water-resistant, lockable case be taken far beyond the electric grid and internet network. The Kit was developed in Kenya by the same band of battle-hardened engineers behind open-source software company Ushahidi and iHub, a respected innovation and hacker space in Nairobi. With 57 million children not going to school on any given school day, there's a powerful need for flexible education infrastructure and engaging content. The tablets come pre-programmed with "Learn" and "Play" sections, plus another focused on responsible citizenship ("Grow" section). With the KioKit, education isn't limited to Africa's cities or suburbs.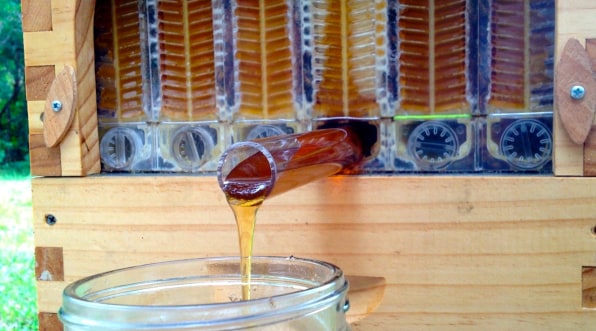 Consumer Products
Flow Hive
Flow Hive
As the world's bee apocalypse continues, anything that further connects humans and our apian friends is important. Flow Hive, invented by an Australian father/son duo and funded by an amazing $13 million on Indiegogo, takes some of the difficulty–and stings–out of beekeeping. The device lets you skip the suit and smoke because the honey simply flows from the hive, ready to be collected. Some might argue that this takes the mindfulness out of beekeeping, but eating local honey is good for your health, and supporting local bees is good for the entire world, so anything that increases the number of people actively caring about bees seems worth it.
Students
Homes For Hope
USC School of Architecture and Madworkshop Homeless Studio
To combat homelessness in Los Angeles' Skid Row, Homes for Hope, a group of students from USC's School of Architecture, designed modular houses that can be stacked and provide fast and simple housing to get people off the streets. Each 92-square-foot unit comes with a bed, dresser, and even a desk. In groups of 30, with a base unit that contains bathrooms, shared living and dining spaces, and courtyards, the houses are designed utilize the city's large swaths of vacant land by creating easily assembled communities that work within the city's zoning laws and serve as a bridge home to keep people sheltered before they move to more permanent housing.
Below you'll find the full list of finalists:
World Changing Idea Finalists
Project Natick
Microsoft
Underwater data center
DoctHERs
DoctHERs
Helping female doctors in Pakistan
"This Is Our Future"
The Nature Conservancy in California
Harnessing AI to safeguard our global seafood supply
The Great Elephant Census
Vulcan
Using data to fight poaching
Coral Vita
Coral Vita
Restoring reefs with resilient farmed coral
AMP Recycler
AMP Robotics
Automated recycling sorting
World Food Programme Innovation Accelerator
World Food Programme
Supporting entrepreneurs who reduce hunger
Economic Security for the Gig Economy report
Etsy
Rethinking how we support the gig economy
The Toilet Accelerator
Toilet Board Coalition
Supporting innovation in sanitation
Global Impact Visa
Edmund Hillary Fellowship
Bringing social entrepreneurs to New Zealand
Edible six-pack rings
E6PR
Packaging that breaks down in water
Food-truck voting
Ada County, Idaho, elections office
Mobile voting booths
A diverse tech-talent pipeline as a service
General Assembly
For diversity in coding
Fifty Years
Fifty Years
Venture capital for social impact
Democracy Earth
Democracy Earth Foundation
Voting on the blockchain
Beyond Burger
Beyond Meat
Plant-based burger sold in the meat section
Cook County Central Bond Court
CannonDesign
A redesign for fairness
Impossible Burger
Impossible Foods
Meatless burger that "bleeds" (and is sold in restaurants)
Inclusive Design
Microsoft
Designing with people with disabilities in mind
SaTo sanitary toilet products
Lixil
Low-cost sanitation for developing countries
Heijmans One
Heijmans
Tiny, sustainable houses for vacant lots
Otto
Otto
Self-driving commercial trucks
Hyperloop One
Hyperloop One
Revolutionary high-speed transit
Fairphone 2
Seymourpowell
Repairable, ethicallymade smartphone
Transportation Finalists
Project Interzone
Project Interzone
Traffic? Divide a city into three time zones
Civil Maps
Civil Maps
3D maps that make self-driving cars safer
Smart City Challenge
Vulcan
Incentivizes eco-friendly solutions
Otto
Otto
Self-driving commercial trucks
AeroLiner3000
Andreas Vogler Studio
A high-speed commuter train for Britain
On-the-Go H2O
Ford Motor Co.
Transforms condensation from cars into clean drinking water
Connecting Cities and Citizens
MasterCard
Smart access to public transit
Hyperloop One
Hyperloop One
Revolutionary high-speed transit
Cobi
Cobi
A smartphone-powered navigation system for bikes
Supersonic airline
Boom
Cuts flight time in half
Fair Value Commuting
Joint Venture Silicon Valley Network
Reduces Bay Area commuting fares by 25%
RideCell
RideCell
Aggregates transit options in one platform
Parkarr
Parkarr
Connects drivers looking for parking with those leaving spots
The Smiling Car
Semcon
Self-driving cars acknowledge pedestrians
The Green Engine
United Technologies
A more eco-friendly way to power planes
BQXL: Brooklyn-Queens Crossline
Gensler
Using existing infrastructure to connect two boroughs
The Proterra Catalyst E2 Series
Proterra
Battery-powered buses reduce CO2 emissions
Photography and Visualization Finalists
The Future
AAlicia Eggert and Safwat Saleem, with Fine Acts
Global progress, in lightbulbs
"This Is Our Future"
The Nature Conservancy in California
Showing the damage of overfishing
From Incarceration to Education
FITE Film
Students with prison in their past
"Madina's Story"
Ideo.org
Mobile money's value
Data USA
Datawheel
Opening access to public data
Dollar Street
Gapminder
Understanding poverty around the world
The 67% Project
Refinery29
Building body image
Wage Islands
Ekene Ijeoma
Exposing wage and housing inequality
Spatial Practice as Evidence and Advocacy
SITU Research
Data to fight injustice
Poverty Tracker
Fathom Information Design
Seeing urban poverty
Apps Finalists
Look Up
Ekene Ijeoma
A reminder to pay attention
Stuffstr
Stuffstr
Tracks and optimizes everything you buy
Give a Beep
Edelman Deportivo
A smartphone bike bell that maps where cyclists feel unsafe
Earth's Changing Climate simulation
Amplify
Digital interactives help students visualize climate change
Open Library
Worldreader
E-reader for the developing world
Turo
Turo
Facilitates shared-car ownership
Ballot
Ballot
Matches voters with candidates and policy issues to support
Information for Action
Information for Action
Connects readers with donation and volunteer opportunities
NBA Math Hoops
Learn Fresh Education Co.
A basketball app that teaches kids math skills
ShareTheMeal
World Food Programme
Donate every time you sit down to dinner
Intellivisit
Intellivisit
Virtual, on-demand health care
Owlet Smart Sock
Owlet Baby Care and R/GA
Measures your baby's pulse and oxygen level
Voting Information Project
Thirteen23
An open-source platform to educate and boost voter turnout
Advertising Finalists
"Wander Wisely"
Campbell Ewald for Travelocity
A series of films encourages "voluntourism"
"Women Not Objects"
Badger & Winters
Tackles objectification of women in the ad industry
"Great Immigrants"
Atlantic Media Strategies and Carnegie Corporation
Conveys the importance of immigrants to America
Future Fab
Ideo.org
Gets Kenyan teens to talk about contraception
The Fair Food Program
Pinkwater & Putman for the Coalition of Immokalee Workers
Food labels that encourage ethical shopping
Detroit Matters
Havas Chicago for Craftsman
A doc on Craftsman's work in Detroit
"Green Laces"
Anomaly for Dick's Sporting Goods
Each purchase benefits underfunded youth-sports programs
"Songs of Violence"
FCB Brasil for Estadão Digital
Matches rape testimonies with misogynist song lyrics
"Love Has No Labels"
R/GA
Breaking down biases
"Unfairy Tales"
180LA for Unicef
Syrian refugee children's stories
"Inject Hope"
Landor for Hamilton County Heroin Coalition
Humanizes drug addiction
"Walk With Yeshi"
AKQA
Builds empathy via Facebook Messenger
Wheels4Water
Rule29 Creative
Cycling to fight the global water crisis
Suspended for What?
DoSomething.org
Advocates for fairer school discipline
Food Finalists
50 in 5
PepsiCo
Reducing the water footprint of potato chips
Certified Transitional
Kashi
Store label for farms going organic
World Food Programme Innovation Accelerator
World Food Programme
Supporting entrepreneurs who reduce hunger
Fruit and Vegetable Prescription Program
Wholesome Wave
Free fruits and veggies for better health
Autonomous organic farming
DeepLook
AI robots for chemical-free fieldwork
South Side Soapbox
Method Products and Gotham Greens
First LEED Platinum factory of its kind and largest rooftop farm
LED-lit greenhouses
Colorado State University and Philips Lighting
Vertical farm for fresher eco-friendly hops
Sunqiao
Sasaki
Urban agriculture in Shanghai
PopShrimp
New Wave Foods
Plant-based shrimp made from algae
Biovessel
Bionicraft
Chic indoor composter for food waste
Securing Water for Food: Technical Assistance Facility
USAID and the Kaizen Company
Accelerator hub for water-saving agricultural solutions
A healthier tomorrow—the Dig Inn expansion
Dig Inn
Seasonal, vegetable-driven, locally sourced restaurant chain
Flow Hive
Flow Hive
Humane honey collecting for urban beekeepers
Ripple
Ripple
Pea-based milk
Cricket Shelter
Terreform ONE
Modular farm for edible insect production
Beyond Burger
Beyond Meat
Plant-based burger sold in the meat section
Everytable
Everytable
Variable-pricing restaurant for affordable, healthy meals
Impossible Burger
Impossible Foods
Meatless burger that "bleeds" (and is sold in restaurants)
Hop Compost
Hop Compost
Faster, odor-free composting for city restaurants
Health Finalists
Kernel
Kernel
Boosts the aging brain
M-Tiba
PharmAccess
Mobile payments for developing-world health care
DoctHERs
DoctHERs
Helping female doctors in Pakistan
Visualize No Malaria
Tableau Foundation and PATH
Mapping hot spots
Integrated tissue and organ printing system
Wake Forest Institute for Regenerative Medicine
3D printer for replacement human organs
Oncomfort
Oncomfort
VR as coping method
Chrom Hand Hygiene System
Zach Scott and Junpei Okai
Reminds doctors to wash up
Connected Eyes
Microsoft and L V Prasad Eye Institute
Harnessing AI to correct vision
Genome editing to find a sickle cell cure
University of Utah
CRISPR fixes mutations
Echo Smart Patch
Kenzen
Body stats, via sweat
OfficeIQ
Humanscale
Reminders to be active
The Urban Canaries
OFFC
Portable air-pollution monitor for kids
SaTo sanitary toilet products
Lixil
Low-cost sanitation for developing countries
EksoGT
Ekso Bionics
Helps paralyzed patients walk again
Kachumbala maternity ward
HKS Architects
Off the grid, in Uganda
Pregnancy High Risks Toolkit
Philips
Low-cost, low-tech maternity kit for Africa
PermaNet
Vestergaard
Longer-lasting antimalarial bed net
Urban Design Finalists
Border City
FR-EE
Vision of a binational, cross-border municipality
CitySpaces MicroPAD
Panoramic Interests
Prefab, low-cost living
Infarm
Infarm
Modular urban farms
Heijmans One
Heijmans
Tiny, sustainable houses for vacant lots
Kashiwa-no-ha Smart City
ZGF Architects
LEED-certified smart neighborhood
NewTown Master Plan
Perkins+Will
Industrial area now a maker community
The Dutch Mountains
The Dutch Mountains
Buildings as an ecosystem of services
Avalon Village
Avalon Village
Blighted neighborhood becomes an eco-village
The Storefront Theater
Matthew Mazzotta
Main Street turns into a pop-up theater
Yoshino Cedar House
Airbnb and Go Hasegawa
Community-run home for a struggling town
The Underline
James Corner Field Operations
10-mile park under Miami's Metrorail
Corridors of Power
Centre for Policy Alternatives
3D–printed design as political strength
New Songdo City
Kohn Pedersen Fox Associates
Built to reduce waste and emissions
Heidelberg Village
Frey Architekten
Multigenerational, sustainable passive houses
Cook County Central Bond Court
CannonDesign
A redesign for fairness
South Side Soapbox
Method Products and Gotham Greens
First LEED Platinum factory of its kind and largest rooftop farm
LinkNYC
Intersection
Replacing pay phones with free Wi-Fi
El-Space: Creating Dynamic Places Under the Elevated
Design Trust for Public Space
Building under highways and rail lines
The Brooklyn Strand Action Plan
WXY Architecture + Urban Design
Linking green spaces
Developing World Technology Finalists
PermaNet
Vestergaard
Longer-lasting antimalarial bed net
Fresh Fit
Sanergy
Cheap urine-diverting toilets for slums without sanitation
Pregnancy High Risks Toolkit
Philips
Low-cost, low-tech maternity kit for Africa
World Food Programme Innovation Accelerator
World Food Programme
Supporting entrepreneurs who reduce hunger
M-Tiba
PharmAccess
Mobile payments for developing-world health care
Kio Kit
Brck Education
Rugged tablets for classrooms
RippleNami
RippleNami
Putting the unconnected on the map
Be
B-Change Group
App designed to make the world a more inclusive place for marginalized groups.
PlayPallets
PlayPallets
Pallet-based play systems for refugee kids
Prosthetics in a box
Not Impossible Labs
Build a working upper-limb prosthetic
DoctHERs
DoctHERs
Helping female doctors in Pakistan
Solar-powered water generator
SunToWater Technologies
Drinking water from the air
Drinkwell
Drinkwell
Locally owned water filtration, powered by human waste
Neopenda
Neopenda
Tiny hats monitor vital signs in infants
Charity: Water sensor project
Charity: Water
Remote sensors track water projects in Africa
Tricog
Tricog Health Services
Emergency-communications network in India speeds up heart diagnoses
On-the-Go H2O
Ford Motor Co.
Transforms condensation from cars into clean drinking water
Energy Finalists
Sandstone Energy 10X
SolarReserve
Solar energy at Hoover Dam scale
Totem
Totem Power
Solar, Wi-Fi, vehicle charging, and street lighting—all together
ChargePoint Home
ChargePoint
Easier electric-vehicle charging in your garage
GE hydropower turbines
GE Renewable Energy and Max Bögl Wind AG
Wind turbines plus hydropower store more renewable energy
GridOS
Opus One Solutions
Enabling electric grids with 100% renewables
d.light A1
Ideo.org
Affordable solar lanterns
Solar savings for all
Arcadia Power
Simpler community solar by subscription
Smart Green Tower
Frey Architekten
A building that generates and stores all its electricity
AMIE 1.0
Oak Ridge National Laboratory, the University of Tennessee, and Skidmore, Owings & Merrill
3D–printed building that shares power with electric vehicles
Orison Tower and Orison Panel
Orison
Sleek home-energy devices bank power when it's cheapest
GoSun Grill
GoSun
Portable solar cookers that bake, boil, and steam
Modular Indoor Micro-Climate (MIMiC)
Rensselaer Polytechnic Institute Center for Architecture Science and Ecology
Personalized heating and cooling
The Kathleen Grimm School for Leadership and Sustainability at Sandy Ground (P.S. 62)
Skidmore, Owings & Merrill
Generates more on-site energy than it uses
Consumer Products Finalists
DuoSkin
Microsoft Research and MIT Media Lab
Temporary tattoos to control electronics
The Mercado helmet
Bats-Toi
Innovation that protects your face
Sano
Sano
A glucose-tracking patch
BACtrack Skyn
BACtrack
A wearable alcohol-level monitor
Rothy's shoes
Rothy's
Footwear from water bottles
Medical cannabis solutions
Hmbldt
Scientifically measured pot strains
Flow Hive
Flow Hive
Humane honey collecting for urban beekeepers
Fairphone 2
Seymourpowell
Repairable, ethicallymade smartphone
Inclusive Design
Microsoft
Designing with people with disabilities in mind
Cora
Cora
Organic tampons
Owlet Smart Sock
Owlet Baby Care and R/GA
Measures your baby's pulse and oxygen level
Everlane cashmere
Everlane
Total transparency
Bioscarf
Petrichor SA
An air-filtering accessory
Sense home-energy monitor
Sense
Real-time energy stats
Students Finalists
Modular Indoor Micro-Climate (MIMiC)
Rensselaer Polytechnic Institute Center for Architecture Science and Ecology
Personalized heating and cooling
WheelSense
UC Berkeley CITRIS Invention Lab and Jacobs Institute for Design Innovation
Improved navigation for wheelchairs
Nabu
UC Berkeley CITRIS Invention Lab and Jacobs Institute for Design Innovation.
Automatic sign language translation
Vald
ArtCenter College of Design
Emergency oxygen for miners
Q
ArtCenter College of Design
Wearable captioning device for the deaf
Exponent
School of Visual Arts
A keyboard to empower women at work
Fishwish
Grace Hsieh
An app for sustainable seafood choices
Google Urbanism
Google Urbanism
Monetizing attention to fund smart cities
Atta-matic
Parsons School of Design
Devices to prevent a sedentary lifestyle
Nume personalized nutrition
Umeå Institute of Design
Better food habits
REheat
Pratt Institute
Wearable personalized temperature controls
Wearable Shelter
Wearable Shelter
A jacket becomes a tent
Homes for Hope
USC School of Architecture and Madworkshop Homeless Studio
Modular microhouses for L.A.'s homeless
Stator
Stator
Sleek electric scooter
The Hong Kong Project
Savannah College of Art and Design
A fix for urban burials