The plan was developed as part of the Rockefeller Foundation's 100 Resilient Cities initiative; New Orleans's strategy launched in 2015, and last year, the city was awarded $141.3 million through the U.S. Department of Housing and Urban Development's Natural Disaster Resilience Competition to further the implementation of the plan. "What Katrina exposed for us is that we cannot just rely on manmade, engineered systems . . . you have to have a more resilient system that has redundancy and multiple different flood protection features in order to protect the city," says Jeff Hebert, the city's chief resilience officer. "The second thing is that we really have to go back into history and learn how to live with water in a city that is so wet."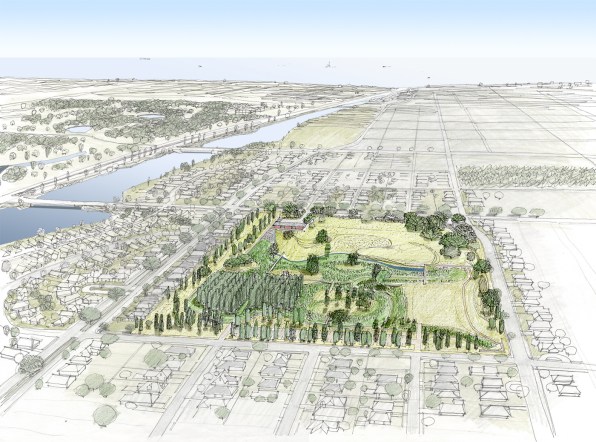 Prior to the 1930s, development in New Orleans was tightly constrained by water: With the Mississippi River on one side, Lake Pontchartrain on the other, and swamps and other wetlands in between, housing was limited to a small footprint. Levees built by the French protected the city from river flooding.
But by the late 1930s, the city was beginning to drain water out of swamps to make it possible to build more homes on lower ground. The Gentilly district, north of the French Quarter, was one of the first swamps to be pumped and drained to become a neighborhood. Now, in a series of projects in the area, the city is bringing some of that water back.
"This is the first time where we're taking a lot of the learning that we've done since Katrina and putting it over a distinct geography to show that we can reimagine the way New Orleans lives with water," Hebert says. "Then we can take that approach and do it in the next districts of the city."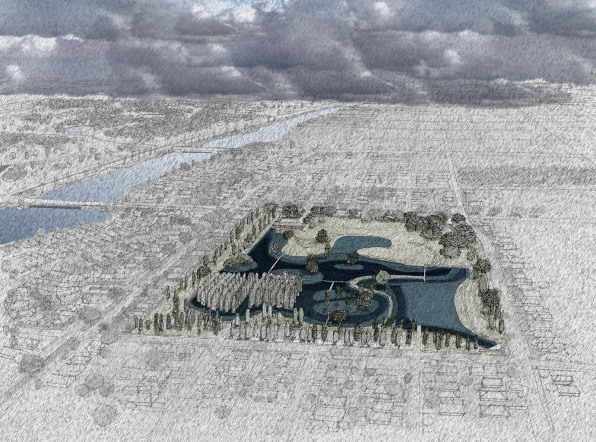 After Katrina, the city also strengthened traditional engineering, spending billions on a massive new surge barrier. But in a heavy storm, the city's drainage system can quickly become overwhelmed. The projects in Gentilly will add more protection by diverting water into the landscape, taking inspiration from similar designs in Dutch cities like Rotterdam.
On the site of a former convent that was destroyed in a fire after Katrina, a new "water garden" is designed to store as much as 10 million gallons of rain in storms. Vacant lots will capture more water. Along major roads, some medians will be replaced with permeable sidewalks and plantings. Playgrounds and campuses will get new green infrastructure.
All of this can help reduce flooding, while also recharging the underground water supply. When water is pumped out of the area, the dry soil begins to sink, making foundations and sidewalks crack. "Everything starts to collapse," Hebert says. "You have to have a certain amount of water in that type of soil in order for that not to happen."
The resilience projects will also make the neighborhood a greener, more pleasant place to live. The city wanted to focus on Gentilly in part because it's a diverse neighborhood–not a tourist attraction, but a place where locals live. It also looks like other midcentury neighborhoods, so the lessons learned here could be useful elsewhere.
"We wanted to create something that could be transferable to other parts, particularly in the United States, where you had postwar suburban development," Hebert says. "This neighborhood could be an example for neighborhoods in Houston that look exactly like Gentilly and have the same flooding issues."
It also will be an example for the rest of New Orleans. The city is already beginning to plan pilots in other neighborhoods, and those efforts will scale up in about two years.
[Photos: Waggonner & Ball Architects]