Gal Rozov has a simple but beautiful dream. He wants to free us from the tyranny of that most monotonous of household chores: folding clothes.
"My wife always claims I'm one of the worst laundry folders in the world, and she's right. I hate it. It's tedious," says Rozov. "We have a washer, dryer, vacuum cleaners, dishwasher. So where is the laundry folder? Why don't we have it already?"
He isn't alone in his frustration: According to a recent survey by Braun Research on behalf of Whirlpool, 46% of homeowners long for an appliance that can fold their clothes.
A self-proclaimed "technology freak," Rozov set out to build a gadget of his own. "I couldn't resist at least exploring the opportunity to see if it could be done," the father of three says.
In 2010, he quit his job as a software developer and product manager in Israel to spend two years working with researchers on how build his bot. In 2012, he moved to the U.S. to work with a robotic team in Silicon Valley, where he founded FoldiMate. By 2013, he had a patented technology for folding laundry robotically. And by 2016, after an initial round of investment from family and friends, Rozov was finally able to produce a rough prototype that shares a name with the company itself.
Marketed as a "folding friend," Rozov's machine folds, softens, and even infuses fragrance into dry clothing. The user clips a garment to FoldiMate's feeder, at which point the item is scented and dewrinkled (both optional), folded, and neatly placed on a pile. It's the size of a European washer and requires approximately two and a half minutes to fold an average laundry load of 25 pieces of clothing.
"You can go through your entire laundry load within minutes," says Rozov. "It will save you 50% of the time it usually takes."
Rozov expects Folidmate will be priced at $850, though he hopes the machine will get smaller and less expensive as product development progresses. "The technology is evolving as we speak," he says.
FoldiMate does have some restrictions: The current model can handle shirts, trousers, dresses, skirts, and towels, but not underwear or socks because they're too small. It can process clothes for kids as young as 5 and up to a man's XXL. Babies? They're on their own.
"This is not a simple appliance," Rozov says. "It's a robotic appliance. It has moving parts and mechanical elements that need to be simplified to a point where we can put it in your home and it can be easily used."
He's got company in the laundro-bot field. In 2015, the Japanese startup Seven Dreamers debuted Laundroid, a fully automatic laundry folding machine intended for mass market. This past fall, Seven Dreamers announced it had secured $60 million in funding from several investors, including Panasonic, to manufacture the appliances. Laundroid is the size of a refrigerator and takes between five to 10 minutes to fold one garment. But it does have one key advantage over FoldiMate: You can load an entire batch of clean, dry clothing all at once, versus item by item. The company has not yet announced a retail price, but Laundroid is expected to hit the Japanese market next spring.
Rozov isn't sweating the competition. He believes that because Seven Dreamer's machine is so big and focused on an international market, FoldiMate will hold an advantage in the U.S. At the moment, the company has 10 employees and is attempting to scale.
There's been a lot of buzz around FoldiMate in the past year. It was accepted into the Plug and Play startup accelerator program in the spring, and last June, Rozov released a promotional concept video to gauge the public's interest. "We wanted to make sure that when we build our vision, people will want it."
The video went viral, garnering over 150 million views and landing FoldiMate in major publications, from Wired to Us Weekly. Within a month, the company website had clocked 100,000 website registrations of people who wanted to be the first to know when preorders open. Today, that number has jumped to 195,000. Of those, 7,500 have already put down a 10% deposit for priority delivery of the first models. The goal is to meet consumer demand by the end of 2017 or very early 2018. (In the meantime, the company is working on scaling up: It currently has 10 employees, double its size from a month ago. Within the next six months, it plans to double again.)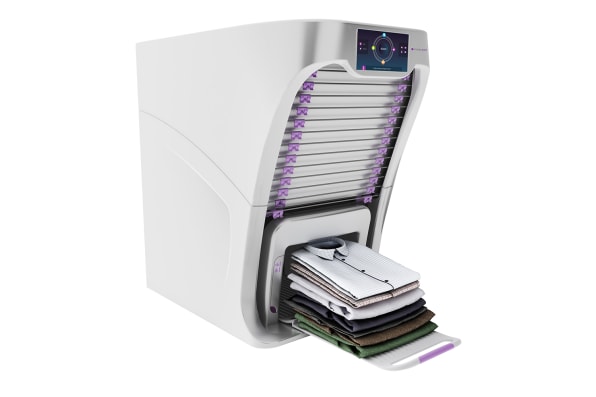 "We will not open up preorders unless we feel confident in our manufacturing plan," says Rozov, who says he is in talks with leading U.S. manufacturers in the home appliance industry, but declines to specify which ones. He is determined to take his time and avoid spoiling the good press and excitement. "We're being very cautious with consumer expectation."
And four of those potential consumers hold extra sway. Rozov has to keep his word to his wife and kids, who are looking forward to the day when the folding of a simple pair of khakis doesn't lead to a household crisis.