Get ready for high-quality virtual reality to get a lot less expensive.
The consumer VR industry is currently in a bit of a chicken-and-egg loop, with most hardware makers seeing modest sales, in part because there's not enough great VR content available—which of course is due to the fact that many developers are wary of building content for platforms that aren't yet fully mainstream. Still, the market for VR hardware is expected to hit $3.6 billion this year, and $37.7 billion for hardware and software by 2020.
One stumbling block for wider adoption is the price of hardware. In an interview Monday in San Francisco at the Game Developers Conference, Oculus vice president of content Jason Rubin told Fast Company that most people who have gone through demos of the Oculus Rift report they would buy one of the high-end VR systems, and then didn't–largely because of its $599 base price, not to mention the additional $199 cost of the essential Rift Touch controllers.
HTC, maker of the $799 Vive, the Rift's closest competitor, clearly senses that price is an issue. Just this week, the company introduced a new financing program that allows would-be buyers to get a Vive now and pay it off over six, 12, or 24 months.
Oculus, owned by Facebook, is going another direction. Today, the company is announcing that it is lowering the price of a Rift bundle–including a set of Touch controllers–to $598, fully 25% less than the base Vive, or 33% less than a Vive with that system's new $99 integrated headphones.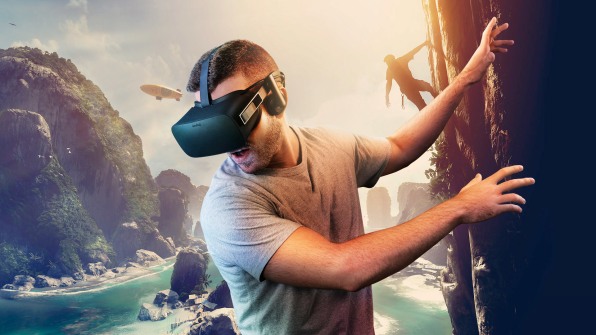 Of course, although a Rift with Touch controllers features positional tracking, it is not as substantial as the Vive's room-scale tracking. To get that on the Rift requires an additional sensor, which costs $99 more.
Still, Oculus is surely right in saying that a Rift bundle for $598–just $100 more than the $499 it costs for a fully-featured Sony PlayStation VR–is a very big deal, one that is likely to result in many more people buying the system, especially as the number of different titles for Rift increases. There are now more than 100 titles optimized for the Touch, and hundreds more for the base Rift system, Rubin said.
Oculus is also lowering the price of the Touch controllers themselves from $199 a pair to $99, making that accessory much more attractive to Rift users who hadn't upgraded. "We think that will drive Touch to every Rift user's house," he said. "They can't say no" to that price.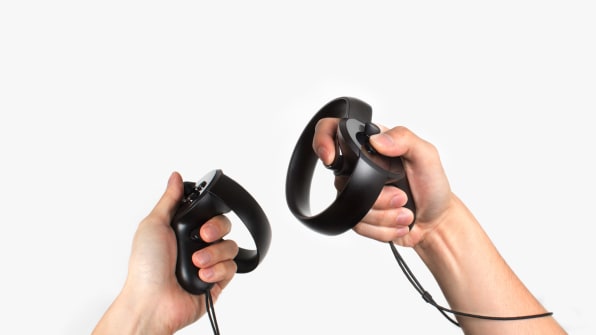 There's another element holding up the adoption of high-end VR: the requirement that systems like the Rift and Vive be tethered to a gaming-quality PC. Rubin said that prices are falling there too, making it even more likely the number of people who buy Rifts (and, by extension, Vives) will rise quickly.
A year ago, he said, Oculus pegged the cheapest PC capable of running the company's recommended specs for Rift at $999. By last fall, that number had dropped to $799. Now, Rubin said, thanks to software improvements that eliminate some of the hardware heavy-lifting required by the Rift, it's possible to buy a PC capable of powering the Rift for $499. All told that means that in less than a year, the cost of an all-in Rift setup has fallen from $1900 to $1100. And it's only likely to drop more over time.
Rubin noted that Oculus had been able to lower the price of the Rift so substantially because "the price of hardware comes down over time" naturally, and because Oculus now has a stronger team working on hardware development.
"We're comfortable with the price," Rubin said when asked about the $200 less Oculus will get per unit, "and it's sustainable. And, it's required for people to get PC VR to take off."
In the meantime, it's clear that although everyone in the VR industry would like it to grow quickly, there are those who caution patience. Among them is Facebook CEO Mark Zuckerberg, who recently asked investors to treat VR hardware's growth much like that of smartphones, which took ten years to hit a billion units sold.
Asked if he thought Zuckerberg might be too conservative in that assessment, Rubin said "I'm not about to second-guess Mark."