This year's annual letter from the Bill and Melinda Gates Foundation focused on the mortality rate of children under five years old. This statistic can offer a lot of insight about the quality of life for the world's poorest population, by showing the health of its most vulnerable members. It's both heartbreaking and hopeful: Though millions of children in developing countries still die before they reach the age of five, the rate has been cut by 122 million in just two decades.
For the Gates Foundation, that number is indisputable proof that international initiatives to improve global health are working. Yet each year they find that the news of this decline seems to only be reaching and motivating the same people–namely, people who work in public health. "I think we always feel every year that we could do more [advocacy]–we must do more to get this data out there," said Alex Reid, a communications lead for the Gates Foundation, at an event held at Fast Company's offices on Wednesday night.
Since the foundation wasn't making the impact it wanted with just raw data, it partnered with Fast Company to ask designers to translate the statistics in a more meaningful way. The result is five projects from the likes of Gail Anderson, Michael Bierut, Stephen Doyle, Chip Kidd, and Debbie Millman that demonstrate both the progress that has been made and the work left to do. At the event on Wednesday night, the designers talked about their projects, their processes, and the challenges of making hard-to-conceptualize numbers more tangible.
Turn To Language
Tasked with visualizing the decline of death rates due to preventable diseases such as pneumonia and diarrhea, Gail Anderson and her colleagues at Anderson Newton Design had originally planned to sort of "rebrand" the issue so as to not turn people off. They considered framing it around clean water and hygiene instead. Ultimately, they decided not to glaze over the incredible fact that pneumonia and diarrhea are the leading causes of child death, even after a decline of 12.6 million deaths to 6.6 million deaths over the last two decades. "We thought, no we're going to embrace this," Anderson said.
In the resulting animation, those two words aren't just used, they are central to the design. Anderson and her partner Joe Newton are known for the use of lettering and typography in their work, as well as a penchant for word play. In the video, the letters in pneumonia and diarrhea slowly fade, one by one, as statistics showing a two-thirds reduction in deaths since the 1990s appear and disappear on screen. At the end, the only letters left spell out the word "None," representing the final goal of the initiative to reach zero preventable deaths worldwide.
The process for puzzling out that kind of play on letters, says Anderson, typically involves writing the words over and over again until an idea strikes. In this case, she also sat with the words for a while, in the form of two index cards on her desk. "I wondered if Noel [a colleague] was going to come in the next and be like, 'Excuse me?'" Anderson said. "But then Joe came in and just started picking apart the letters, and we thought: 'This is it.'"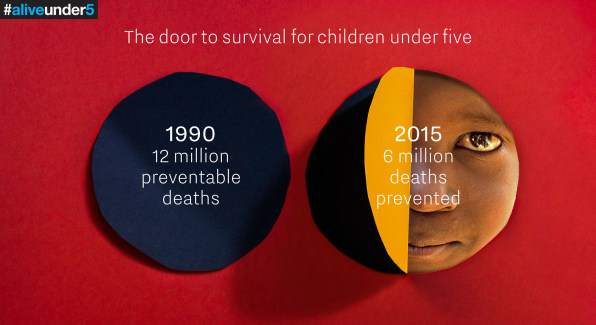 Add a Human Element
The designer Stephen Doyle, who runs the New York-based design firm Doyle Partners, was the only one of the five designers to incorporate human beings into the design of a topic so grounded in humanity. His poster depicts the statistic that preventable deaths per year were cut in half from 1990 to 2015 with a clever cut-away take on the pie chart. The statistic that there were 12 million preventable deaths in 1990 is overlaid on a completely black circle; the 6 million preventable deaths for 2015 is depicted with half of that circle pealed away, revealing a close-up view of a child's face.
Doyle's method very literally put a human face to a large and somewhat abstract set of numbers. "When he turned it in and it had the face of the child, that's when I was really moved," Fast Company's Chuck Salter said of Doyle's design at the event (Doyle was traveling and couldn't be there). "I felt that, this is all about children and human beings, and the fact that they actually had a place I thought was really meaningful."
Tell A Story As Big As The Data
When Debbie Millman–designer, writer, and host of the popular podcast Design Matters–was deciding which issue to represent with her project, she landed on maternal health in part because of the personal stories she came across online. She chose to focus on getting the word out about kangaroo care, the practice of skin-to-skin contact between a mother and her baby to raise the baby's body temperature. This concept is uniquely important in reducing the deaths of newborns because it is incredibly simple, and it doesn't cost money or require any medical equipment.
The biggest challenge, then, is communicating that information. Rather than strip down the message, Millman chose a medium that mirrored the complexity of the topic. Millman's trademark style of work is one she terms "visual storytelling," and it involves a time-intensive and laborious hand-lettering and bookmaking process that renders truly beautiful results. For this project, she created a book that told the story of how decades and sometimes centuries of culture in rural places in the developing world teach traditions–like throwing out the mother's first breast milk, or carrying children on your back–that can be fatal to a newborn. Each page of the book is different, with hand-drawn words or cutout letters. Millman filmed the book in a video and narrated the story.
"The data was daunting," Millman said. "I just immediately thought [this] made the most sense because, what do mothers and caretakers do for their young children? They read to them. And so I thought it made a nice connection to what I do through visual storytelling."
Millman wanted to make a fluid, easy-to-follow narrative, but when it came to representing the most disheartening statistic of her research–that 1 million babies die within the first 24 hours of their life–she wanted to make readers stop in their tracks. One spread in the book points out the statistic with somber black lettering on black paper. On the next page, in huge white hand-drawn numbers that take up the entire spread, she reemphasizes: 1,000,000. To get across the point of her story, she had to interrupt it.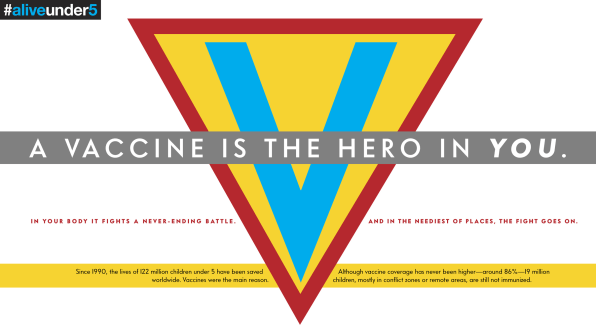 The book designer Chip Kidd applied a similar narrative style to his project, this time by way of comic books. To demonstrate the importance of vaccines in preventing child death, he drew inspiration from comic book storylines where characters would shrink and then go into a sick body to combat diseases. "I just became besotted with this idea if you could convince a kid with a vaccine that, we're going to put a superman in your body and it's going to fight for the rest of your life against this disease," Kidd said at the event. In his poster, a big, valiant V sits above the tagline, "A Vaccine Is The Hero In You."
Or, Get Granular
Sometimes the most impactful way to visualize big data is to show it by the numbers. "We were struck by how dramatic the decrease in child mortalities there were in just 10 years," Pentagram partner Michael Bierut wrote in a statement about their project (Bierut was traveling and couldn't make the event). "Something about the raw number of children's lives that were saved (rather than the percentage decrease) was really powerful."
For Bierut's project, he and his team decided to stick with a simple statement: "462,738 more kids. The Difference A Decade Can Make." It wasn't until later in the design process that it occurred to them to represent that number in more ways than one. The final image is a GIF that starts with a few dots scattered across a blue background that then fill in to reveal the words. The dots register visually so that the number is perceived to be as monumental as it actually is.
It's even more impactful if you know that each dot represents 100 children still alive today who wouldn't be 10 years ago. It's also a reminder that you don't have to obscure the raw data when designing infographics–you can use it graphically. Whether using the numbers directly or translating them into an overarching narrative, the goal for each of the designers in this project was to make health statistics resonate with viewers, both emotionally and intellectually.