Four days before the presidential election, Walmart made a major announcement: Along with other sustainability goals, it would cut its climate emissions in line with what science says is necessary to stay under two degrees of warming.
That's also the goal of the Paris climate deal, in which 192 countries agreed to reduce emissions enough to avoid the worst impacts of climate change. Now, as the Trump administration rolls back climate policies, companies like Walmart are a key part of making that goal still theoretically achievable.
Using a combination of energy-efficiency measures and renewable energy, Walmart plans to reduce emissions 18% from 2015 levels by 2025. It will also work with suppliers to cut one gigaton of supply-chain emissions by 2030.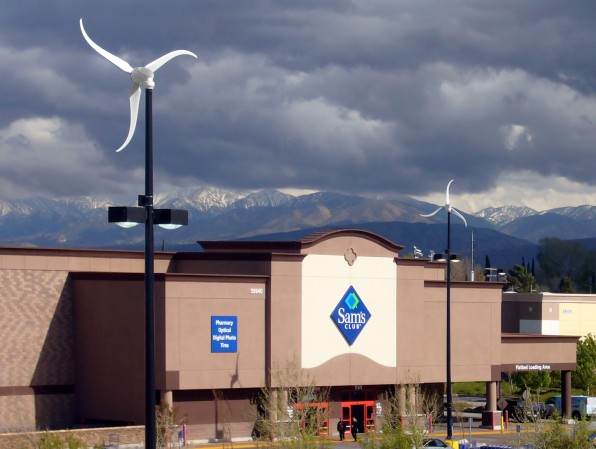 Other major corporations, such as General Mills, have made similar commitments under the Science Based Targets Initiative, a program run by CDP, the UN Global Compact, the World Resources Institute, and WWF that helps companies set targets. Walmart was the first retailer to have its pledges approved by the group.
For businesses, it's a way to address future risk.
"The thinking goes something like this: The world is changing–we will have to spend money addressing and dealing with those changes whether we like it or not, whether we are committed to climate action or not," Eric Olson, senior vice president of BSR, a nonprofit that advises Walmart and other companies, tells Co.Exist. "Things are happening. Under those circumstances, it's our job to figure out what we can do that creates as much value for our organization as possible, while doing the things that need to be done."
The bigger the goal, the more likely that others will follow, helping reduce risk more. "They said going big and bold on our climate goals is going to be less risky and less expensive than going incremental," he says. "Which sounds counterintuitive, but the simple rationale is that if we set the bar high enough, if we go big enough and bold enough, we're then going to inspire people to do what we're doing with their resources–human, technical, and financial. That's the Walmart bet."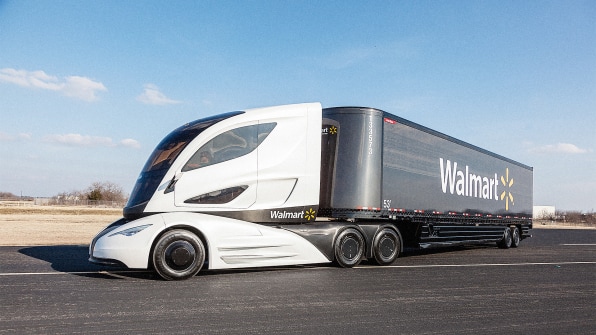 For Walmart, there's also an immediate business case for the changes. Efficiency measures, which the company has pursued for more than a decade, save money.
"Not only do they make sense for people and the planet, but there is a solid business case," says Fred Bedore, senior director of sustainability at Walmart. "If you're talking about efficiency, it means that you can spend less on energy, and need less energy for your operations and less fuel for your trucks."
Shifting to renewables, which will power half of the company's operations by 2025, helps the company more easily forecast future costs, because renewable contracts eliminate price volatility.
Walmart has been working to improve sustainability for more than a decade. By 2015, fleet efficiency had doubled, saving the company $1 billion a year. (The company achieved this through a combination of technology and new measures like streamlining delivery so trucks don't drive empty, and finding better routes between stores). By 2016, it had solar panels on the rooftops at 364 stores, the largest number of on-site installations in the United States.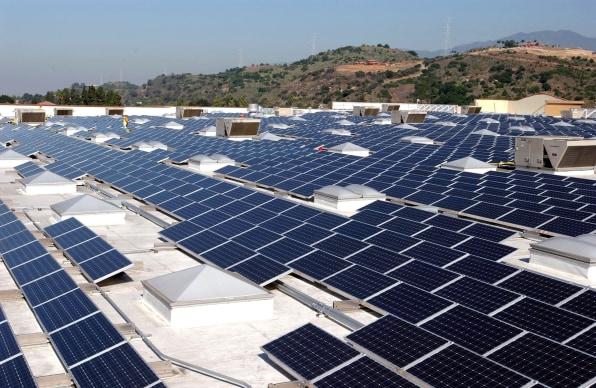 The new science-based target will push the company to go further. "I think whatever's right in front of you feels the most difficult, but that's also where a lot of the breakthrough innovation happens," says Bedore. "With setting science-based targets, not only is that probably the longest time horizon for one of our specific goals, but it's also probably one of the most aggressive and comprehensive goals that we've set as a company. So I think it will really push us and push our stakeholders to really get to those innovations."
As it works, Walmart is also pushing the companies it works with to change. "There's a number of things where we have to work with a broad array of people, because we definitely don't have the answer," says Bedore. "We're not building trucks, we're not developing fuel, but obviously we operate them. So aligning that supply and demand is what's key. Then just making sure that there's a solid business case around it for everyone who's involved is one way that you make sure that these things have legs."
The company is also inspiring others beyond its direct partners; Olson says he has had dozens of conversations with other businesses since November as a direct result of Walmart's action.
"No one would accuse them of being a starry-eyed, idealistic company," he says. "This is a good, heartland America company, very tightly managed in a brutally competitive industry, that has come out and gone way beyond anything that I think you could dismiss as public relations for its own sake. It has also gone beyond the easy stuff."
The Science Based Targets approach has resonated with many companies who want to act, and realize that radical decarbonization is necessary, but don't know how to set specific goals.
"It's a good methodology for figuring out what's our 'fair share,'" says Olson. "When I've used those words with CFOs, with people on management committees in culturally very conservative institutions . . . it resonates."
As the political landscape has changed, Olson says that the companies that have set clear goals show no signs of backing away. "Those who are already in the game and are publicly committed to these big bold goals, they're on target and they are very quick to say, 'We don't plan in four-year cycles, and what we're trying to achieve makes as much sense today as it did a couple of months ago.'"
[All Photos (unless otherwise noted): via Walmart]