Jordan Peele just pulled off what he considers to be the hardest thing he's ever done.
The longtime comedian and writer has always had an affinity for horror films, but the thought of writing one, let alone directing, never crossed his mind until meeting with producer Jason Blum (Insidious, Paranormal Activity, The Purge) who not only bankrolled Peele's directorial debut along with QC Entertainment, but gave Peele total creative control.
---
---
"My nerdom, my love of the genre, was paralyzing for a while. I couldn't imagine putting together something as good as my favorite things. Even if I could, I couldn't imagine somebody giving me the opportunity to do that, giving me the millions of dollars it takes to make a movie," Peele says. "But I can confidently say that I 100% got to make the movie I wanted to make."
Get Out stars Daniel Kaluuya (Sicario, Kick-Ass 2, Black Mirror) as Chris, a young black photographer who's meeting the parents of his white girlfriend (Allison Williams, Girls) for the first time at their home. The weekend starts out with the racially driven micro-aggressions and mildly awkward comments one would expect affluent white people to hurl at a black man. But it's all just a sheer veil covering something way more horrifically sinister.
Get Out falls in step with some of Peele's favorite thrillers, including Rosemary's Baby, The Stepford Wives, and The Night of the Living Dead, as a socially conscious horror film. It's a clear nod to his predecessors, but what Peele accomplishes in Get Out is also something entirely singular. Peele masterfully blends racial tension with humor and bloody gore with cinematic finesses in a way that undoubtedly makes Get Out already a modern classic.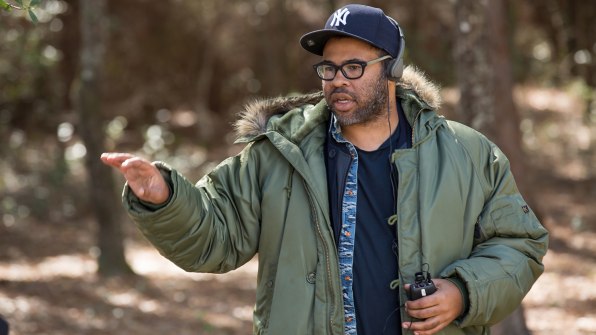 "A real social thriller is a film that explores the fact that society itself is the monster–a film in which the way human beings interact with one another is the demon in question," Peele says. "This is a movie where if it's too dark, it's almost unwatchable because it's so uncomfortable. If it's too funny, it's doing a disservice to the seriousness of the issue at hand of racism. That tonal balance is probably the reason the genre has been hands-off with the issue of race. So very early on I knew that key to this movie was getting the right balance of tension and release because it's got to be fun and also poignant."
Peele was able to find and develop the perfect tone for Get Out by knowing he had complete creative reign over his vision.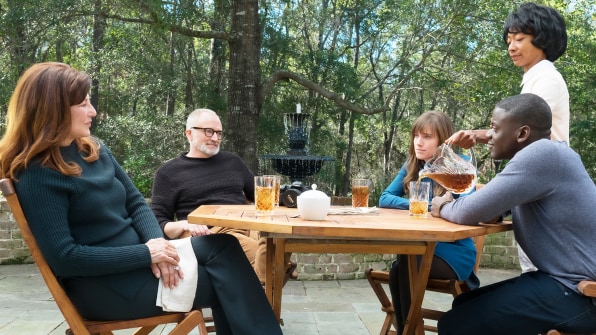 "When I was writing this, I freed myself from the bind of it having to be sellable and marketable–I really went at it as a writing project to write my favorite movie that didn't exist yet," Peele says. "From that point forward, my love of horror is what guided me. I am a sum of my core influences, so I did what I imagined [Quentin] Tarantino does: I just spoke in terms of my favorite films."
Part of what makes Get Out so effective is that the tension and violence inherent of its genre are baked into a stunning visual style that serves a purpose deeper that just looking cool, namely the pivotal scene where Chris descends to "The Sunken Place."
Under the guise of wanting to help him stop smoking, Chris's girlfriend's mother, Missy (Catherine Keener) hypnotizes him, in turn drudging up deeply rooted guilt surrounding his own mother's death. Once physically paralyzed by the hypnosis, Missy commands Chris to sink into the floor, plunging him into a black void where the only "window" is a small square that's a detached view of the outside world.
"There are many moments in this film that began as images or dreams or ideas that were bubbling out of me and I didn't know what they meant. The Sunken Place itself, among other things, is a metaphor for the idea of marginalization," Peele says. "It's symbolic of the lack of representation in many ways of African-Americans within this genre. There's no mistake that the Sunken Place resembles a darkened theater where there's a screen, and as much as you scream at the screen you can't affect or change what's happening on the other side. This film was meant to serve that loyal, black horror fan base that doesn't see any representation in the genre."
Get Out is the first of four other social thrillers Peele wants to make in the next 10 years. Even though he won't divulge any details ("somebody would straight jack my idea"), Peele does say that the next one won't be about race but will still have that "trademark fun mixed with 'holy shit, how'd that be made'" vibe.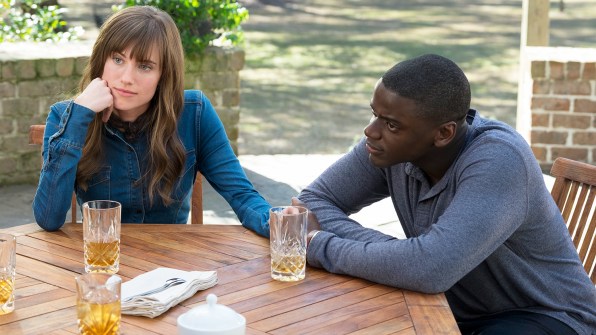 It's more than evident that Peele didn't squander the rather unique opportunity to make the film he wanted to make as a neophyte director. If Get Out is his first crack at horror, one can only imagine what the next four will be like.
"[Get Out] validated my creative muscle. I didn't think that this movie would ever get made–that's really how far we've come as an entertainment culture in the past few years," Peele says. "We're in a renaissance where African-Americans and other marginalized groups are getting platforms that we wouldn't have gotten five years ago to tell elevated stories, not just niche stories. We have a lot of people out here who have original ideas and have perspectives that haven't been beaten to death by the Hollywood machine. It's a good time to be making movies."