Kevin O'Connell holds kind of a depressing record: With 21, he has the most Academy Award nominations without a single win.
O'Connell's work as a re-recording mixer for Hacksaw Ridge marks his 21st nomination and the possibility to break an anomalous losing streak. Terms Of Endearment in 1984 was his first nomination, and ever since then his inability to grasp gold has become something of a running joke.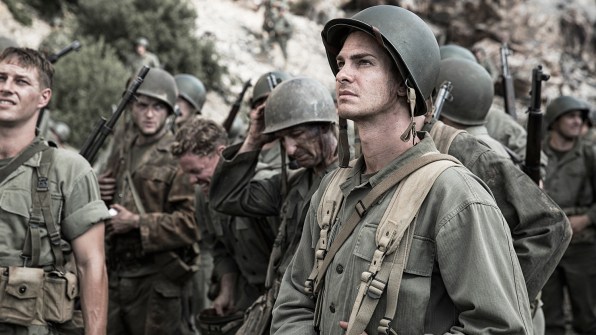 "People have said to me over the last 35 years, 'Hey, maybe the third time will be the charm,' 'maybe the sixth time, maybe 12th, maybe the 20th time.' Now I'm at the 21st, and when people say that to me, it makes me bolt," O'Connell. "But I'm so humbled and excited to be nominated–I just think it's thrilling."
O'Connell's lack of an Oscar certainly hasn't stinted his career: to date, O'Connell has more than 200 titles under his belt, including Passengers, Sisters, Top Gun, Transformers, Spider-Man 1-3, Armageddon, and Poltergeist.
Not bad for a guy who started off as a fireman.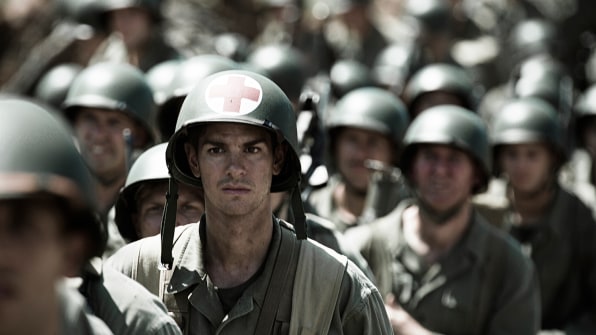 When O'Connell was 18, he worked as an L.A. county firefighter. It had been his dream since he was a little boy–for his mother? Not so much.
"I lived at home at that time and I'd come home from a fire and she'd look at me battered bruised and beaten up and she'd say, 'I really don't like you doing this. I wish should come down the studio and check it out,'" O'Connell says.
The "studio" O'Connell's mother was referring to was 20th Century Fox where she worked in the sound department. O'Connell also shadowed the sound team at Samuel Goldwyn Studio before deciding to give it a shot.
"I got hired there in January of 1978 and that first year I worked on some great films like Animal House and Grease, and then later The Empire Strikes Back and Raiders of the Lost Ark," O'Connell says. "I didn't know anything about sound prior to that but with an introduction like that, it was hard not to get hooked into it."
But hooked on what exactly? Because everyone who has ever watched an Oscars telecast has asked him or herself the same question: What's the difference between a sound editor and a sound mixer?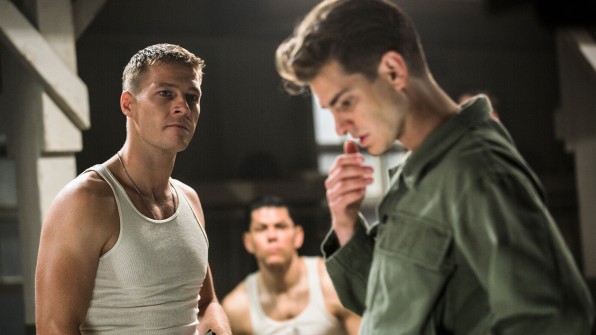 Think of a sound editor as the person who creates sound effects, and a sound mixer as the person who layers those sound effects with the dialogue and score of the film, balancing all three so one doesn't overpower the others.
"It's a very artistic process," O'Connell says. "The men and women that do this job are some of the most creative people in the film business."
Of course, someone working as a sound mixer would say such a thing, but in truth, O'Connell isn't wrong.
Sound mixers have control over every single sound in a film, down to the most granular level. In Hacksaw Ridge, O'Connell's work begins with taking the raw audio from production. Then, dialogue from action-heavy scenes are often re-recorded "because the prop guns and the explosions sound like cap guns and firecrackers going off and it obscures the actor's dialogue," O'Connell says. Once the dialogue and sound effects are ready, the film score is broken down by sections (woodwinds, brass, percussion, choir, synth, etc.) and everything is on separate faders, meaning O'Connell can tweak individual sounds to the smallest degree.
Take, for example, this pivotal scene from Hacksaw Ridge. In a phone interview, O'Connell breaks down his process for adjusting various sound elements to hit the right emotional tone.
---
---
O'Connell's staggering 21 Oscar nominations are a testament to the intricacy of his work, but if you've never known his name until now, he's totally fine with that. Sound mixing is one of the jobs where you don't really pay attention to it until you hear a scene so jarring that you know something went very wrong.
"In Hacksaw Ridge, if you believe that when Andrew Garfield stepped on that beach in Okinawa and started getting pelted with explosions and gunfire then we did our job right because none of that stuff is real," O'Connell says. "It's all being done and manipulated by the sound team [and] if we've done our job right, it's 100% seamless."