Within an hour of setting up Samsung's Chromebook Pro, I was doing things that used to be impossible on these laptops. I found a decent Markdown editor in Epsilon Notes and used a OneDrive sync application to pull in all my online documents. I plugged in my Xbox 360 controller, installed Moonlight, and started streaming games over Wi-Fi from my desktop PC. I even signed into multiple Slack teams without having to open multiple browser tabs.
All of this was possible because the Chromebook Pro—finally—runs Android apps.
For every new Chromebook from this month onward, along with a few from last year, users are no longer limited to web-based apps. Instead, we can install anything we want through the Google Play Store. Owning a Chromebook, in other words, is no longer an exercise self-restraint.
For Chromebook's existing devotees, this might seem like heresy. Chromebooks are supposed to be fast, simple, and secure, and the addition of Android apps inevitably creates trade-offs. But while I was once among the skeptics, I've come around to believing that those trade-offs are worthwhile.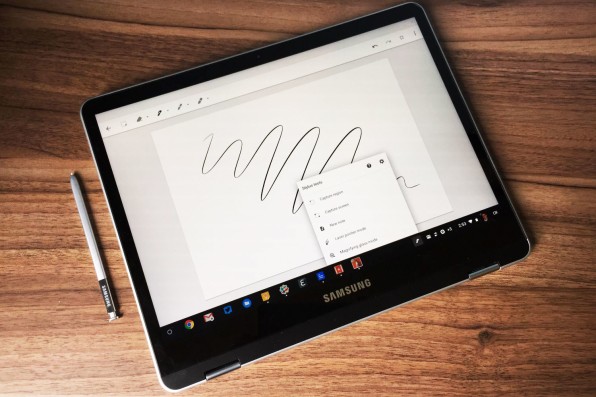 The Samsung Chromebook Pro isn't strictly a laptop. Like some of the convertible designs we've seen in Windows PCs, this Chromebook has a touch screen that flips around 360 degrees to become a tablet. It even has an accelerometer and gyroscope so you can play tilt-based games.
Not that you'd want to go full tablet mode too often. The Chromebook Pro weighs 2.5 pounds, so the arms tire after holding it for too long. (The superior, yet underrated, approach with these convertible designs is to fold the screen around partially, with the keyboard side down and the screen facing you on angle.)
The Chromebook Pro also includes a stylus, which slides out of the laptop's right side. Although the stylus isn't pressure-sensitive, certain apps, such as Google Keep, will record thicker lines from faster pen strokes. The Chromebook Pro also supports palm rejection system-wide, so you can rest your hand on the screen while sketching in Android apps like Autodesk SketchBook, Adobe Draw, and Microsoft OneNote.
I have some minor quibbles with the Chromebook Pro hardware: The delete key is so small that I often miss it, and the volume rocker doesn't recognize when you've flipped the device into tablet mode, so pressing down in that orientation turns the volume up.
Still, Samsung's Chromebook Pro won't be the only laptop-tablet hybrid running Google's operating system in the near future. Lenovo has promised a couple of waves of new Chromebooks in March and September, borrowing from its Windows hybrid designs, and Acer has shown off a rugged, convertible Chromebook for education. Samsung's also launching the Chromebook Plus, which is similar to the Pro but with a lightweight ARM processor. These new designs, along with Android apps, will likely play into a big consumer Chromebook push in this year.
Before Google revs its marketing engines for Android apps on Chromebooks, the company might want to iron out some kinks that I've run into over the past couple of weeks. (The Chromebook Pro I tried was pre-production hardware; the Google Play Store for Chrome OS was in beta.)
The strangest example was the way some Android apps flickered on the screen when switching from tablet to laptop mode. I also found that double tapping and dragging on the trackpad was unreliable for highlighting text or moving things around the screen in Android apps. And because Android apps have their own file system, which is mostly inaccessible from Chrome OS's own file explorer, you need a separate file management app to access locally saved Android files.
Some individual apps are also error-prone. Microsoft Office would not respond to scroll gestures on the screen or trackpad, and a game called 3D Labyrinth would not display properly on the screen. At one point, the racing game Asphalt Xtreme wouldn't offer touch controls, because it was convinced I had a game controller plugged in, and I couldn't get HDHomeRun View—an app for watching antenna broadcasts over a local network—to recognize my TV tuner.
Even apps that work properly aren't always properly optimized for larger screens, keyboards, and trackpads. MobiSystems' PhotoSuite doesn't support keyboard shortcuts such as Ctrl-Z to undo, the official Reddit app only runs in a phone-like vertical window, and I've yet to find an app that offers the kind of contextual right-click menus that come standard in desktop software. Although Google has been asking top app makers to optimize their software, most apps still feel like they were made for phones and tablets.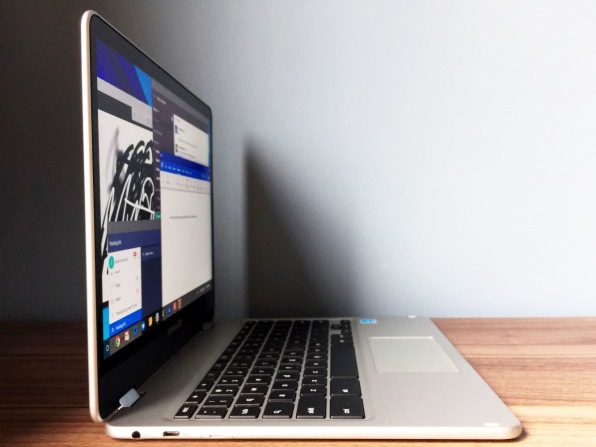 Aside from those issues–which will likely subside over time–Android apps also introduce some inherent compromises.
Storage space, for instance, must become a bigger consideration for Chromebook buyers, because the old norm of 16 GB isn't really enough to store a lot of apps. (The Chromebook Pro comes with 32 GB instead.) Android apps can also put a greater strain on system resources, especially if you're running lots of them at once, so buyers might want to seek Chromebooks with more RAM and processing power. I'm also mildly worried about security and privacy, given the history of malware slipping into the Google Play Store, and the tendency of some apps to request more data than they really need.
Yet despite all of these issues and concerns, here I am using a Chromebook in ways I never did before, and wondering whether I really need a Windows laptop anymore. Unlike my Microsoft Surface Pro 3, Chromebooks start up almost instantly and update themselves unobtrusively, and now they have a better selection of touch-enabled apps. For the type of detachable and convertible laptop designs that Windows pioneered, Chrome OS now seems like a better fit.