For digital media hoarders and pirates, Plex is a household name. The nine-year-old Los Gatos, California, startup makes server software for streaming media files from one device—usually a PC—to phones, tablets, computers, game consoles, and TVs. Millions of people use Plex to access their digitized DVDs, video downloads, MP3 files, and photos from anywhere. And the company's fanatical fan base has made it a profitable business through a subscription program for premium features.
But in the age of Netflix, Hulu, and Spotify, Plex's business isn't future-proof. DVD sales and media downloads are on the decline, and even piracy has been weakened by legal streaming options. So in late January, Plex made a big bet on its future. For the first time, the company dipped into the $10 million in venture funding that it raised in 2014 and acquired WatchUp, a startup that turns online news clips into personalized newscasts. Podcasts, children's programming, virtual reality, and even deep links into other popular streaming apps could be next, as Plex tries to move away from the bring-your-own content business. The hope, says CEO Keith Valory, is to provide users with a "central dashboard" for all their content, powered by unbiased search and recommendations.
"All of the stuff we're talking about is five to seven years' worth of work, and if we do a great job, we'll build a big, massive company out of it," says Valory. "But we realize it's a huge undertaking, and it's going to take time."
Whether Plex has that luxury is another matter. While the company has a knack for software, it has little experience working with content owners, and risks being outmuscled by larger companies like Apple, Roku, Amazon, and Netflix, all of whom are also trying to become the starting point for media consumption.
Can Plex reinvent itself for the streaming age?
Geekier Roots
Plex didn't start out with visions of being a media juggernaut. Instead, cofounders Elan Feingold, Scott Olechowski, and Cayce Ullman were trying to solve a simpler problem: What's the best way to access your media files on a television?
In early 2007, Olechowski suddenly had a lot of free time after the secure email startup he worked for, PostX, was acquired by Ironport systems, which itself was acquired by Cisco a few months later. Having reclaimed his nights and weekends, Olechowski–a self-proclaimed nerd–took some hardware from a previous failed startup and began cobbling together his own media server for his family's ripped DVDs, music files, and home videos.
"I had this rack-mountable server behind my TV, hooked up into a VGA to component video input, and a keyboard hooked up," Olechowski says. "And my wife looked at me like, 'Dude, this is not the answer.'"
Eventually, Olechowski and Ullman–who'd been CEO of PostX–discovered XBMC, an open-source program for hacked Xbox consoles that played a wide variety of media files. They set out to create an OS X version for Apple's Mac Mini, which could play HD video and came with a TV-friendly infrared remote. Through the XBMC forums, Olechowski and Ullman found Feingold, a programmer who'd been working toward the same goal in his spare time. They pooled their efforts to launch the Mac app, and created Plex about a year later, splitting off from XMBC to focus on building up their media server software.
Although Plex's founders kept their day jobs, the product gained traction over the next couple years, and in 2010 it became a real business. The company raised $1 million from several angel backers including LG, which put a Plex app on its smart TVs and Blu-ray players. Plex also started to sell a $5 iPhone app, and used the money to hire developers from its community. (Although Plex is based in Los Gatos, the company has a distributed workforce.)
The real breakthrough, however, came in 2012, when the company launched Plex Pass, a subscription service that includes free access to Plex's apps, early previews of new features, and a grab bag of other perks. To the team's surprise, roughly 10% of Plex users became subscribers.
"We were at a point where it was make or break . . . and frankly, it just did so much better than we expected that we realized, 'Okay, there's probably a business here,'" Olechowski says.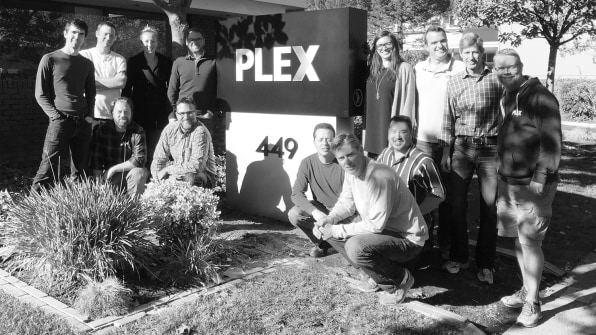 Slow Growth
Plex started thinking more about the bigger picture in 2013, when Valory joined the company as CEO. Ullman had left the company for personal reasons a couple years earlier, and Olechowski and Feingold–who were comfortable in their respective roles as product head and chief technical officer–needed someone to lead the business. But getting Valory on board took some convincing, Olechowski says, since Plex couldn't pay him the type of salary he'd earned in executive positions at Ironport and Cisco, where the two worked together.
"He'd been playing in the big leagues, and this was definitely a garage band, starting to play some clubs and having dreams about the arena," says Olechowski.
Still, Valory had already helped Plex set up its business and secure angel funding in 2010, and he ultimately bought into the vision of Plex as a labor of love with massive potential. He took the job at what Olechowski describes as "way below market" rates.
"It's not just about money grubbing," Olechowski says. "This is about delivering something people love, and turning it into a business, and we want to keep that spirit alive. Keith got that."
Soon after, Plex started pitching its long-term strategy around Silicon Valley, telling prospective investors that the world needed a central hub for media. At the time, anyone who used an Apple TV, Roku, or Amazon Fire TV was still staring at a sea of apps; Plex wanted to make the actual content easier to reach, tapping into the same system it had built for managing people's own media collections. In 2014, Kleiner Perkins invested $10 million.
Still, Plex didn't pursue its own streaming content right away. Instead, the company spent the next few years polishing its existing apps and expanding to new platforms. The Plex apps for Roku, PC, iOS, and Android have all received overhauls over the last few years, and new apps have arrived for Amazon Fire TV, Android TV, Apple TV, and Chromecast.
"You shouldn't be tied to one platform to get the content experience you want," Valory says. "Because that was such a crucial element of it, we decided, we've got to go broad, and we knew it would take a couple of years to do that."
Last year, Plex took a small step away from the bring-your-own content approach by launching DVR support, a feature that users have requested for years. By plugging an antenna or CableCARD into an HDHomeRun networked tuner, Plex Pass users can record local broadcasts and unencrypted cable channels to the media server, and play those recordings via the Plex app. In other words, it's a way to tap into Plex's video management features without the need for ripped DVDs or downloaded videos.
"It was this nice first step that took advantage of all of our server capabilities, and all the cool stuff that we've built, and it started to expand the brand," Valory says. "Now, it's not just my content. I can get more content in."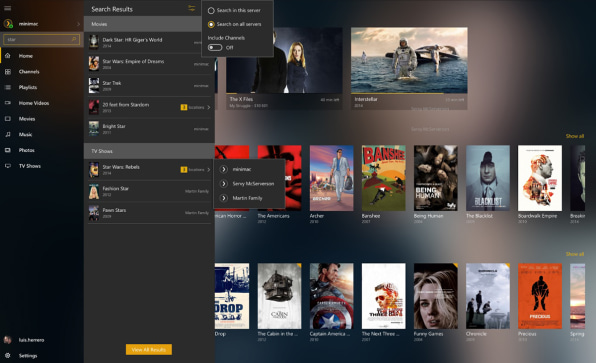 A Bridge To The Future
The next step for Plex is to begin to serve up content directly, starting with aggregated news from WatchUp. By adding a news section to Plex, Valory says the company will be responding to another longstanding user request.
"We think with the WatchUp assets, we're going to be able to make an amazing aggregated news app, and do that really well, because nobody else is," Valory says.
But Plex didn't just buy WatchUp for its content and technology. The company was also buying experience by bringing on Watchup founder Adriano Farano as head of content. Farano, a former reporter for Le Monde and Le Figaro, created WatchUp during a Knight Journalism Fellowship at Stanford University, and in an interview is quick to convey his respect for publishers. Rather than just scraping videos from the web, Farano pitched his app directly to media companies, and ultimately got 170 news sources on board. Some of those publishers even became WatchUp investors.
Since January, Farano has been trying to build relationships between publishers and Plex, facilitating meetings in New York and at the CES trade show in Las Vegas.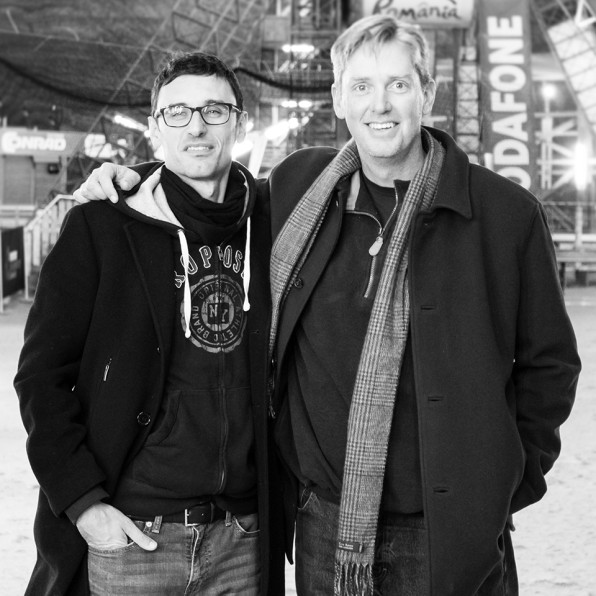 "We're trying to really understand with a lot of humility what those publishers are doing, and trying to work with them in order to preserve the quality of their content, and the quality of their monetization right now," Farano says.
Beyond just working with news publishers, Farano's job will include an expansion into other types of media. Jim Friedlich, a WatchUp investor and longtime publishing executive, believes Farano's ability to make inroads with content owners is part of what made the acquisition so alluring.
"For Plex, part of what they've acquired with WatchUp is these relationships, and they've got Adriano, who's very charming and has been doing this for some time," Friedlich says.
Farano's attitude seems to have already rubbed off on Valory, who also uses the word "humility" to describe Plex's new approach to content. In practical terms, he suggests that Plex wants to be generous with usage data and ad revenue sharing, and will give publishers the ability to deep link into their own standalone apps.
"The fact of the matter is, there are not a whole lot of technology companies that are approaching this with humility vis-à-vis the content owners and content publishers," says Valory. "We think there's an opportunity to go in and say, 'Look, we come at this from a humble place. We want you, the content publisher, to be our customer, and we want to do what's right for you.'"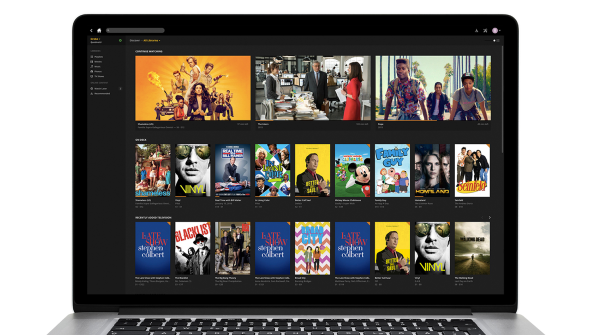 Fear Of The Unknown
Despite the positive energy, Plex is candid about its challenges.
For one thing, the company still has a lot to learn about what publishers want, and how to balance their interests against users' needs. "I think that's easy to say and hard to do," Olechowski says.
There's also the more existential fear that larger, better-financed companies could execute on the very things Plex is trying to accomplish. While Plex is trying to identify types of content where it can stand out, like news, there's no barrier to other companies trying to do the same thing.
"If Netflix decided they wanted to kick ass at news, well, Netflix is a lot bigger than us, they have a lot more resources, they have a lot more paying users. Could they do something kickass around that? They absolutely could," says Olechowski.
Even the notion of a central dashboard for content is becoming more commonplace. Universal search is now table stakes on all the major streaming platforms, and the ability to browse across multiple streaming services is starting to emerge on devices like Apple TV, Roku, and Amazon Fire TV. Over time, the sea of apps might become less of a problem than Plex thought it would be.
"If I'm wrong, and somehow the content owners actually do all get disintermediated and abstracted away, there's no room for Plex," says Valory.
Either way, Plex probably can't sit still. According to Parks Associates, the average U.S. home spends about $3 per month on DVD purchases now, down from about $6 per month at the start of 2012. DVD rentals, video downloads, and video rentals have also fallen, while streaming expenditures have doubled, from about $4 per month to about $8 per month on average.
"In the long run, this is kind of a bet-the-company kind of move," says Brett Sappington, a senior director of research at Parks Associates. "Because if you look at the future, particularly in North America and Western Europe, are consumers going to continue to buy media? Transactional media services in North America have really fallen off."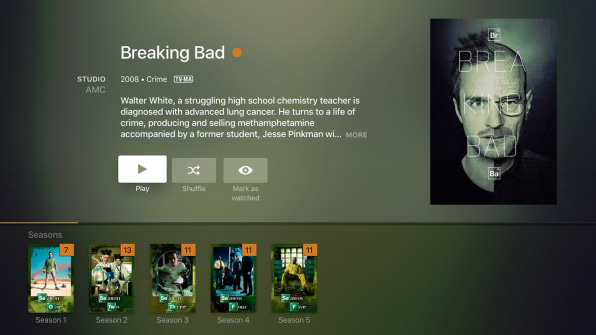 On Deck
For all the obstacles Plex faces, it does have some unique advantages.
Perhaps the biggest is Plex's previous work in getting onto every notable computing platform. So whether you use Windows, Mac, iOS, Android, Roku, Apple TV, Fire TV, Chromecast, or some combination of all the above, Plex can provide all the same content and recommendations.
"The ubiquity matters to customers," Valory says. "The promise is, people shouldn't be tied down to a given platform, and so we want to give people the ability to get all the content they want, from whatever source it is, organize it the way they want, and then get it on every device."
And while some third-party services do exist for sorting through streaming options–Reelgood, Yahoo Video Guide, and Fan TV being a few examples–Plex is going a step further by hosting content on its own. The hope is that services such as aggregated news or a killer video podcast player will help bring people in.
"We are a media player app. That's kind of what we do, and I think people come to us to get content. So we will have a lot of content, starting with news, and then other content you'll get through Plex," Valory says. "Deep linking and giving people the ability to send off to other platforms is part of that, but it's a spectrum."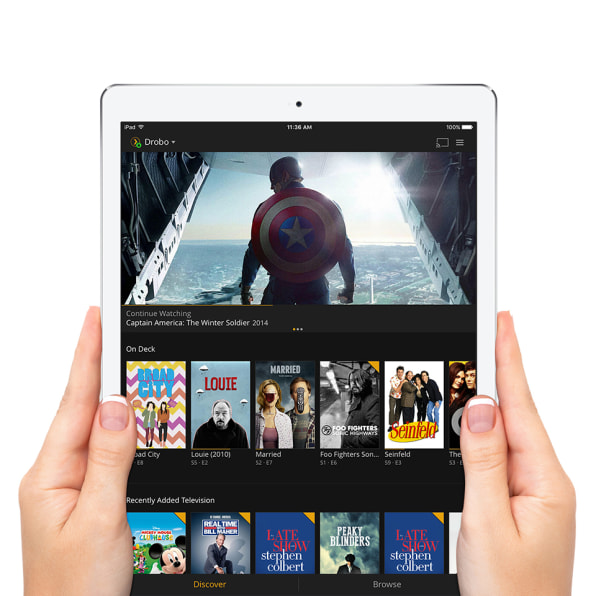 Plex also still has the media server to lean on, and Valory stresses that it's not going away. For one thing, Plex Pass sales are an 85% gross margin business that's still growing, so Plex has been lining up more devices beyond the PC that can act as servers. Nvidia's Shield TV streaming box and WD's My Passport Wireless Pro hard drive work as Plex servers today, and Valory says some "really cool partners" are coming. Plex has even been testing cloud-based servers on Google Drive, Dropbox, and Microsoft OneDrive, and is shooting for a public launch later this quarter.
"The neat thing about the server, and it always will be the case, is that it's very sticky," Valory says. "We don't want that to go away, because once they get in and they're using it, that's what gets them to use it for 14 or 15 hours a week."
But Plex also sees new use cases emerging from the server side that don't revolve around owned media. For instance, Plex has been talking to augmented reality and virtual reality companies about hosting their content on local servers.
"Those content files are so massive, in order to get the true quality of that, you're going to need a set of files somewhere in the home to be able to take advantage of that," Valory says. "One of the reasons these guys are coming to us is because we actually already built out most of the underpinnings of what you need to be able to do that."
In other words, there may be a scenario in which Plex remains primarily a maker of media server software, but that's clearly not the goal. Plex could take on another round of funding to help achieve its broader ambitions, and Valory doesn't rule out being acquired–provided the acquirer is just as zealous about being a central source of content on on every conceivable device. Plex at least owes its fans that much.
"There is a deep passion in what we're doing," Valory says. "You go look at the Twitter feeds, and go look at our forums, the level of passion and love in our community, it's just unrivaled. There are not a lot of companies that have this really strong, strong community. That is borne out of the fact that the guys who built this community are members of this community. They built this for themselves and really care about doing it right."
This story has been updated to clarify Cayce Ullman's role in creating Plex.