Software Engineering Manager Kevin Hobson had only recently started his new job at the New York medical software company Flatiron Health when, in January 2016, his bosses flew him down to Florida. The trip wasn't a mere perk: Hobson's mission was to spend a day shadowing several medical professionals in an oncology clinic, Florida Cancer Specialists & Research Institute, in West Palm Beach. One of those professionals was Dr. Bobby Green, Flatiron's SVP and a practicing oncologist at the Florida clinic.
About halfway through the day, Hobson recalls, he was shadowing Green. "Bobby was trying to tell me a story about the patient we were about to go see," Hobson recalls. The doctor was sharing a detail that wasn't critical to the patient's well-being, but that he nevertheless wanted Hobson to know. But after a few moments of rummaging around files on his laptop, Green couldn't find the information and decided to move on. "Eventually he just said, 'Ah, whatever, it's fine,'" Hobson says.
But it wasn't fine to Hobson. "Basically, I thought to myself, 'That's crazy!' He should have been able to type whatever he was thinking and get the right thing."
A doctor thinks one way; a software engineer, another.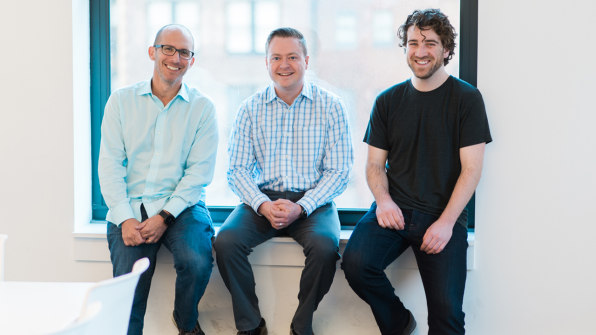 The idea that there are two core ways of thinking, both of which deserve equal status, is the central philosophy at Flatiron Health, which makes software to improve the workflow in cancer clinics and aggregates anonymized data from that software to share with pharmaceutical companies and research institutes. Interaction between engineers and physicians is not a unique notion for medical startups, but few adhere to it as the law of the land like Flatiron does.
The company currently employs 25 people with medical degrees of some kind and 104 engineers and technology specialists, whose collaborative approach has played a critical role in the company's success. Flatiron was recently valued at $1.2 billion, following $300 million in funding from investors that included Google Ventures. Dave Chase, a venture capitalist in the health care space (who has no stake in Flatiron), has said that most health care startups are doomed to fail because they commonly consist of "a founding team that is made up of smart technologists who are blind to or dismissive of the idiosyncrasies of health care."
In an interview with Fast Company, Chase calls Flatiron "an outlier in a good way," a company that takes the time to hire not just any old medical experts, but forward-thinking ones who think carefully about data and technology. "There are a lot of [startups] who've checked the box, but really are not checking it with the right kind of doctor," he says.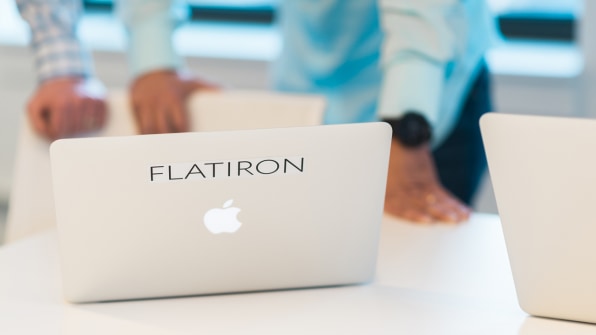 When Hobson, the software engineer, returned to New York after shadowing Green, he set to work on a Spotlight-like search feature for Flatiron's core electronic health record product. Hobson realized that by using optical character recognition tech, Flatiron's software could scan and derive searchable text from things like faxed records and pathology reports.
Following an in-house hackathon, Flatiron's team began to roll out its "DocSearch" feature to the oncology clinics that use its software in the fall of 2016. Now, with the new feature, all typewritten reports in a patient's digital file are indexed and easily searchable, making moments like Green's unsuccessful hunt for patient data a thing of the past.
Flatiron founders Zach Weinberg and Nat Turner, both in their early thirties, began in the ad tech space, and have no prior experience in the world of medicine. (Their prior company, Invite Media, was acquired by Google in 2010.) "We felt very early on that providing a clinical context to the engineering and product teams as they were building things was important," Turner says.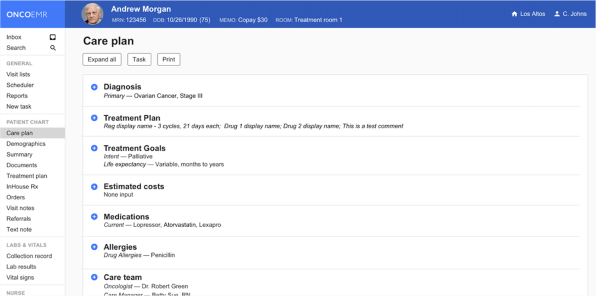 The need for everything to be connected—and for different groups of people to communicate with each other—drives Flatiron's workplace structure, with medical professionals seated just paces from engineers.
It's an entirely different style of working for the engineering talent, who often hail from top consumer-facing tech companies. For Keith Cowing, Flatiron's director of product management, the environment requires a bit of humility. Cowing formerly worked at LinkedIn and Twitter, where top coders enjoy godlike status. So when he came to Flatiron, he had to get used to working on teams with people who brought impressive expertise in an entirely different field. "A product manager is used to being the quarterback, the decision maker," Cowing says. "And on clinical teams, a doctor is used to being the quarterback, too. So you've gotta bring both of these sides together and check your ego at the door."
Working in tandem fosters creative thinking for developing products and solving mundane hurdles in workflow. Not long ago, Hobson was trapped in a dreary task of sorting out the finer points of diagnosis codes, which are used to process insurance claims. It's a complicated system where certain diagnoses require different forms altogether, and Hobson wanted to make sure Flatiron's software could deliver the correct forms to a medical team working with any given patient.
Instead of slogging through several iterations of prototypes—or worse, shipping a product that users simply wouldn't find useful—Hobson strolled a few paces from his desk to pick the brain of a pharmacist colleague. After 10 minutes, Hobson had a firmer understanding of which cancer patients were eligible for a certain type of financial assistance, which cleared the path for him to build straightforward software that, he hoped, would mark another step away from the overcomplicated system that defines today's medical world.
Fixing that broken system one solution at a time is what Flatiron plans to do as it continues to grow. Currently, it has more than 430 employees (up from six in 2012 and 135 in 2014), and works with some 260 cancer clinics. The doctors of more than 1.5 million cancer patients in the U.S.—that's about one in eight of all people diagnosed with cancer in this country—use Flatiron Health's products. "Cancer isn't just one thing, and it likely won't be 'solved' through a single discovery," Turner says. "We believe that the biggest progress in cancer treatment will come from ongoing collaboration . . . Accomplishing this is as much of a technology infrastructure effort as it is a health care one—you can't have one without the other."