Gamblers will bet on anything—and they're having a field day with President Donald Trump.
The odds are now 2:1 that the 45th president will be impeached before the end of his first term, the online betting site Paddy Power reports. Before his inauguration, those odds were 4:1.
Paddy Power has an entire section dedicated to U.S. politics. A surge in bets predicting an early exit for the president came in after his tumultuous first days. Wagers are even being made on what year impeachment proceedings will begin in the House of Representatives. The odds are 7:1 this year, and they get less likely as time passes (but offer bigger winnings if you're right): 9:1 in 2018, 16:1 in 2019, and 20:1 in 2020. In reality, presidential impeachment is a complex process. Only two U.S. presidents—Andrew Johnson and Bill Clinton—have been impeached. Both were acquitted by the Senate.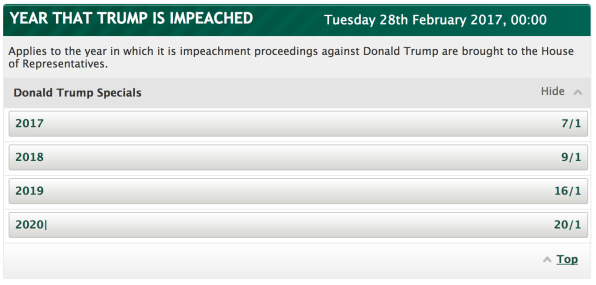 The site Ladbrokes also has gamblers betting against Trump. It has 11:10 odds that the Republican real estate mogul will leave office via impeachment or resignation before the end of his first term.
Trump's impeachment isn't the only bet out there. A "Donald Trump Specials" section of the Paddy Power site includes bets on where he'll make his first state visit: Odds are 3:1 it's either Russia or Canada. Will his third marriage make it through the end of the year? Odds are 16:1.
Paddy Power also has odds on whether a tape will emerge to back allegations of golden shower dalliances with Russian hookers. Although Trump has vigorously denied the unsavory reports, the betting site says the odds a tape will pop up on RedTube are 4:1. Sticking to that theme, there are also odds on whether Trump will decide to paint the entire White House gold—500:1.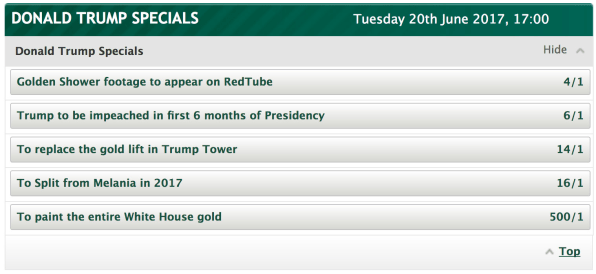 While gambling odds typically always favor the house, the house isn't always right. PaddyPower called the presidential race for Hillary Clinton and wound up paying out close to $5 million to those who put their money on Trump.
"We've been well and truly thumped by Trump, with his victory leaving us with the biggest political payout in the company's history and some very, very expensive egg on our faces," Paddy Power spokesman Lewis Davey told CNBC in November.
If betting on our current political climate is a little too much for you, you can also place wagers now on the 2020 presidential election.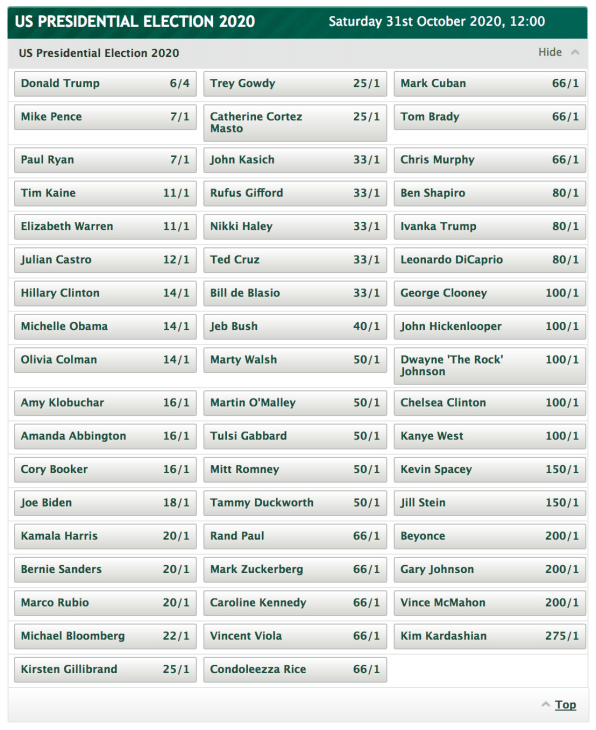 Odds are most likely right now, 6:4, that Donald Trump will win in 2020. There are a number of other interesting candidates in the mix. Odds are 14:1 we'll have Michelle Obama as our next president, 66:1 we'll have a President Zuckerberg in 2020, and 275:1 Kim Kardashian will hold the highest office in the country in less than four years.
As for Clinton, Paddy Power hasn't quite ruled her out just yet. The odds she'll win in 2020 currently sit at 14:1.