The issue, the company said in a release, involved a faulty latch mechanism that sometimes caused the onboard battery to disconnect during flight. GoPro says that it has come up with a new battery latch design that solves the problem.
As before, the Karma, a foldable drone that can be tucked into an included backpack, will cost $800 without a camera or $1,100 with a GoPro Hero5 Black.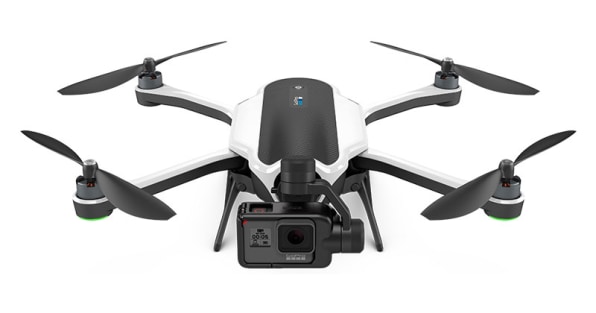 Unfortunately, say some analysts, GoPro may have missed its chance to claim a substantial share of the market, let alone be a serious challenger to China's DJI, the undisputed industry leader. That's particularly true since the initial release of the Karma was delayed for about a year, and because the recall came not long after DJI launched its Mavic Pro, which was seen as a direct Karma competitor offering more features.
"Yes, I think it is," says Frost & Sullivan drone analyst Michael Blades when asked if it was too late for GoPro to make an impact with the Karma. "After they were already delayed, then they [lost] their opportunity to get into that market before it's saturated."
Blades says he thinks it was a "bold" move for GoPro to recall the Karma when there was no legal requirement for the company to do so, and that he appreciates that the company seemed to have wanted to show its customers good faith by refunding their money and fixing the problem.
"It was a pretty good PR move," he adds, "but coming back and trying to relaunch now, I hope they do well with it, but I don't think anybody's expectations are that high."
For its part, GoPro argued that the Karma–which comes with an image-stabilizing camera grip that can be held by hand or worn–and which it markets as "Hollywood in a backpack," capable of shooting professional-caliber photos and video, will do just fine on re-launch.
"GoPro has a legacy in image capture and a passionate global user base," a spokesperson tells Fast Company. "We are well positioned to compete in the drone market with Karma, which is a versatile and complete capture solution for aerial, handheld, and wearable image stabilization."
It's inarguable that GoPro has built a worldwide community of users of its many different action cameras, and it is known for masterful marketing. Those two facts formed the basis for initial optimism when word first emerged in late 2014 of the company's plans to get into the drone market. After all, the thinking went, people had long been mounting GoPro cameras on other manufacturers' drones, including early DJI models, before the two companies began to face off as competitors rather than continue to work together as partners.
Still, not even counting the initial launch delays, the Karma faces two major hurdles to wide customer adoption. First, it lost valuable ground over the last two months to the Mavic Pro, which DJI unveiled just a week after the September launch of the Karma. While DJI had its own problems fulfilling customers' orders for the Mavic Pro, that drone, which is feature-rich and similarly priced to the Karma, has been a big hit.
Second, and perhaps more problematic, is that the Karma is well behind both the Mavic Pro and other DJI drones when it comes to features, as well as compared to other companies' drones. The Mavic is smaller than the Karma, and has a rich suite of obstacle avoidance and follow-me features that the Karma can't match.
"It's a 2015 drone in 2017," says drone analyst Colin Snow. "It's an overpriced, too-big foldable drone that doesn't have as many features. Just feature by feature, the Mavic blows everybody out of the water."