Anirudh Sharma was on a trip home to Mumbai while getting his PhD at the MIT Media Lab when the idea hit him. Standing in the streets of the fifth most polluted city in the world, where a passing bus's exhaust is enough to make you change your shirt mid-day, he thought there had to be something that could be done with all that soot being released into the air. A computer engineer, inventor, and part of MIT's multi-disciplinary Fluid Interfaces Group lab, Sharma's design thinking background kicked in: "Where there is a problem, there is also a solution very close to it," he says.
Sharma's solution was a device called Kaalink, a cylindrical metal unit that retrofits the exhaust pipe of vehicles to capture soot before it reaches the air. Through a proprietary process invented by Sharma and his business partners Nitesh Kadyan and Nikhil Kaushik, the tiny black particles it captures are refined into a jet black, carbon-based pigment.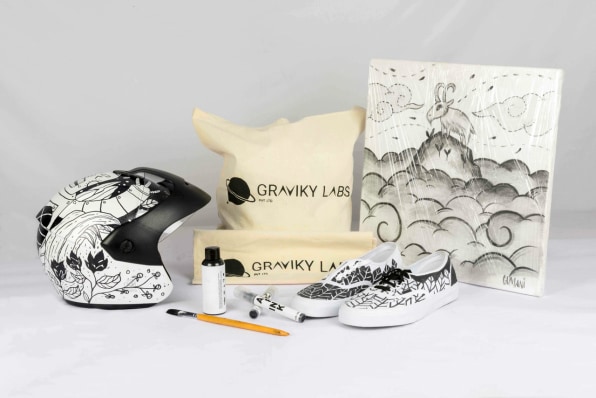 After almost three years of R&D, the trio are using the pigment to launch a line of inks, pens, and artist paints called Air Ink, which are being sold for the first time today through their Kickstarter. Each 30 milliliter pen contains around 45 minutes of air pollution generated by cars and captured by the Kaalink unit, now a product trademarked and manufactured by Graviky Labs–Air Ink's parent company, founded by Sharma, Kadyan, and Kaushik.
The ink itself is a little bit thicker than what you'd find in most pens, a solid black that could rival Anish Kapoor's "blackest black" pigment. The particles in this soot–a by-product of fossil fuels–are so small and so fine, they can lodge deep into the lungs. It's a deadly problem; globally, air pollution causes more than 7.2 million deaths. The process by which Air Ink is made not only captures the soot before it can cause air pollution, it also eliminates the fossil fuels that are burned in the process of making regular ink. "If we can capture pollution we can close these loops," says Sharma. "The scale of this could be immense."
A Trash Can For Your Car's Exhaust Pipe
Right now, Air Ink is a relatively small operation: The company has distributed around 75 Kaalink devices, many to friends and interested parties in Bangalore and other parts of India.
Sharma calls the Kaalink a "trash can for your carbon waste," and the stainless steel cylinder looks like just that; it comes in five different sizes, designed to fit the tail pipe of cars and trucks, as well as the exhaust system of the generators that are commonly used to power homes in India. The hardest part of the entire operation, say Sharma and Kaushik, was figuring out how to manufacture the unit, which employs a mechatronic capture system that captures particle matter within the walls of the unit while allowing gases to pass though. Integrated within the device are sensors that measure the air flow rate and adjust the capture process accordingly to prevent back-pressure that would push the exhaust back into the engine.
By contrast, producing the ink was a more intuitive (though extensive) process. The pigment is made by running the soot through mechanical processes that remove glass and heavy metal, leaving just the dust-sized particles. From there, the particles are mixed with vegetable oil to give it the right consistency, which varies per product: pen ink, screen-printing ink, markers, oil-based paint, and outdoor paint.
Getting it up to industrial standards required the trio to recruit artist feedback, which resulted in faster-drying ink and paint, and versions that worked in different weather conditions. "Overall, the soot is dangerous because of its aerosol nature, which ends up in our lungs," Sharma added over email, noting that the inks haven't been tested with kids under six yet. "By cleaning it off heavy metals, and confining/binding it as inks, it becomes as safe as any other ink."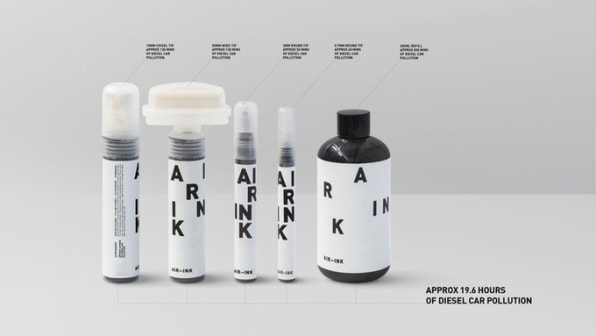 "The scale of this could be immense"
In 2016, Graviky Labs paired with Tiger Beer to commission artists to create pieces of artwork using its Air Ink products, the results of which were shared in a video that garnered considerable attention with its release. In it, artists talk about what they like about the ink and paint: The texture is different but thicker, and less likely to bleed. The color is a deep, pure shade of black. "Damn, this is a really good shade of black," Hong Kong artist Cathlove comments in the video. "But I'm like, 'How much pollution went into this?"
In that particular pen, the answer was 30 to 50 minutes of diesel car pollution. But Air Ink's main objective is to keep scaling up, to keep capturing more pollution. The more products it sells, the more pollution is removed from the air. But operating at full scale requires the cooperation of major companies who agree to affix the Kaalink device to their vehicles, trucks, cranes, and other types of engines. That's the other benefit of partnerships with companies like Tiger: Graviky is working with the brewer to get the Kaalink on its fleet of delivery trucks. Graviky is also working with other companies to distribute the device in a similar way, but Sharma and Kaushik say the holy grail—mass transportation systems—are still out of reach in India, China, and other countries with severe pollution problems, where Graviky is focusing for now.

Air Ink's Kickstarter represents the first time its products will be available for purchase, and the first time the inks have hit the U.S. If funded, Sharma and Kaushik say that part of the profits will go to fulfillment and shipping, but the bulk will go into funding those efforts to scale up the operation, from soot-capturing to mixing the ink. They acknowledge that their solution to pollution catches it on the back-end, instead of working to curb the production of fossil fuels to begin with—but they also realize that the world needs both types of efforts. That's now particularly true, at a time when the government in the U.S.—a country with a responsibility to lead efforts to cut down on fossil fuels—is expected to start backing away from climate change-focused policy. "It's even important to push it right now, when the world is starting to go against clean tech," says Sharma.
[All Photos: via Graviky Ink]