Thair Orfahli, who is originally from Syria, had his foot in two worlds.
In one, he was a typical twenty-something student, he worked at an ice cream parlor, he hung out with his friends in cafes to improve his English, and he enjoyed dates. In the other, he was in a perpetual state of uncertainty. A refugee, Orfahli's life has been defined by escaping Syria's war. A short documentary film about his experience is included in Perpetual Revolution: The Image and Social Change, a new exhibition at the International Center of Photography (ICP) on view until May 7, 2017, that charts how contemporary image making is changing how we see, document, and understand social movements that range from climate activism to Black Lives Matter, gender equality, the refugee crisis, the far right, and ISIS.
Orfahli and his family fled from suburban Damascus to Beirut after a bomb exploded near their house. Their safety there was short-lived, since the Lebanese government was sympathetic to Assad's regime, so they relocated to Alexandria, Egypt, where Orfahli attended law school. After he graduated, he wasn't able to find a job that would sponsor a work visa, so he made the decision to pay a smuggler $2,000 to get him to Europe knowing that he might not survive the boat ride from Egypt to Sicily. The risk was worth it, in his mind. When he embarked on the 10-day journey, the only possession he had was his smartphone, which he liberally used to document his experience on social media. He smiled in selfies, made videos of card games he played with kids on the boat, and snapped photos of the friends he made on that leg of his journey, which would eventually lead to Germany.
The excitement, relief, and optimism on Orfahli's face, and on the faces of his friends when they finally make it to Sicily, is palpable. If you didn't know that they were refugees, seeing Orfahli rally his friends for a "video selfie," as he says over and over in the clip, you would think he was on a cruise. (At this point, they're off the smugglers' boat and on an Italian Coast Guard ship.) It's a portrayal of the refugee crisis that is deeply human and incredibly personal. In a bizarre way, it's also relatable.
"As an educated, cosmopolitan, and digitally connected young man jockeying to find his professional footing, in some ways he has more in common with the stereotypical millennial than he does with the stereotypical refugee struggling to subsist in poorly provisioned camps or unable to flee the violence of his home country altogether," writes Alana Chloe Esposito in "Rejected by the World, A Refugee's Journey," a story which appeared in the journal A Women's Thing and accompanies the video in which Orfahli narrates his story.
Perpetual Revolution's curators struggled with the decision to include Orfahli's piece in the show, but in some ways it perfectly represents the exhibition's core thesis: "Social revolution is being both recorded and produced by images," ICP curator Carol Squiers says. "Images are really instrumental in perpetuating what the revolutionary idea is, and the ideas the group has. For the gender-queer movement, Black Lives Matter, and so on, the image is central."
Squiers began researching the exhibition in 2014, as she was trying to make sense of the proliferation of images online and what it meant in the grander scheme of photography. Orfahli's film, like many of the other images in the show, reinforces how technological change, like smartphones and social media, has completely upended how pictorial information is created and disseminated.
"To document a success–that they lived and arrived alive after an incredibly dangerous journey–that's extraordinary," Squiers says. "In some ways, he made it look like a vacation when if fact they were on this very arduous journey. The selfie is the convention now. Even if you're on a boat and fleeing for your life, you're still going to take the same selfies as a kid at home. It's not the same; it just looks the same. That's what's alarming about selfie culture and a lot of the photography that's going on today. Photography is getting flattened out."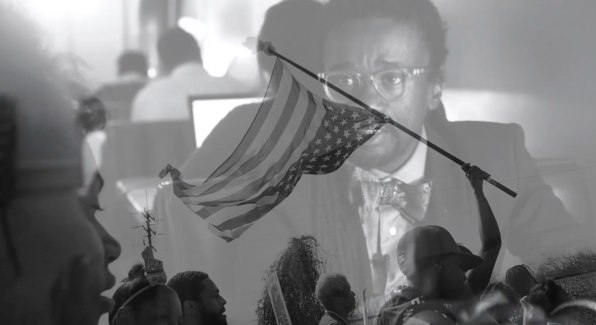 The flattening of photography–that anyone can make the iconic image of a social movement–has had good and bad consequences. YouTube videos documenting police brutality have surfaced deep-rooted problems with law enforcement. Sheila Pree Bright's 10-minute film #1960Now: Art + Intersection (a clip of which is viewable here) shows modern images of today's Black Lives Matter and civil rights protests captured by participants alongside historical clips. ISIS's videos of beheadings are used to recruit new followers. Historically marginalized social groups, like the trans and queer communities, have used images to build their identity. We're able to see what's happening on the ground without the establishment filter thanks to Snapchat, Instagram, and Twitter.
"It's obviously been incredibly empowering to people that they could be seen on the same platform that you see the New York Times on," Squiers says. "The bad thing is that a lot of bad images are being made. Because people are not going through a visual education before they start talking pictures, there's a lot of really bad looking pictures around. People feel like they're seeing so many images, but they're getting saturated by images that aren't really good. Maybe they're missing the pictures that could be informative or nurturing because they're swimming around in throwaway pictures. The image proliferation and the lack of understanding of basic visual understanding has been kind of bad."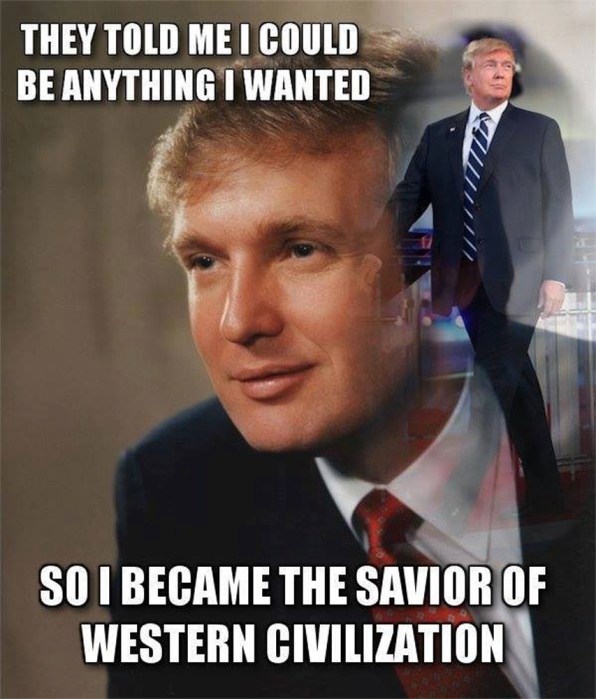 Image proliferation and a lack of understanding has been a current during the 2016 news cycle, which Perpetual Revolution addresses in a section about the alt-right, a fringe group of white supremacists. The curators compared how memes were circulated in a political context and how they helped a movement, whose actual size remains unknown, catapult itself into the national conversation by aligning itself with Trump and lambasting Clinton. "We weren't as interested in [the alt-right's] identity formation as we were in how their preconceived identity conflated with Trump's identity and Clinton's identity and how that was reflected in election coverage that the alt right took up and remade as their own," Squiers says. "We didn't realize the impact [meme culture] was going to have. We're still digesting it."
Squiers can't predict exactly how technological change will impact the future of social movements, but she's certain change is inevitable. "People talk as if there was a technological revolution; we're still in the middle of the revolution and I don't know if we'll ever be out of it. There are constantly new modes of communicating now. We're operating on a number of different levels of constant churning change thematically, pictorially, and technologically."
The curators hope that they can help viewers of the exhibition make some sense about the images they're seeing, but don't impose a singular interpretation. "The internet really decontextualizes visual material; part of what we're doing is recontextualizing it and embedding it within some frame of knowledge," Squiers says. "We're giving people organized information in a way that, maybe, can lead them in directions that they're thinking about but can't find on their own."
We'll always interpret what we see through our own lenses. Seeing isn't always believing. Visual literacy and comprehension is more important than ever, especially as we're confronting the challenges of fake news, media spin, and turbulent political and social events. Perpetual Revolution gets us one step closer to making sure we have the right prescription for our lenses.