While MailChimp has made its name as an email marketing tool, the Atlanta company is branching out into other areas of digital advertising, starting with a feature launched on Thursday that lets customers buy and manage Facebook ads through the platform.
That means that MailChimp's 15 million users—many of them small e-commerce businesses using the service to communicate with their own customers—will also be able to reach audiences through Facebook without having to separately log in to the social networking site to manage and track ad campaigns.
"If you use Facebook's web interface, it's actually kind of difficult," says MailChimp CEO Ben Chestnut. "We take away a lot of the steps, a lot of the minutiae, that Facebook has in its interface."
In the future, the company plans to add integrations with other ad systems, likely including other social networks and search engines, Chestnut says. The move is part of a broader push by MailChimp to provide easy-to-use marketing tools particularly aimed at small online businesses.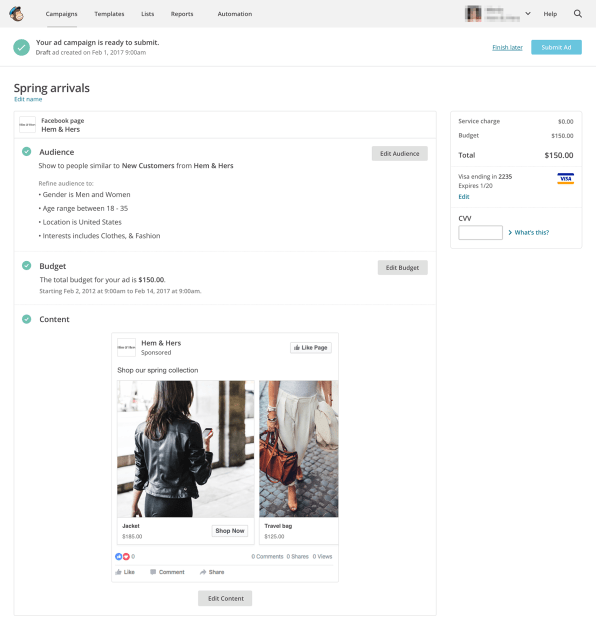 Last year, MailChimp began to enable e-commerce clients to add data-driven product recommendations to their marketing emails, which Chestnut says boosts participating customer revenue by an average of 31%. The company offers other commerce-focused features like automated reminder emails when users depart shopping sites with items left in their carts.
MailChimp has even done some early testing of postal mail integration, contemplating features like physical postcards with discount codes linked to email campaigns, he says.
"One day down the road you might see people using MailChimp to build direct-mail campaigns," Chestnut says.
MailChimp worked with Facebook in order to develop the feature, which will let users target ad campaigns based on their existing MailChimp email lists or to audiences developed within the Facebook platform. It will also allow businesses to use Facebook's "lookalike" audience feature to reach Facebook users similar to their existing customer base.
Once customers do pick their target Facebook audiences, they can craft ads to bring users to their home pages or–if they're one of the e-commerce businesses that represent about 46% of MailChimp's revenue–highlight particular products or encourage them to sign up for MailChimp-powered emails highlighting future offers.
Some customers had previously approached MailChimp to ask if the company was able to sell lists of email marketing leads, which isn't possible given anti-spam laws and industry conventions. But by using social media marketing tools, companies are able to reach new potential users and have a shot at convincing them to register to receive marketing emails, Chestnut says.
"We've been in beta since mid-November, and we're seeing customers use it for everything," says Chestnut. Testers include some existing Facebook advertisers who have now mostly migrated away from Facebook's own marketing interface. The system integrates with popular online store software, letting customers closely track how the ads they place impact sales, he says.
MailChimp doesn't intend to charge extra for the Facebook integration, with any money spent on Facebook ads going straight to the social networking company. But Chestnut points out that success on Facebook can lead to businesses expanding their mailing lists and signing up for larger-capacity MailChimp plans.
And moving forward, in addition to adding integrations with new advertising platforms, the company plans to further explore how its existing service can be more closely tied in with other marketing avenues, such as sending emails to customers who responded to particular Facebook ads.
"We're adding this whole new channel, which is a big deal to us, but what's really going to be interesting is interweaving new channels with email," Chestnut says.