Google is trying to extend its lead in classroom computer sales by bringing Android apps to Chromebooks for education.
School administrators will soon be able to create lists of approved apps and install them onto students' laptops. Android apps are arriving this month in beta for a handful of Chromebook models, similar to last year's rollout on consumer Chromebooks.
Android apps could address one of the biggest complaints about Chromebooks—which is that the operating system, while simple and secure, is too limiting. Until now, Chromebooks have only been able to visit websites and run a relatively small number of web-based apps. The update will allow schools to choose from millions of apps in the Google Play Store.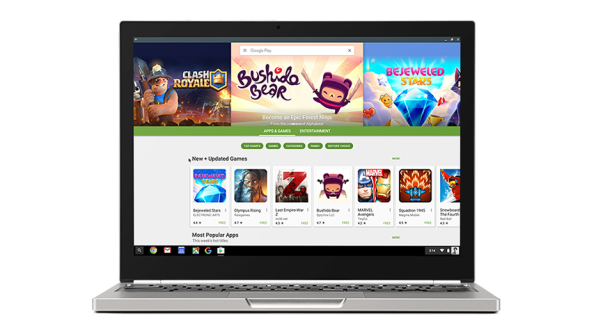 "Bringing these two things together means that many, many students that are going to be using Chromebooks in the classroom will now have many more things that they can do with those Chromebooks," says Rajen Sheth, Google's senior director of product management for Android and Chrome for education and enterprise.
But making Android apps work in an education setting is more complicated than bringing those apps to consumers. Here's what Google has (and, in some cases, hasn't quite) figured out as part of its Android app push for schools: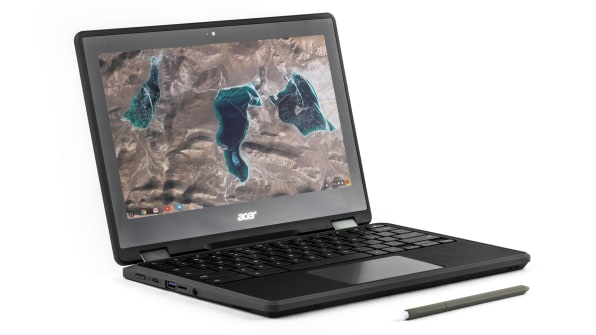 While dozens of older Chromebooks will become compatible with Android apps, Google and device makers are also launching new hardware to take advantage of the software.
Acer's Chromebook Spin 11, which is launching this spring, has a screen that flips around 360 degrees, and a camera just above the keyboard. Students can hold up the Chromebook like a tablet and shoot video on the opposite side of the screen.
"That way, you can turn this device into a microscope, or you can turn it into a video camera, you can turn it into a lot of things that are needed for students in the classroom," Sheth says.
Acer's Chromebook also has active Wacom stylus support, allowing for pressure-sensitive digital pens that don't need batteries and only cost a few bucks each. "Students can actually share these styluses and replace the styluses inexpensively," Sheth says. "Things like that are really important."
Part of Chromebooks' allure is how quickly they get up and running. Because everything's web-based, students can log in and have all their apps and accounts ready to go, but that speed isn't guaranteed if the system has to install a bunch of Android apps with every session.
With the addition of Android apps, Sheth says Google had to make "a variety of optimizations" to keep things speedy. While there is a small delay in being able to access Android apps when students first log in, the Chromebook should still be able to access the web in the meantime.
"You can get in and up and running and working in less than 10 seconds, and then start to access your Android apps, but we're going to continue take that further, and make continued improvements and continued optimizations," Sheth says.
To that end, Google is looking at ways to avoid re-downloading entire apps every time a student logs in. Presumably, if one classroom is pushing the same apps to every Chromebook, it might make sense to leave those apps installed, while wiping individual students' data between sessions.
"We know that every student logging in on that device will access that same application. Are there things we can do to optimize that and not have to re-download the application? Those are things we're going to be working on down the line" for Chromebooks, Sheth says.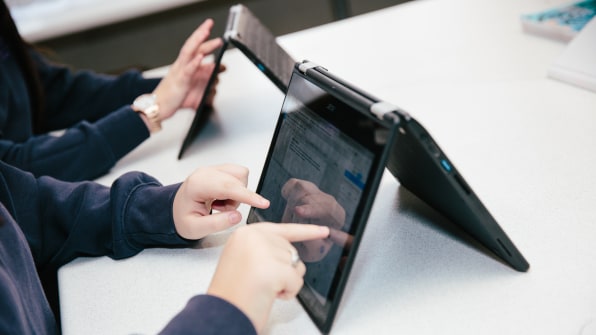 Nearly every Android app was built with phones and tablets in mind, rather than the big screens, keyboards, and trackpads that come standard on Chromebooks. While Google has tried to work around this–for instance, by simulating touch input through trackpad clicks–the company is also trying to convince developers to make their apps more laptop-friendly.
"We've actually created a list of all the key applications, and over the course of the last year we've reached out to developers who haven't optimized their apps for this kind of form factor," Sheth says.
One of those developers is Adobe, which has tweaked the Android versions of its Creative Cloud apps, including Photoshop Mix, Lightroom Mobile, Illustrator Draw, Photoshop Sketch, Adobe Comp CC, and Creative Cloud Mobile. Optimizations in these apps include landscape mode and formatting for larger displays, keyboard shortcuts, proper support for the Esc key, and support for Chromebooks' cameras and image galleries.
Granted, the push to make Android apps more accommodating to laptops will affect consumer Chromebooks as well as classroom ones. But Chromebooks are much stronger in the education market, making up 54% of Q3 2016 shipments to K-12 classrooms in the United States according to IDC. Developers might have a greater incentive to add keyboard, trackpad, and big screen support if their apps have any educational appeal. Perhaps that will set the stage for a big consumer Chromebook push this year.
"As these devices get out there, I think the developer community will start to optimize even more," Sheth says.