Amid reports that President Trump ordered the National Park Service to release more aerial photos of his January 20 inauguration to prove how large the crowd was, a respected imaging service is releasing new crowd-size numbers for Trump's competition that weekend—the Women's March on Washington. Almost every day since his inauguration, Trump has bragged about the size of his crowd, his "sea of love" as he called it during his ABC News interview, but his "million-and-a-half" estimate is way overblown, say experts who have compared it to Obama's 2009 inauguration by relying on Washington Metro ridership and other metrics. Keith Still, a crowd safety consultant, has estimated that the crowd was about one-third the size of the crowd at Obama's inauguration. The Digital Design and Imaging Service (DDIS), which flies camera-laden balloons above events and does a scientific count of crowds, was unable to tally the crowd at Trump's inauguration due to lousy weather and flight restrictions.
But DDIS now has a solid figure for the Women's March the following day—about 440,000 people, give or take 50,000. Crowd scientists told the New York Times that the march, which they estimated at 470,000, was three times the size of Trump's inauguration crowd.
How did DDIS come up with its number? Their camera-laden balloons captured the march from three vantage points. The company has been counting heads at major D.C. events for years, first gaining notoriety among crowd-estimating geeks with its figure for Glenn Beck's August 2010 Restoring Honor rally at the Lincoln Memorial. The company's estimate of 80,000 people was a lot smaller than Beck's claim of up to 650,000. Its method was also a lot more scientific, and hasn't changed much over the years.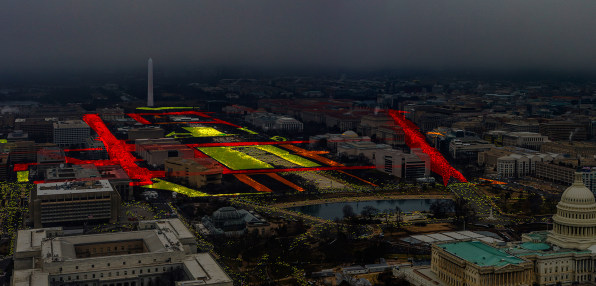 DDIS flies an array of cameras over crowds at several hundred feet, and the high-res photos are divided into grids. Every person isn't counted, but counting of heads is used to sample crowd density in different parts of the photo.
In an image looking over the Mall toward the White House, for instance, DDIS added color overlays. Yellow dots represent individuals who were hand-counted. From that info, a second overlay color-codes parts of the image by density. Red areas hold a cozy, but not stifling, average of one person per nine square feet; orange areas hold one person per 25 square feet, and yellow areas average one person per 200 square feet. Adding up all the grids of different densities yields an estimate of the total crowd.
Nothing like that level of counting would have been possible for the inauguration, as flights over the event were prohibited. Overcast skies also ruled out the (already less useful) kind of satellite images used to estimate crowds at past inaugurations.
Though better, conditions at the Women's March were still far from ideal. DDIS typically flies its balloons at around 600 feet. But its own photos show clouds brushing the tip of the Washington Monument, which stands at 555 feet. (There were no satellite images for Saturday, either.) The shifting of the crowd was also a challenge. Unlike the set piece of the inauguration, the Women's March was a moving event, starting with a rally on the National Mall and progressing to a march on the White House. "We grabbed it in the middle between the rally stage and the migration across the Mall," says DDIS president Curt Westergard. "This is the Women's March crowd size as of 2:46 p.m. on January 21," he says.
Why that specific time? "I'd like to say there's great science in determining the peak," says Westergard. "It's really just the best odds." The march had been slated to begin at 1:30 p.m., but things don't run on time. "I saw people coming in, rushing, like they were late," says Westergard, comparing it to students cramming into class after the bell. He waited a bit to give the crowd time to fill in and also to get the fullest shot of Pennsylvania Avenue, of which his balloons had a solid vantage point.
Absent ticket sales or turnstile counts, even the most meticulous crowd counts are imperfect. The Women's March provided three challenges, says Westergard. His cameras couldn't get a good view of two zones near the White House, due to security restrictions. They couldn't see all the way up one important thoroughfare, 15th Street; and the view of some metro station lines was blocked.
Based on that, Westergard reckons that the actual number of attendees may have been 50,000 more or fewer than the 440,000 DDIS settled on. A team from Manchester Metropolitan University in the U.K., which worked mostly independently from DDIS, published its own estimate of 470,000 people. Getting within 10% of another team's number gives Westergard a lot of confidence in his data, he says.
Unlike the inauguration, the Women's March was not limited to Washington, D.C. Organizers list 673 sister marches as far afield as Russia, Indonesia, and Antarctica, with claimed attendance of about 5 million. "We are estimating crowd counts based on reports from each organizer in their community," writes organizer Tina Cassidy in an email. "The foundation for that is Facebook sign-ups, Action Network sign-ups, and EventBrite tallies. But of course, people just showed up!" The Women's March organization claimed the biggest crowds in U.S. cities, such as "well over 200,000" in Chicago and Denver, 600,000 in New York City, and 750,000 in Los Angeles. Without such a third-party scientific count, there's reason to be skeptical of figures for other cities.
And none of this resolves the inauguration vs. Women's March smackdown. "We have no comments on that; we have no knowledge of that," says Westergard. "We don't want to go there," he adds with a slight chuckle.
It seems unlikely, though, that Trump's swearing-in had "the largest audience ever to witness an inauguration, period," as White House press secretary Sean Spicer told reporters last Saturday. Photos of the National Mall at the 2009 and 2017 inaugurations, for instance show broad patches of empty ground at Trump's inauguration that had been thronged at Obama's first inauguration in 2009. Still, the professor of crowd science at Manchester Metropolitan University in the U.K. (the same group that did its own estimate of the Women's March) reckoned from photos taken 45 minutes before each oath of office that three times as many people attended the 2009 inauguration.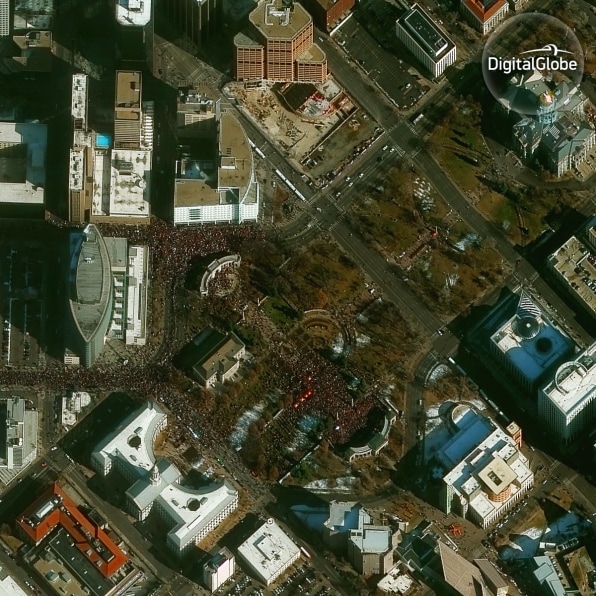 "While it's hard to get absolute numbers, it's not as difficult to get a sense of relative numbers," writes NYU journalism professor and mathematician Charles Seife in an email. He points to both photo comparisons and public transit ridership numbers from the Metro in Washington, D.C. It reported 193,000 rides by 11 a.m. ET on Friday (opening remarks for the inauguration began at 11:30 a.m.). Metro counted 275,000 trips by the same time on Saturday, according to Newsweek.
Trump supporters downplayed the importance of attendance at the Women's March. "Watched protests yesterday but was under the impression that we just had an election!" tweeted the president. Still, the administration couldn't help jumping into the numbers fray. "In my view, though, it's kind of a silly thing to be putting so much effort into arguing about," writes Seife. "And it's an even sillier thing for a press secretary to lie about–which he very clearly did."