City streets around the world (and a ship deck in Antarctica) flowed pink Saturday as an estimated 5 million women and male allies donned rosy pussyhats and marched in a show of solidarity against newly minted President Donald Trump and an administration bent on dialing the clock back on women's rights.
The nonviolent but spirited display not only picked up a gauntlet thrown down by a campaign that won on homophobic, misogynistic, and racist rhetoric, but codified an integral part of resistance: creativity.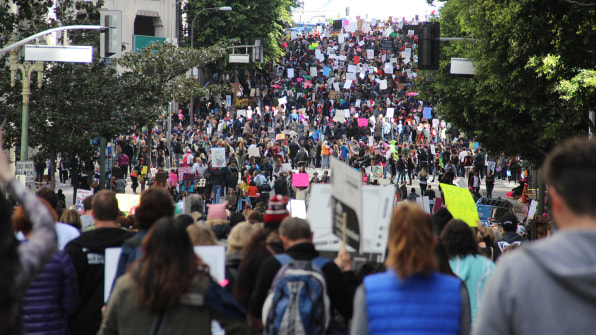 It's a strategy employed during 1960s civil rights movement, whose architects coordinated novel clandestine tactics and revealed them at opportune times to throw opponents off guard. While the Women's Marches organized and publicized in advance, their momentum galvanized individuals into devising their own creative contributions—from whimsical signs, costumes, and T-shirts, to unleashing satirical songs and drawings on social media, to theaters, art shows, and apparel raising money for such advocates as Planned Parenthood, American Civil Liberties Union, and the Southern Poverty Law Center.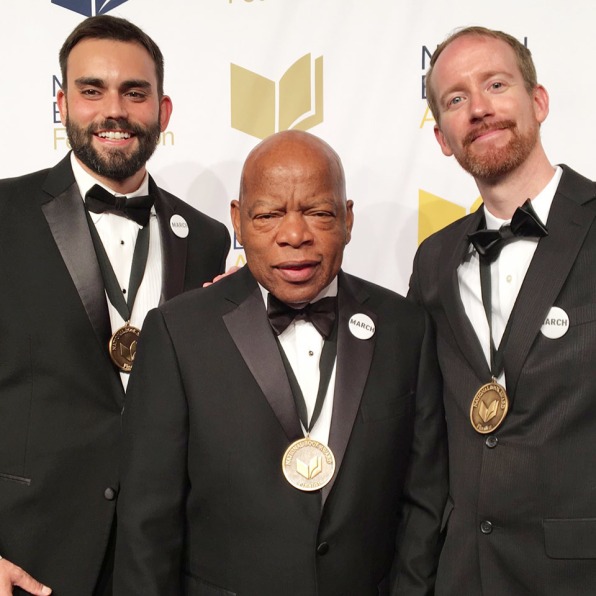 "Each successive leap in nonviolent progress has built upon the acts that happened before," Andrew Aydin, who co-wrote the bestselling March trilogy with congressman and civil rights icon John Lewis, told Co.Create last summer. (March sales skyrocketed after Trump insulted Lewis.) "One of the key proponents in the national sit-ins was that there was also a boycott going on of stores that wouldn't sell to African-Americans. So you took one tactic, you added another, and put it all together to put pressure. So if young people today creatively used tactics from that movement, and added social media, that's how they'll make the next great leap."
The mounting artful protests since election day seemed to take their cue from this approach. For every celebrity statement, like Shia LeBouf's He Will Not Divide Us livestream and Fiona Apple's "Tiny Hands" are explosions of individual and grassroots efforts, like the Pussyhat Project, New York's Nasty Women, and Uprise/Angry Women art show fundraisers, and the anti-Trump banners gracing New York bridges and skies.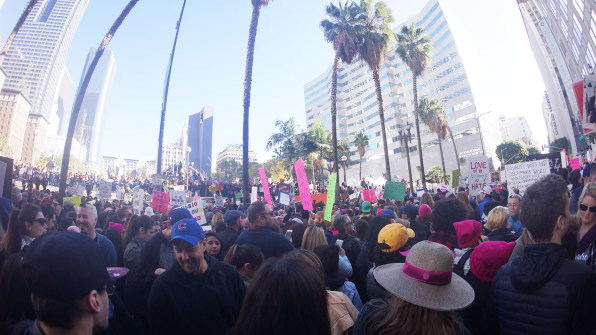 Some were spontaneous. Within hours of alt-right leader Richard Spencer getting punched on camera, Microsoft engineer and technical evangelist Rachel White offered a T-shirt bearing a video screengrab of the event, with all proceeds going to the ACLU.
Some were subtle. A film series on women directors at the University of Southern California used today's political backdrop for a timely screening and panel on Triumph of the Will, a famous Hitler propaganda film.
Yet others were just artistic outbursts. Disney Imagineer Nikkolas Smith, an NAACP Image Award nominee who received a signed thank-you letter from Barack Obama for an Incredibles-inspired drawing of the former First Family, honored fan requests to continue the theme with Trump, who he reimagined as Incredibles' villain Syndrome.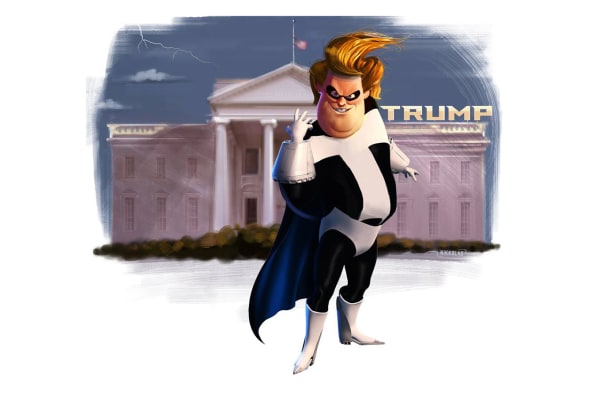 The political turmoil has proven fertile ground for veteran comic writers and illustrators. Neil Gaiman, Amanda Palmer, David Mack, and Olga Nunes teamed for a video of Leonard Cohen's Democracy to raise money for PEN America's quest to defend freedom of expression. Mack also contributed writer portraits for PEN America's Writers Resist protest.
Meanwhile, Bill Sienkiewicz weighed in on social media with emotional farewell portraits of Obama, March illustrator Nate Powell created women's empowerment signage art based on a concept by his wife and her friends marching in D.C., while political artist Mark Bryan offered a line of anti-Trump posters. Not to mention, an exploding anti-Trump craft industry.
The expression crescendoed with the Women's Marches.
The Missile Dick Chicks, dormant since the George W. Bush administration, resurrected for the New York and Oakland marches. The antiwar protest group began in New York to protest the Afghanistan and Iraq invasions, attended protests dressed as buffoonish war mongers with missile strap-ons and oversized stuffed bras (war chests).
Madefire CEO and graphic designer Ben Wolstenholme, crafted a free-use anti-Trump campaign design for the San Francisco march that could be expanded into a line of petitions to run through Trump's tenure.
Artist Shepard Fairey, who gained notoriety for his 2008 Obama "Hope" campaign poster, created the We The People poster series with The Amplifier Foundation, featuring pictures of diverse women. Fairey gave away posters at his Los Angeles studio, and made the images available as free downloads for use around the world. The images were also featured in full-page ads in The Washington Post, USA Today, and New York Times.
Thanks to a lone sunny day between days of rain, Los Angeles drew the largest crowd, as a jovial swarm of 750,000 encircled downtown's Pershing Square and City Hall. There were also offshoot marches in Beverly Hills and Pasadena. Costumed participants waving handmade signs posed for photographs, drummed, sang, and chanted, "We must fight, we must fight! This is what democracy looks like!" and "Love trumps hate!" At City Hall, celebrities, activists, and politicians spoke throughout the day, while entire blocks of protesters, tired of standing still, split off into impromptu marches around the area.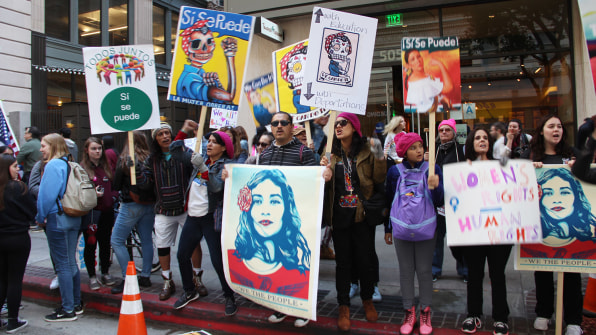 Among the participants was Dani Paquin, a singer/songwriter and jewelry maker, who created the Safe Tee line of decorative safety pins—a symbol promoting a safe community regardless of gender, sexuality, race, disability, or religion—to wear at and beyond the marches, that donates half of its proceeds to Planned Parenthood, ACLU, or the SPLC.
Another brought a sobering but hopeful message with her artform. L.A.-based Italian filmmaker Vanessa Crocini shot footage of its Post-Election (below) and Women's marches as first steps in chronicling Trump's impact on social issues from her viewpoint as an immigrant and woman.
"This is such a historical moment," she said. "This past election has been a very heavy cookie to digest and the mourning process is still hard. I wanted to feel like I belonged to this country, even if I am not a citizen, and make other people feel like we are all in this together. I wanted to capture history and I thought putting together the footage from the [Post-Election] protest would have helped me to process my feelings, my rage, my despair, to rethink my American dream."
The reactions she got after posting it on Facebook "made me think that I do have a voice in this country," Crocini added. "Now, I want to interview women and capture our different voices and make a short piece that can stir up more awareness and grow our sense of responsibility. I want the Women's March to be the beginning of an important story. A story of resilience, a story of resistance."