There were 728 films released in the United States last year. The total earnings from those movies hit nearly $11 billion, with the top-grossing production taking in over $504 million. (Three guesses what that film was, as my mom used to say, and the first two don't count). A feature called Pet, meanwhile, scored only enough cash at the box office to pay for this bag of really nice dog food, or seventy bucks.
Which is all to say that despite what you may have heard about the imminent death of cinema, and the increasingly competitive fight for entertainment-seeking audiences, movies aren't going anywhere. They are still big business, with tons of pressure on filmmakers to find a way to break out of a crowded pack. There is still a vast range of what's possible in cinema. And they are still produced, in large measure, the same as they've always been: mostly by men.
Zoe Lister-Jones didn't set out to reinvent how films are made and marketed—but with a few crucial decisions early in the process of writing, directing, and helping produce Band Aid, which debuts today at Sundance, she may have done just that.
"One of the first things Zoe said when she talked with me about the film was she wanted to have a fun experience," says Natalia Anderson, Lister-Jones's producing partner on Band Aid. "I completely agreed."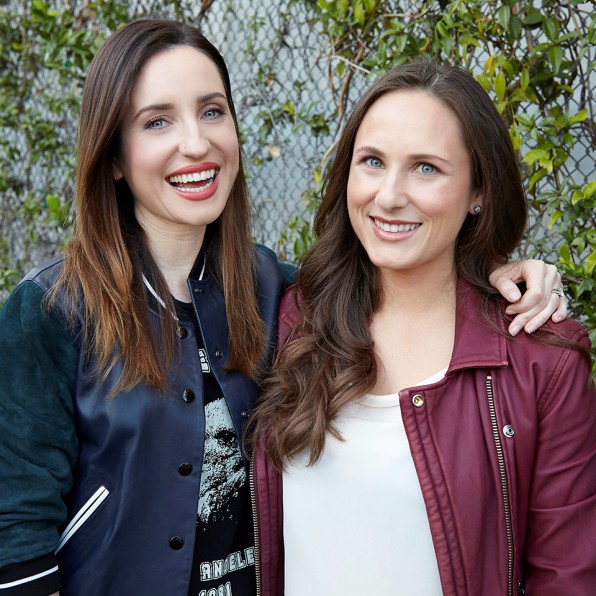 And so, on the first day of production, Lister-Jones delivered what Anderson describes as a "State of the Union" address to the crew. That was immediately followed by a dance party.
For Lister-Jones and Anderson, sustaining the fun meant, in part, having a drama-free and relatively ego-less set. It meant looking forward to going to work. It meant feeling confident to express yourself. And more than anything, it meant hiring an all-female crew.
"The first thing Susie Essman, who plays Adam Pally's mom, said when she came on set was: 'It's so quiet and respectful,'" Lister-Jones recalls. "It was truly a beautifully well-oiled machine."
Beyond deliberately creating a comfortable and collaborative work environment, Anderson says there were additional benefits to the dynamic.
"It really pushed people out of their comfort zones to hire someone they've never worked with before."
That, both women agree, will have a cumulative effect, as a new network of talented women in film can thrive long after Band Aid wrapped.
Another way that Lister-Jones embedded joy in the proceedings was with the story and material itself. Drawing on her real-life teenage experience as the front-woman of an experimental art-rock band called Maxi Geil (it means Super Horny in German, Lister-Jones informed me) the writer-director composed original songs for a band begun by the couple at the center of the film as a way to channel marital and life struggles into a creative outlet.
"I was a 14-year-old with a shaved head," Lister-Jones says of her time singing-slash-performing spoken word for Maxi Geil, a band that included two of her mom's art school grad students. "Quite a vision."
In the film, her songs are performed by the actors: Zoe-Lister on bass, Adam Pally, who plays Lister-Jones's husband, Ben, on guitar and Fred Armisen, their neighbor Dave, on drums. In production notes, Lister-Jones recalled what drove the casting choices:
I was lucky enough to find two actors, both deeply funny and funnily deep, who happened to know how to play instruments. Adam played guitar in high school bands, and Fred Armisen was a professional drummer in a punk band for many years before he came to his SNL fame. This was essential because I insisted we play all of the music in the film live. I had seen too many movies in which live performances were clearly pre-recorded and, to me, it sacrificed authenticity. I wanted the audience to see and hear our imperfections, to feel the electricity of live performance captured on screen.
The image of a 14-year-old with a shaved head may not suggest a shy kid, but Lister-Jones says she was so shy that her mom, the artist Ardele Lister, nudged her into acting classes to help her daughter "break free" of insecurities. It worked. Lister-Jones studied acting at NYU's Tisch School of the Arts and The Royal Academy of Dramatic Arts in London. She's since written, produced, and acted in a long slate of films and plays Jen Short, a lawyer, wife, and mother, on the CBS sitcom Life in Pieces.
All of which prepared her well for her directorial and Sundance-orial debut with Band Aid. And in a nice moment of happy coincidences and kismet, it's not the worst time in the world to have a music-cranking film poised to enter the market. The film musical La La Land just scooped up a record number of Golden Globe awards and tied an existing record with 14 Oscar nominations, and the song-powered comedy Crazy Ex Girlfriend is a big hit on The CW.
But just as she was not necessarily aiming to disrupt the entire film industry with her all-female crew, Lister-Jones didn't set out to ride a new musical wave. She really just wanted to have fun.
Now, fully aware of the tough indie-film market, Lister-Jones and Anderson are excited to see how the world responds to Band Aid.
"We made a film we love—and we're going to enjoy that for a little while," Anderson says four days before the movie's premiere.
To maximize their enjoyment, the two filmmakers would love to see Band Aid find theatrical distribution, as well as a streaming deal. It's that combination that can help a movie released in 2017 achieve ideal liftoff by being seen the way the filmmakers intended (on the big screen) and by the largest number of people possible (on the device of their choosing).
"At home–and I struggle with this—it's so easy to turn something off and go on to the next thing," says Anderson.
That may be true, but Anderson and Lister-Jones, unlike the vast majority of filmmakers, can take comfort knowing that even after the audience moves on to the next thing, the great example they've set should inspire writers and directors for years. And that's a most impressive accomplishment—especially the way they went about doing it: by making political acts in America fun again.