As a teenager in Detroit, Brandon Chrostowski had a bit of a reckless streak. After being arrested one night for drug-related activity, he spent a few nights behind bars while awaiting sentencing. He was offered probation, during which he met a local chef who mentored him and gave Chrostowski what he still considers the break that changed his life.
That was almost 20 years ago. From his hometown, Chrostowski enrolled in classes at the Culinary Institute of America, and landed gigs at swank restaurants like Charlie Trotters in Paris, and Le Cirque in New York. When he came to Cleveland in 2008, it was to manage one of the city's upscale French restaurants, but he became preoccupied by the inequality in the city–and throughout the restaurant industry in which he'd spent so many years.
"I wanted to build out an idea of a restaurant school that would afford people the same break that I received when I was young," Chrostowski tells Co.Exist in an interview.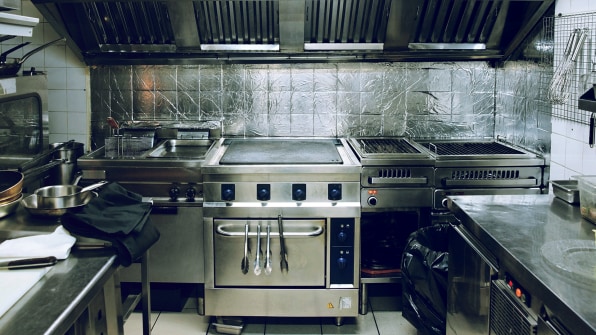 In 2011, he founded Edwins Leadership & Restaurant Institute as a nonprofit that prepares formerly incarcerated people for a career in the hospitality industry while offering leadership and re-entry counseling. The program began as a training course run through the Grafton Reintegration Center in Ohio; in November 2013, Chrostowski opened Edwins restaurant as the only fine-dining establishment in America whose staff is entirely composed of formerly incarcerated people. In 2016, he opened a three-building campus near the Shaker Square restaurant where students can live for free during their training.
To date, the program has graduated 166 people, and over 90% are employed. The six-month course, Chrostowski says, is tough: former inmates rotate through all the basics of cooking and restaurant management, and meet with an on-site caseworker who works through legal questions and assists them in securing housing and health care. "It's not just job training, it's a whole life plan," Chrostowski says.
The experience of those who go through the program at Edwins is a far cry from that of most formerly incarcerated people searching for a job in the restaurant industry. One of the fastest-growing sectors of the economy, the restaurant industry is also the top employer of former inmates in the United States, says Saru Jayaraman, the co-founder and co-director of Restaurant Opportunities Centers United (ROC). Because restaurants are so in need of workers, Jayaraman adds, they "will hire pretty much anybody," and there's a level of informality in the industry that allows for the employment of people–like those with criminal records–who struggle to secure jobs elsewhere.
However, Jayaraman says that employment in the restaurant industry is by no means a unilateral positive. Workers of color are disproportionately represented among formerly incarcerated people, she says, and both are frequently segregated into the lowest-paying jobs, like dishwasher or busboy, with no hope of mobility. (Seven of the 10 lowest-paying jobs in the U.S. are in the restaurant industry). This dynamic, Jayaraman says, can lead to recidivism. "When people find themselves in situations where they can't survive and make a living, they may return to other forms of income that aren't necessarily above board," she says.
The 20% of restaurant jobs, like bartender and fine-dining waiter, that offer livable wages—sometimes over $100,000 per year–are disproportionately held by white workers. In a 2014 experiment, ROC sent out pairs of resumes to restaurants–one from a less qualified white worker, and one from a much more qualified worker of color. For the livable-wage jobs, the response rate for white workers was twice as high.
A new restaurant opening in Oakland, California at the end of 2017 aims to address such inequities head-on. A partnership between ROC and the Ella Baker Center for Human Rights, the nonprofit Colors restaurant will train formerly incarcerated people in fine-dining service, bartending, and livable-wage-paying front-of-house jobs, with the goal of employing them full-time at the restaurant or elsewhere in the Bay Area. ROC already operates branches of Colors in New York and Oakland, but the forthcoming Oakland establishment is by far the most ambitious, Jayaraman says. The restaurant will be a part of a larger project, Restore Oakland, a planned restorative justice facility that will offer workshops and holistic re-entry programming on the floor above Colors.
Once Colors is up and running in Oakland, Jayaraman hopes the training program will create greater change in the Bay Area, where inequality in the restaurant industry is very deep, Jayaraman says. In a June 2016 survey, ROC found that the $6.14 wage disparity experienced by workers of color in Oakland was the highest in the country. "The work we're doing in the Bay Area has to be both about training formerly incarcerated people and low-wage workers of color," Jayaraman says. "But it also has to be about moving employers to do the right thing."
To that end, ROC operates a training program called RAISE (Restaurants Advancing Industry Standards in Employment) in which the organization provides technical training to restaurants in how to move away from segregation and advance opportunities for workers of color. RAISE currently works with around 100 top-tier restaurants around the country, and its focus includes leveling the playing field for formerly incarcerated people seeking employment.
When the high-end Mexican restaurant Cala opened in San Francisco in the fall of 2015, it generated all the usual restaurant-industry buzz expected from a new celebrity-chef venture. But the hiring practices were perhaps the most striking change to the city's restaurant scene: 60% of those working at Cala had no prior restaurant experience, and 70% were once incarcerated. Cala is a member of RAISE, Jayaraman says, and one of a handful of member restaurants working intensively to desegregate their operations; RAISE will release a comprehensive list of restaurants taking similar actions this spring.
While such practices are still far from the norm, Jayaraman is optimistic about the direction they could signal for the industry as a whole. "Now in particular, when the industry is going through such a labor shortage and a lot of restaurants are horrified by the incoming administration, there's a real openness among employers to create more equity," Jayaraman says. Creating such opportunities for people historically facing a massive disadvantage in the hiring process, like formerly incarcerated people, is "life-changing," she adds. "It's not just about getting people a job, it's about establishing a new set of leadership skills and norms so they can change the industry."