Today, PGA star Jordan Spieth took another step towards the summit of pro sportsdom with the unveiling of his first signature shoe for Under Armour. The brand is launching the Spieth One with a global four-city tour starting in Tokyo, then Seoul, Los Angeles on February 13, Mexico City on February 28, and then will make a stop at London at a later date. Of course, there's also a new commercial for the new kicks, which Under Armour has exclusively shared with Co.Create.
The new shoe comes just shy of a year after Under Armour first jumped into the golf footwear market with an ad starring Spieth. Now the 23-year-old joins Carolina Panthers quarterback Cam Newton, Washington Nationals outfielder Bryce Harper, and of course, Golden State Warriors star Steph Curry as the latest UA athlete to have his own shoe.
Under Armour no doubt hopes that the new shoe will, much like Curry in basketball, help it catch up and compete with the likes of Adidas and Nike, two brands that may have dumped their golf equipment businesses but remain huge players in footwear and apparel.
Kevin Ross, UA's head of golf says Spieth's is only the second signature golf shoe in the market. "With a talent like Jordan and a brand like Under Armour, there is a real excitement for an innovative golf shoe that has been designed by one of the best players in the game," says Ross.
The shoe market is a fickle one, as Under Armour well knows. Steph Curry's signature shoe has had its (extremely high) ups, but also its downs. Last fall, the company's stock took a hit based on slow sales of the Curry Three model.
I spoke to Spieth, fresh off a third-place finish at the Sony Open in Hawaii, a couple of weeks before the Spieth One will get its PGA debut at the (unfortunately named) Waste Management Phoenix Open at the end of the month.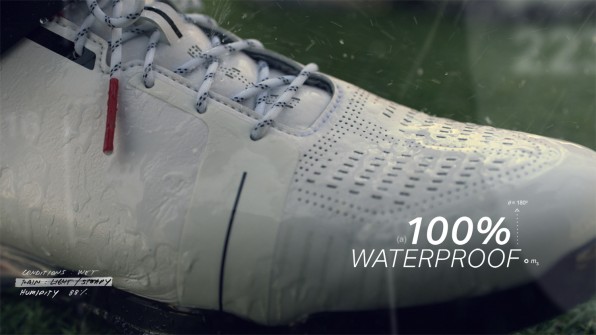 Co.Create: You've said you worked on this shoe for more than a year. What was the process behind the concept and designing of the new shoe?
Jordan Spieth: First of all, I'm really excited about it. It's one of the most important pieces of equipment in golf. There's so much weight transfer, there's so much torque that goes through your feet, and I've only worn a few different shoes over my entire career. I don't change shoes often, so it's been something I've always been pretty meticulous with, and have had a lot of collaboration with Under Armour to get here.
It was a multi-year process, of grabbing a few of my favorite shoes, explaining to the UA footwear team what I liked about them, what I thought could be better, then combining that with other adjustments. Then we got prototypes, wear testing them, having Under Armour there while I hit balls, tweaking the design, and we've landed on this final model that I'm really excited about.
Getting your own shoe is a pretty significant milestone as a pro athlete.
That was actually my biggest struggle in all of this. Am I ready or the caliber of player to sell these? What are people going to think? It's been like that with the entire line of hats and t-shirts. I wasn't comfortable for the first couple of years when Under Armour would suggest [putting his name on the product], and I would say maybe we should wait until I've had more success. But after 2015, I was like, 'Alright, let's go.' and Under Armour was already three steps ahead ready to get it going.
I'm not looking at it like I'm Michael Jordan, who's name alone can sell shoes. I see it as a product with my initials on it because I was involved in its development and truly believe it's the best in the market. I put my name on it because I'm proud of the product we've developed.
You talked about how great a fit you and UA are last November at the Fast Company Innovation festival. How does this process reflect your working relationship with Under Armour?
I don't just feel like Under Armour is a sponsor, but we're partners. And that's extremely important and why we've been able to develop a product like this.