Like a lot of people, Caitlin McFarland and Emily Gipson–who founded the ATX Television Festival in 2012–were overwhelmed by the news of Donald Trump's election. Also like a lot of people, they were inspired by the mass movement to get people to call their representatives, be involved in politics, and stay engaged during a frightening time. The result of that is an initiative that the pair, along with screenwriter Evan Miller (a veteran of the festival), launched today called "100 Calls, 100 Days" to give people looking for a way to take on an activist role in the age of Trump a script to use.
"Prior to the election, I was socially and civically-minded without being active," McFarland says. "I trusted that things were getting done, and didn't feel that I had the power to change it. Now, I was looking for something sustainable. I knew that we all felt the urge in November, and maybe even up until Inauguration Day, but how do you keep that going? It had to be something maintainable."
To that end, the project is simple: The initiative's website helps people find their representatives and their phone numbers, features a calendar so they can learn what issue they might want to call about today, and provides a simple script so that even the socially anxious can make a call without sweating it too much. It's not dissimilar to other efforts around getting people to make calls and take a more active role in the political world around them, and being part of a larger movement like that is part of the point.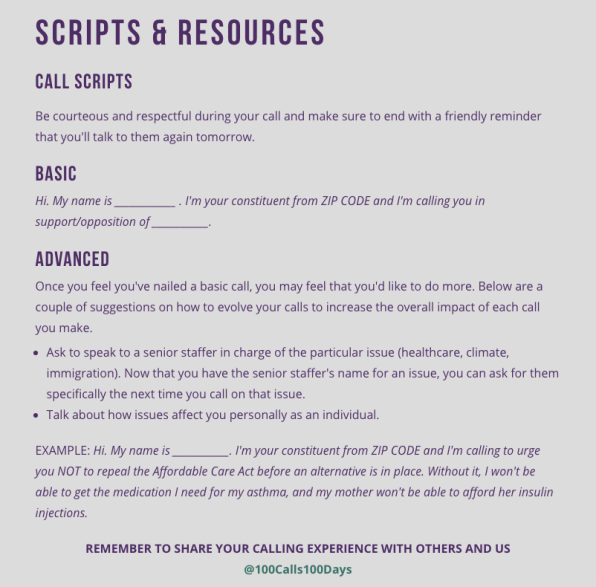 "The 'call' movement has definitely become the most entry-level version of activism. Our hope is that it grows, that more people participate, and they get more comfortable in calling," McFarland says. If "call your representative" becomes the current political equivalent of "brush your teeth twice a day," then they're entirely comfortable being one of many voices getting that message across.
"If we only brushed our teeth once every year, or two years, or four years, then we would end up with a lot of cavities," Miller says. "Why would democracy be any different?"
Creativity is a part of organizing, too. A project like 100 Calls, 100 Days is interesting because–while they want it to stand out (and they created an animated introduction video to introduce the initiative)–they're not in competition with other groups with similar messages. The project needs to attract attention to succeed, but "success" isn't getting more people to pay attention to 100 Calls, 100 Days, it's getting people to make those calls. Whatever resource they use to do that is fine.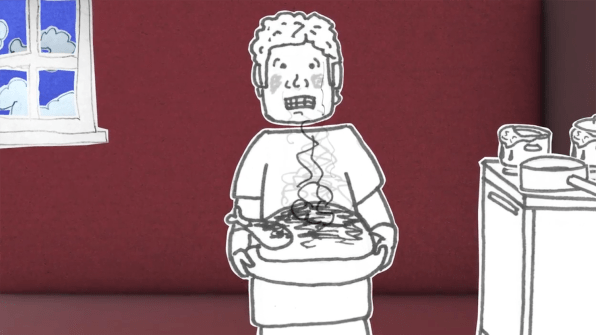 Running a festival, in other words, can be a zero-sum game–if people are somewhere else when you're holding an event, then they're not at yours–but a project like this works differently. That isn't to say that the ATX Festival experience didn't equip McFarland to take on a project like this.
"The coordinating that we do for our 'day job' has left us with a lot of skills in rallying the troops," she says. "It was amazing how many people jumped up to build a website, make a video, support the campaign. In a way I didn't expect, it felt like the early days of ATX–the response, the quick and sharp, 'Yes, I want to do that' from people is very reminiscent of when we first had the idea for the festival. I believe, more than anything, it's the simplicity of it."