How old is "old"? According to a 1,000-person survey completed by London's Design Museum in conjunction with the pop-up installation New Old, old means 73.
But according to the exhibition's curator, Jeremy Myerson, a sizable number of respondents dismissed the word "old" altogether, claiming that we aren't "old" at any age–a sentiment that reflects shifting cultural perceptions of aging, and presents a new challenge for designers working towards more inclusive intergenerational design solutions.
Over the next several decades, the populations of many developed countries will begin to skew toward the elderly. In the U.K., the number of people age 85 and older is estimated to double over the next 25 years. In the U.S., people 65 and older make up about 14% of the population, a number expected to double by 2060. Older people already form a disproportionate amount of the population in Japan, where 25% of the country's citizens are over the age of 65. The demographic change is indisputable. "The question is how will we live these longer lives? Will they be years full of life, or just life full of years?" Myerson says.
Because of these shifts in population, many aspects of society–from the workforce to transportation to where and how we live–will need to be redesigned with older citizens in mind. And designers, who tend to be young, need to imagine themselves as septuagenarians. "Instead of seeing aging as a problem and a demographic time bomb, the idea is to see that we can innovate our way out of it," Myerson says. "It's an opportunity as well as a challenge and designers have a lot to offer."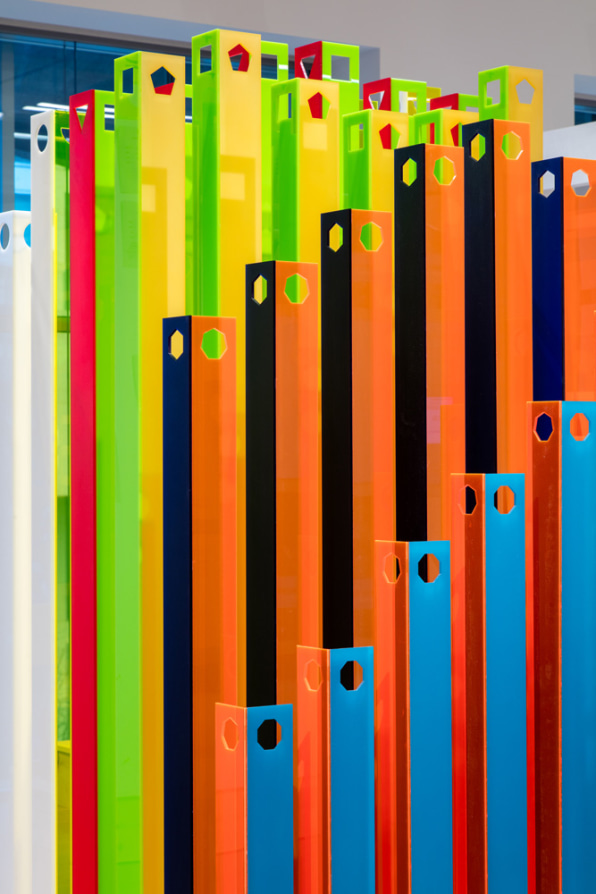 The New Old exhibition itself reflects just how drastically ideas around designing for older people have changed over the last 30 years. New Old is inspired by a landmark exhibition from 1986, where artists and designers were asked to prototype products that would help the elderly maintain their independence at home and avoid assisted living. "In the 1980s, people were quite happy to design for older people as passive, housebound, retreated from economic contribution, just consumers," Myerson says. "Ambitions for older age are much greater now."
Designing for an aging population no longer means only thinking about safety and care in the home; now, older people need design solutions to help them participate in the workforce, get around town, and convince a youth-centered society that they still have a lot to offer. For New Old, Myerson commissioned a series of projects from top design studios to address the issues of identity, mobility, community, working, and living.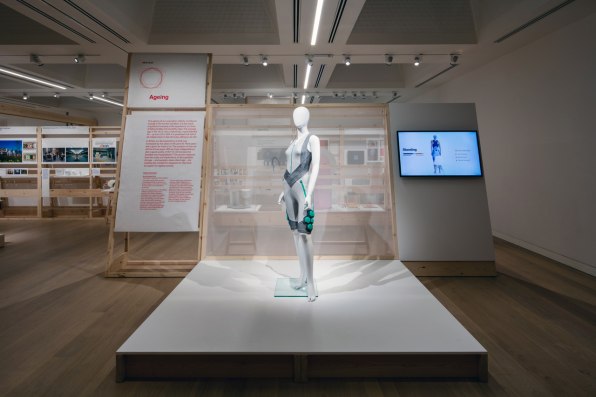 This collaboration between Fuseproject founder Yves Behar and the startup Superflex is an exoskeleton aimed at giving frail limbs an extra boost. Developed using military-grade technology originally intended to help soldiers carry their gear, the Aura Power Suit's lightweight material is embedded with motors, sensors, and AI designed to lessen loads. The power suit could theoretically lie underneath a user's clothes and make the trip to and from the grocery store a whole lot easier, making an active life for an older person who tires quickly or struggles to walk a bit easier to attain.
Since nearly a third of adults over the age of 65 have a hard time walking a few blocks, the Power Suit could help millions.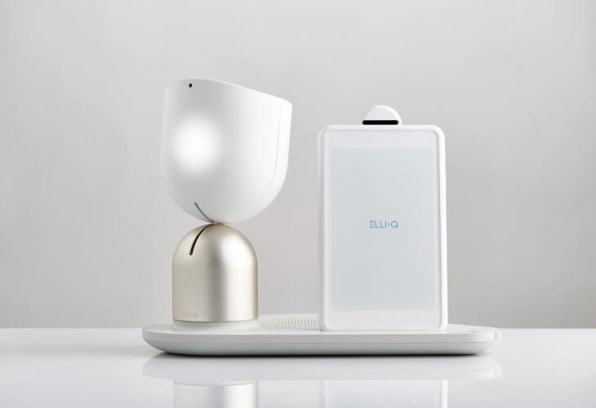 In collaboration with the Israeli startup Intuition Robotics, Behar also recently designed ElliQ, a robot meant to combat loneliness among the elderly. It's a cute little companion that helps you stay social as you age. Voice recognition makes it easier for non-tech-savvy seniors to navigate the internet, learn, and stay engaged with family and friends.
This technology might one be a staple of homes for elderly people, especially since nearly a quarter of the 1,000 people surveyed before the show said they'd prefer to be cared for by robots than by humans in old age. When limited to just young people, the percentage rises to a third. By the time today's millennial designers join the 65+ crowd, maybe a social robot companion will be the norm.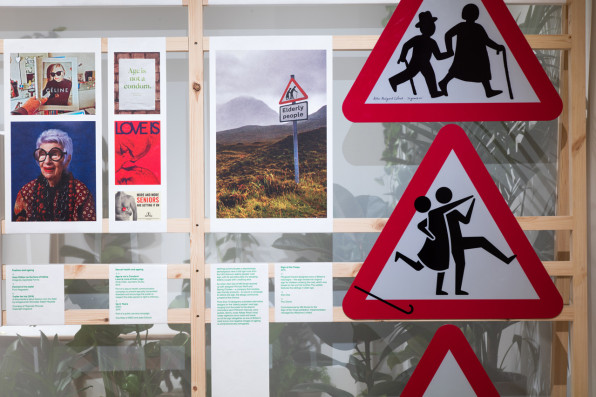 Tackling Stigma And Stereotypes Around Aging
As part of the exhibition, Myerson worked with the advertising firm Mother London to create a branding scheme that would place value on age. The firm's concept played on marketing typically used for wine and spirits, where the beauty of aging is truly valued. In the designs for these alcohol bottles, age is a marker of quality.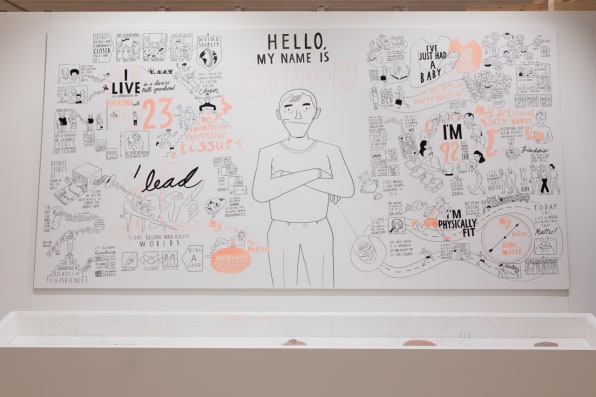 A Friendly Social Assistant
This IDEO-designed speculative product is a smart assistant focused on helping elderly people build communities. Its algorithms evaluate each interaction you have both online and in the real world–then it helps you figure out who you should hang out with. It is designed to both enhance your existing relationships and help you build new ones by analyzing different users' profiles and letting you know who might make a good future friend. While it's more provocation than product, Spirit challenges us to think about our own methods of meeting new people and forming a community. Is it really any superior?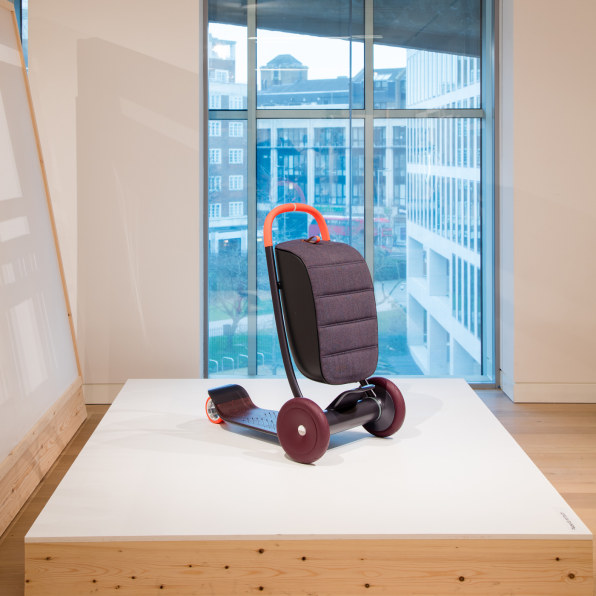 Grandma's Scooter
Designed by PriestmanGoode for New Old, the Scooter for Life is nothing like your average mobility aid. With a sleek pouch in front for storing shopping bags or groceries, the push scooter's base also folds up so that it can be easily carried on a bus or taken into a store or apartment. With three wheels, it's much more stable than your average children's scooter, and it also has the option of adding a seat or a small motor. With this kind of mobility device, public transportation becomes much more accessible for older people who may not be able to walk the distance to a station or bus stop.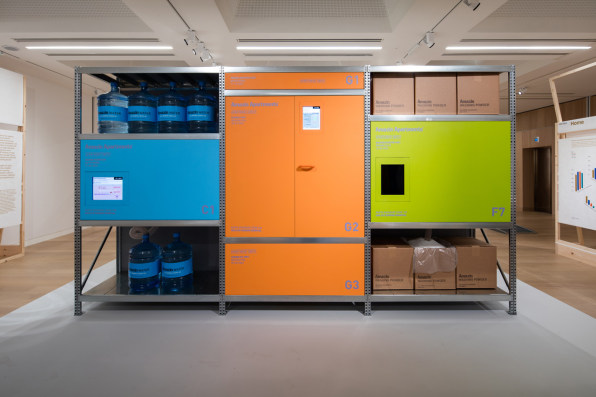 The Zero-Maintenance Apartment
For New Old, designers Sam Hecht and Kim Colin of Future Facility created a conceptual housing development called Amazin Apartments. In it, apartment complexes are owned and developed by tech companies, which provide fully serviced apartments in exchange for each inhabitant's data. Each resident's needs are tracked, and the complex is built in such a way that workers can invisibly restock and maintain apartments using a network of unseen corridors. It's a bit utopian, and also a bit Big Brother. While Amazin Apartments sounds predatory, for elderly people for whom a trip to the store is a strenuous activity, trading data for a supply of toilet paper and milk might be worth it. The question becomes: is this an ethical, humanistic solution for aging users?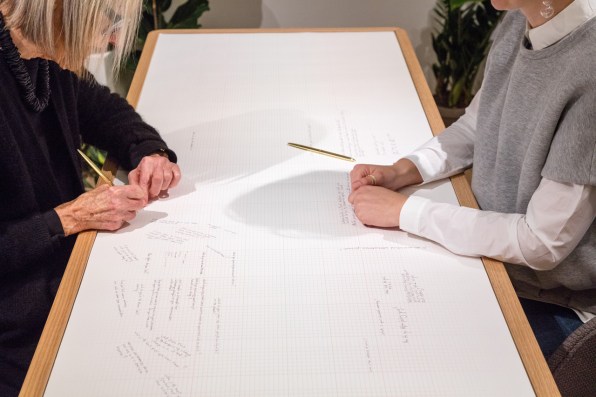 While some of the exhibition's commissions are meant to present a possible future, forcing us to question what we want our world to look like, others are practical projects that are now in development. When done right, they represent the best of inclusive design. At its heart, designing for the elderly is designing for our future selves.