With its forthcoming renovation and addition scheduled to open in 2020, the American Museum of Natural History in New York is on a mission to become the world's science lab. "In a post-truth world, understanding science has never been more urgent," Ellen Futter, the museum's president, told reporters at a press briefing on Wednesday.
More than 5 million people of all ages and all walks of life visit the museum on the Upper West Side every year, and the institution views itself as one of the first lines of defense in a newly science-skeptical world. Both Michelle Obama and President Obama stressed the importance of education in their farewell addresses; meanwhile, the incoming administration has denied decades of sound climate science. The Museum of Natural History's mission has never felt more vital.
On Wednesday, Neil deGrasse Tyson–director of the Hayden Planetarium at the Museum of Natural History, astrophysicist, and the scientific world's biggest cheerleader–offered a poignant comment on why the new museum's design and approach to communication has so much potential and is so necessary. "When I see these plans, I see a facility that will continue this very potent tradition of not only teaching people what science is, and how and why it works, but also influencing people emotionally and psychologically, recognizing 'oh my gosh, this is the natural world to which we are embedded and we are a part.'"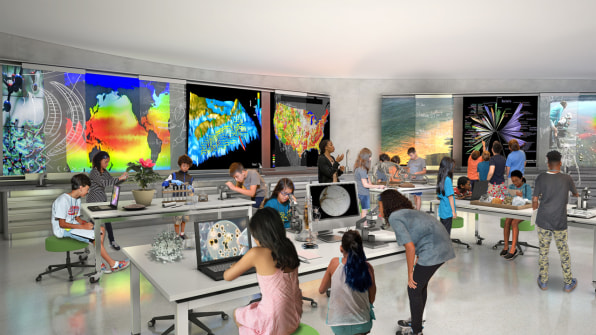 The five-story, $340 million addition–formally named the Gilder Center for Science, Education, and Innovation–is being masterminded by Chicago-based architects Studio Gang and Ralph Appelbaum Associates, a New York-based firm specializing in exhibition and museum planning. The design embodies the museum's ambition to become an avenue for discovery–an institution that makes scientific research transparent, that becomes a hub for public education, and that leaves visitors of all ages excited, inspired, and curious about the natural world. Through architecture that encourages exploration, and interactive exhibitions that use new digital tools like VR, AR, and digital imaging, the museum aspires not just to be a display of science, but an invitation to experience science.
"You can really see this natural evolution of museums being essentially big boxes filled with educational stuff and collections to now–museums that are seamless with storytelling and seamless with the narrative that they offer," said Ralph Appelbaum, founder of Ralph Appelbaum Associates.
If there's an overarching narrative to the Gilder Center, it's that of visualizing the unseen: far-off galaxies, the behavior of insects, the microscopic organisms populating our oceans, even the systems inside our bodies. Studio Gang riffed on that notion with a sublimely sculptural architectural language that appears to have been created through eons of exposure to the natural world (the building is a dead ringer for the slot caves of the famed Antelope Canyon). It's almost as if the addition is a stone outcropping of the Earth itself, carved by the climate over the millennia.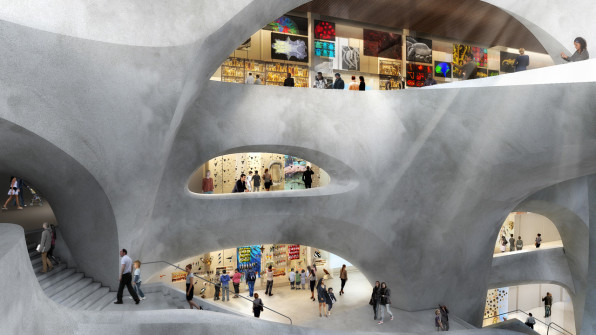 "I'm really inspired by landscape, which serves as such an important historical record of our ever-changing planet," architect Jeanne Gang, Studio Gang's founder and principal, said at the briefing. "Slot canyons, riverbeds, glaciers–these are all spatial landscapes that reveal the natural-history record through their textures and patterns. They allow us to perceive the geological processes that created them."
Overcrowding and congestion is a serious problem within the existing museum, and Gang's design emphasizes the easy flow of circulation, connecting the new structure both with the existing building and to its setting in Theodore Roosevelt Park. When museum-goers enter the Gilder Center, they're greeted by a soaring atrium that offers glimpses of the different exhibitions and installations on each floor–and hopefully sparking an appetite for curiosity in the process. They'll see slivers of an insectarium, a butterfly vivarium, and a wall populated with more than 3 million items from the museum's collections–just 10% of its entire holdings which were previously not on view.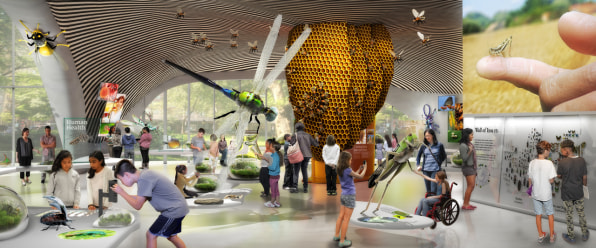 Craning their necks upward, visitors will see a massive skylight with operable louvers–a design detail that helps usher daylight into the building and naturally ventilate the space so it's not as reliant on its HVAC system. Glass walls bring natural light deep into the galleries and are adorned with ceramic frits so birds don't crash into them. Gang aligned the building with Manhattan's street grid and pointed out that during Manhattanhenge–a twice-yearly phenomenon when the setting sun is exactly aligned with the grid–the Gilder Center would be an ideal viewing platform.
"The spatial flow and sculptural flow try to capture the dynamic interplay between natural light and the sense of orientation that you get inside the building from natural light," Gang said. "You'll be able to connect to the site in a deeper way."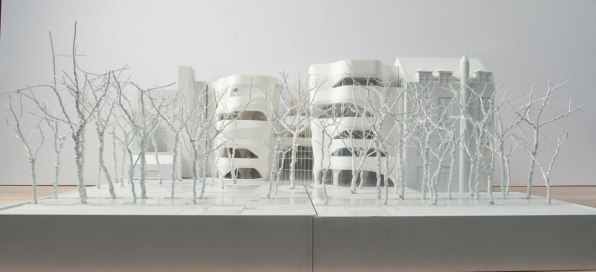 To model the organic shapes of the building, Studio Gang began by melting blocks of ice with hot water, creating digital models from the resulting forms. Then the architects used custom software to merge the digital model with BIM to figure out how to actually construct these unusual forms, which will be fabricated from concrete. Normally, concrete structures are made by molding material with a formwork.
But because the shapes are so complex, they'd be close to impossible to build using that method. So, just as the museum aims to reveal the hidden workings of the world, Gang found technical inspiration in the unseen world of architecture. Instead of conventional concrete, the architects are experimenting with "shotcrete:" spray-in-place structural concrete that's often used in infrastructure projects like subway tunnels–and even skateparks–but rarely in architecture. Rather than using a formwork, builders construct a steel rebar cage and spray liquid concrete into it, resulting in a softly undulating surface unlike normal concrete used in architecture.
"We went to see a lot of work that's way underground that you would never normally see," Gang says. "There are beautiful vaults–almost like cathedrals–underground where they've used this [shotcrete] technique to connect two bridges or tunnels with complex geometries. [The technique] lends itself to the complexity of this geometry."
Studio Gang has never worked with the material before and is currently refining the technique with structural engineers at Arup. (The engineering firm Buro Happold is working on the mechanical, electrical, and plumbing work.) "It's very precise in terms of how the rebar is shaped, but then, the whole thing becomes structural as the concrete cures," Gang tells Co.Design. "It's usually used for infrastructural applications, and not so often in architecture. That'll be a really innovative interesting bit of [the design]."
The monumental areas, like the atrium and central exhibition hall, will certainly spark awe, but there are smaller moments in the museum where visitors can have a more one-on-one experience with the museum and come away with a sense of enlightenment based on facts. "Data doesn't mean anything until someone asks the right questions," Tyson says. "When data is presented as we do at the museum, it becomes wisdom."
[All Images (unless otherwise noted): courtesy Ralph Appelbaum Associates]