Self-driving cars are no longer a far-flung prophecy; they're descending upon our roads, dominating conversations about the future of mobility, and becoming a fascinating urban and UX design problem. Uber has been behind some of the biggest autonomous driving pushes–and blunders–in the past year and conducts much of its research, development, and mad-scientist experiments from its Advanced Technologies Group Center in Pittsburgh.
The gleaming new office and machine shop designed by Assembly, a new architecture firm based in San Francisco, was conceived as a celebration of technology. Eric Meyhofer, who heads autonomous vehicle ventures at Uber, told the firm: "I want you to be able to worship the car. I want you to know the tangible thing you are creating, that you are building the city of the future," says Denise Cherry, one of Assembly's principals. "We took that idea to mean celebrating the city, which is integral to Uber's culture: You're building the city of the future, which is this highly evolved robotic thing in what's formerly the City of Steel."
Four-hundred employees now work at the 98,600-square-foot office located on the banks of the Allegheny River in Pittsburgh's Lawrenceville neighborhood. The structure was formerly a Restaurant Depot. Assembly mostly worked on the interiors' look and feel while Strada, the architect of record, redesigned the shell and worked with Uber's engineers on the layout of the heavy-duty machine shop areas.
"It was the most nondescript concrete box you've ever seen," Cherry says of the building's state before any design work commenced.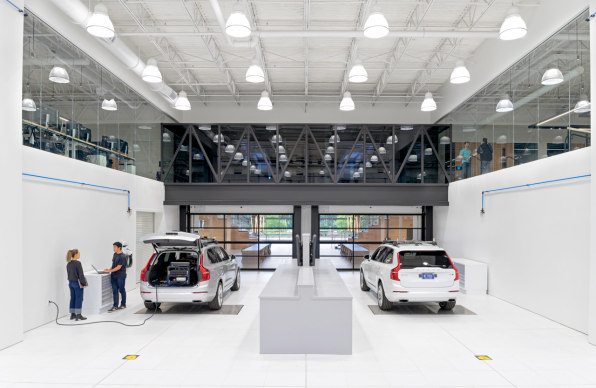 The design process began in early 2015 around the time when Uber was ramping up its autonomous vehicle program. The company needed a space–fast. At that time, the project was mostly focused around providing functional space. By mid 2015, there was a shift in perception about the importance of self-driving cars to Uber's business strategy, which trickled down to what the office should embody. It was no longer just about a getting work done; it needed to make a statement as much as their sleek HQ did.
"There was a pivotal shift in the project where it went from bare bones and get in as quickly as possible, and became more significant," says Kevan Rutledge, project architect at Strada. "The design had to become more attractive to lure talent from all over the world."
Uber's ATGC is Assembly's first built project, but the architects at the firm are far from neophytes. In January 2016, Cherry and Liz Guerrero left plum positions at Studio O+A–the San Francisco architecture firm behind many blue-chip offices like Cisco, Alibaba, Evernote, and Yelp. Cherry had ascended to director of design in her 11-year tenure at the firm and Guerrero was a six-year veteran of the firm and its design studio manager. After working together closely for six years, the two were ready to cast out on their own. While at Studio O+A, Cherry and Guerrero collaborated on Uber's San Francisco headquarters, and when they left, Uber came along. ("They're a client we had worked with for years," Cherry says. "For them it was a natural decision to make the transition when we did. Most of the client relationship and the design relationship was something we had with them.")
Unlike Uber's other offices, the ATGC focuses on both hardware and software; employees there are developing both the algorithms that will tell autonomous vehicles what to do along with the mechanics and robotics that will execute the commands. Engineers at ATGC build computers, create and test the cameras and lenses on the autonomous vehicles–essentially any of the hardware and software that lets a car drive itself. To that end, the space responds to the diverse types of work.
The engineers at the center knew exactly what tools they'd need–like water-jet cutters and welding tools–and communicated that to Strada. "They said this is what we need, these are the clearances we need from machines, this is the workflow we envision," Rutledge says. "We took that and applied the architecture and code filters we needed."
Some familiar interventions from well-appointed tech companies are found in the office areas: informal lounge seating furnished with midcentury classics like the Bertoia bird chair, stadium seating, custom reclaimed wood tables, and weathered leather sofas. Lights from contemporary designers Bec Brittain and Michael Anastassiades illuminate the spaces. Desks are larger than what you'll see in Uber's headquarters, and large workbenches are stationed nearby.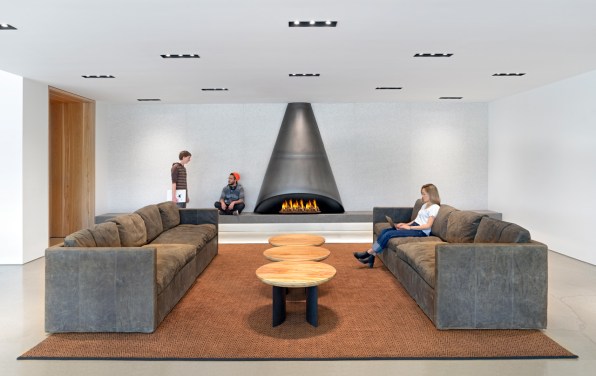 "Uber overall is less playful than your typical tech company," Guerrero says. "They're work-focused and want to get excited about the work they're doing. There are lounge spaces that have collaborative working areas, but there are more spaces for solo work, like a solo pod and places where engineers can spend a lot of their day focused at their computer."
But the biggest difference is the "showroom"–a gleaming machine shop that looks more like a chip-making clean room than a gritty automotive assembly line. The showroom is sited in the heart of the building with the rest of the spaces wrapped around the periphery. (The architects were not able to share photos of the behind-the-scenes spaces.)
Comparing the detailing in Uber's automotive workshop to a typical carmaker is almost like comparing a conventional kitchen to one produced by a high-end Italian manufacturer: all the appliances are there, but they're hidden behind handsome cabinets. Same for the automotive workshop. Strada and the Uber engineers developed a whole system of heavy machinery that's hidden underneath the floor. For example, a hydraulic lift is fully recessed in an eight-foot-deep pit and the floor is completely flat when not in use. An exhaust system is also underneath the floor. When the engineers need to run a car engine, they remove a tile floor cap, pull out an exhaust conduit, and affix it to a tailpipe. When not in use, it's out of sight.
"The end result its a clear, crisp, deceptively simple space," Rutledge says.
Cherry calls the design a study in contrasts. "It becomes how you take things that feel grounded and built into the City of Steel–metal, trees that had fallen in the Pittsburgh area, authenticity, and concrete–and contrasting that against the nature of what you're building [at the company], which is future-oriented. The all-white showroom is a statement to their pristine thing they're building for the future. You have these design elements that reflect what they do and where they're doing it."
Just as much as the building represents the rapidly evolving automotive tech landscape, it's also an allegory for the shifts happening in Pittsburgh–a rust-belt city reinventing itself as a tech-innovation hub and has welcomed Uber with open arms while cities like San Francisco have said no thanks to autonomous vehicle testing. The same transformation is happening in cars as they shed their reputation as heavy machinery and evolve into sophisticated computers on wheels.
All offices are marketing for companies and we can speculate about what Uber wants to say with this one: Autonomous vehicles are the coming wave, they're state-of-the-art tech developed in state-of-the-art facilities, and they're a nice shiny thing worth coveting. Its new design for the ATGC–which hosts a number of internal initiatives, like hackathons and public-facing events, such as international press tours, in addition to day-to-day work–puts forth that vision in spades, and in a convincing way. As Co.Design's editor described it to me, this is a 1939 World's Fair vision of the future; the rest of us are thinking Orwell's 1984.
Peer inside the office in the slide show above.
[Photos: Jasper Sanidad]