Mike Boston is frustrated by the city that coincidentally bears his name. It's not just that Boston and nearby communities in Massachusetts struggle with gun violence, racial tension, and strained relations between police and citizens. Many U.S. cities do. And while these issues certainly confound the 41-year-old musician and entrepreneur, so does this one: There are few, if any, famous rappers hailing from his hometown.
Of course, these gripes—police violence and local hip-hop bragging rights—sit on opposite ends of the seriousness scale, but Boston thinks he might have a solution for both. Mobile Stu is a basic recording studio that he runs out of his pickup truck, driving from neighborhood to neighborhood and letting kids in each community take a turn spitting rhymes into the microphone.
The mobile music creation project, which Boston first dreamed up nearly a decade ago, was recently used to launch a campaign called #BlackWithBlue aimed at de-escalating police-community tensions in Boston. The campaign kicked off last month with a collaborative song titled "One Beat For Peace," which features both police officers and local kids rapping verses alongside one another. It's part of a broader collaboration between A&G, the Boston Police Department, and the Boys and Girls Club of Dorchester aimed at creating a dialogue between the community and law enforcement through roundtable discussions between police, activists, and community members.
"They're just thirsting to express themselves, but they don't have the access to the equipment," Boston says of the urban, mostly African-American youth that his mobile studio aims to empower. "A lot of these kids don't realize that these creative opportunities exist. They just see rappers coming up out of nowhere and they're like 'why not us?' They're feeling undervalued."
Mobile Stu got its first real burst of momentum in early 2016 when it won an internal "Idea Sabbatical" contest held at Allen & Gerritsen, the advertising agency where Boston works part-time. The Shark Tank-style competition invited A&G employees to present ideas for entrepreneurial side projects, promising that the winner would be given time off and other material support to pursue their project. While Boston hasn't yet taken an extended sabbatical, he's managed to turn Mobile Stu into a serious philanthropic effort in his spare time, with support from his colleagues at A&G and outside partners.
It's a natural convergence of passions for Boston, who in addition to being an artist and recording engineer, spends time working with a criminal justice-focused nonprofit called Roca, which helps ex-offenders in their late teens and early twenties integrate themselves back into society in an effort to decrease recidivism rates.
Mobile Stu is designed to ease tensions in communities like the Dorchester neighborhood in Boston. After a deadly shooting of a 16-year-old there last year, Boston drove through the neighborhood with Mobile Stu and invited young men and women to record themselves. What at first appears to be a nondescript pickup truck turns out to be a recording studio, which is pretty much the last thing people expect in the wake of a tragedy.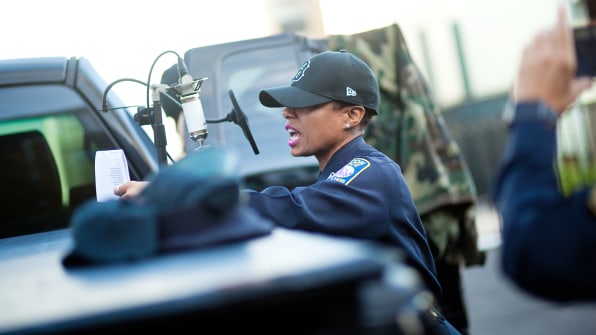 "I'm showing up at a bad time, usually," says Boston. "They don't expect somebody to show up and let them get that off their chest."
Indeed, the initial reaction of skepticism and hostility quickly melts away as soon as people notice the microphones and start piecing together what they're seeing. Before long, one or two dozen people—some of them drug dealers and others hardened by the socioeconomic realities of urban life in America—surround the Mobile Stu, eager to take their turn on the mic.
"In Boston, what you've got is a lot of hatred," says Boston. "To see them respond in a way where they want to be a part of this blows my mind."
The reaction for these young men is, as Boston puts it, "sheer astonishment." And the younger kids, often ranging between 9 and 12 years of age, could hardly be more excited. "Their mouths are wide open. Jaws dropped. They think, 'I matter enough that this thing came to my neighborhood.'"
"I remember the first time I ever heard myself recorded, it inspired me to keep recording," says Boston. "It made me learn how to make my own income out of it. I wanted to show other people that, but a lot of them can't afford to go to major studio."
Although technology has dramatically decreased the cost of music creation, access to even the most basic recording gear is still elusive to many in lower-income neighborhoods. The Mobile Stu, which comes equipped with microphones, Beats headphones, a laptop loaded with a suite of modern recording software, and a MIDI controller for making beats, is about as bare bones as you can get for a recording studio. But it works, not just for laying down tracks, but for alleviating the access-to-technology problem by bringing the gear directly to people who may not have studio-grade microphones lying around at home.
The initiative comes at a time of heightened national tension and contentious debate over police violence and accountability, fueled by a seemingly endless series of fatal police shootings of black, typically unarmed civilians, many of which are caught on smartphone video. If the national backdrop of the last few years was a fitting context for Mobile Stu's launch and the #BlackWithBlue campaign, the project can only get more relevant as we move into 2017. The inauguration of the vocally "law and order"-focused President Donald Trump, along with the impending confirming of his controversial (and critics charge, racially insensitive) Attorney General pick, Jeff Sessions aren't exactly inspiring optimism among criminal justice reform advocates.
However federal policy shapes up, the Mobile Stu and the #BlackWithBlue movement is one example of how community-police relations can be eased in a direct, tangible way on the local level. "Recording and getting stuff off my chest always helps me so maybe that will help them," reasons Boston. "Music brings people together. I've seen it work."
While Mobile Stu continues to drive around Dorchester and other Boston neighborhoods, there's already talk of expanding the project to other cities. Chicago and Philadelphia are high on the list. The mobile studio's concept and branding is already ready-made for a cookie-cutter expansion to other markets. But since there's no formal business model, additional resources would be needed in order to scale it.
"The best rappers are on the street corner," says Boston, who has years of music recording and production experience. "There are so many people better than me out here. I want to shine a light on those guys."
In the process, who knows? He just might find the next Kanye West. Either way, he gets to relish an inescapable sense that, even on a small scale, he's helping to make a difference.
"Hardcore guys soften up right in front of you," Boston says. "It never gets old."