This holiday season, Amazon is dealing with an unprecedented number of orders. Although sales figures haven't been released yet, the e-commerce giant announced in November that it expects record-setting sales for third-party sellers on Amazon. In addition, ShipMatrix, a shipping consultancy, estimates Amazon will send out more than 7 million packages daily during the pre-Christmas season in the U.S. alone, with a total of approximately 220 million packages—a 27% increase over last year.
That high shipping volume is taking place at the same time that Amazon is building an ambitious package delivery network of its own to wean itself off carriers like UPS, FedEx, and the U.S. Postal Service, and perhaps even compete with them. That combination is putting strains on the e-commerce giant.
Over the past six months, Amazon has taken huge steps toward building a global flight network of its own. The Financial Times's Leslie Hook and Claire Manibog recently crunched the data of flights from Amazon's largest subcontractor, Air Transport International (ATI), and found it has more than doubled its air operations over the past six months. As of December 2016, Amazon has agreements in place to lease as many as 40 Boeing 767 cargo jets from its various subcontractors. (This is still a fraction of the global fleet sizes of FedEx at 643 and UPS at 650. According to J.P. Morgan analyst Brian Ossenbeck, if Amazon wanted to build out a rival network, it would need to lease or buy about 500 more planes—or "a fleet over twice the size of JetBlue's.") Fifteen of Amazon's jets are already in use, with others being made available next year.
Much of this growth is tied to a new delivery system Amazon is launching called Amazon Prime Air. The company's public-facing website exclusively touts Amazon's efforts at drone delivery, calling Prime Air "a delivery system from Amazon designed to safely get packages to customers in 30 minutes or less using unmanned aerial vehicles." Prime Air, says the company, "has great potential to enhance the services we already provide to millions of customers by providing rapid parcel delivery that will also increase the overall safety and efficiency of the transportation system."
However, Prime Air's fleet mainly consists of conventional Boeing 767 cargo jets. And the rapid growth of that fleet—amid an ongoing pilot shortage—is causing clashes with the unionized pilots flying those planes.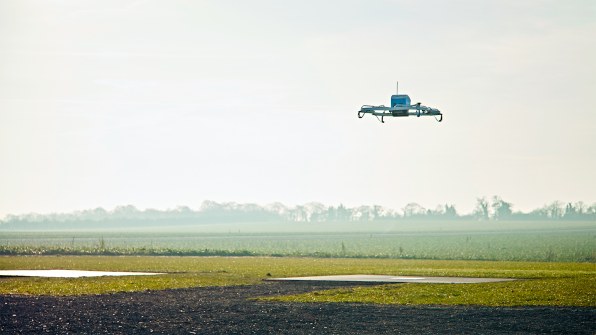 This past November, about 250 unionized pilots for ABX, a cargo airline that Amazon subcontracts with for deliveries, went on strike before Black Friday over complaints that they are short-staffed, overworked, and underpaid. The strike grounded as many as 75 Amazon and DHL flights and 1.3 million pounds of cargo before a federal judge ordered that the pilots return to work.
Last week, the Teamsters local representing both ABX and Atlas Air, another Amazon subcontractor, launched a website and social media campaign called Can Amazon Deliver, warning of late deliveries and claiming that pilots are being ordered to handle extra shifts and forgo time off. Understaffing has gotten so bad that at ABX, according to the union, pilots are "stretched thin and regularly missing birthdays, anniversaries, funerals, and other important family events." The site urges customers to email Amazon executives and ask them to pressure the airlines to improve the pilots' arrangement.
In the Teamsters' last public statement, issued on December 16, the union says they are seeking for "contracted pilots (to) have a fair contract to prevent turnover and make deliveries on time." They also add that "in addition to staffing issues, the threat of a strike continues to loom. Earlier this year, pilots at ABX Air and Atlas Air voted with 99% support to strike should it become necessary."
A survey of more than two-thirds of Atlas Air's pilots, along with pilots at Atlas subsidiary Southern Air, released this December found 69.3% of Atlas pilots believed the airline did not have enough pilots to meet the long-term needs of Amazon and DHL, another major client. A similar number, 65.3%, said they planned to find a new job over the next year.
Amazon remains confident in its ability to deliver packages on time. In a statement to Fast Company, a company representative said, "Several weeks ago we rebalanced capacity across our network of carrier partners to ensure there are no disruptions through the busy holiday season, and this rebalancing remains in effect—we are confident in our ability to serve customers."
Dissatisfaction among the unionized, highly skilled pilots who play a crucial role in Amazon's holiday season operations point to a larger theme: Amazon's delivery network has seen dramatic growth. The company has been building new fulfillment centers at rapid clip: JP Morgan's Ossenbeck says Amazon has "at least 90 facilities across 21 states, most of which were built within the last six years," and is "opening nearly 30 fulfillment centers in 2016, accounting for roughly a 30% jump in square footage." This week alone, it announced two new fulfillment centers in Aurora, Illinois, that will create over 1,000 new jobs. Amazon also recently launched an app that matches truckers to Amazon hauls that has added to speculation that the company is eventually interested in autonomous shipping trucks.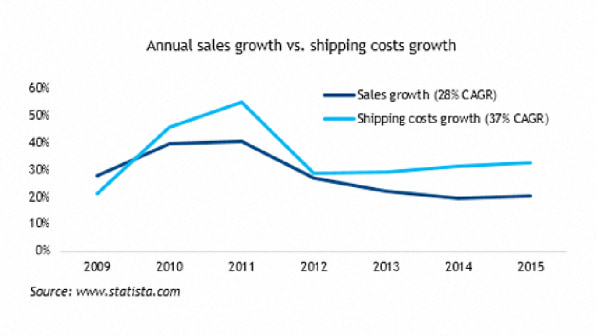 The rapid growth of Amazon's delivery network has also cut into shareholders' profits; although the company is doing massive amounts of business, its investment into the company's infrastructure has led to a smaller-than-expected profit margin in the last quarter. In the past year, Amazon's net losses from shipping alone amounted to $6.4 billion—losses whose growth has outpaced sales.
But as customers order their holiday gifts on Amazon at an increasing pace—and Amazon seeks new efficiencies in its network—the shopping spree is putting added pressure on those who handle its packages. The Los Angeles Times's Natalie Kitroeff, for instance, recently reported that delivery drivers for Amazon's local subcontractors routinely work unpaid overtime and are not given legally mandated meal breaks.
The holiday rush has also put added strain on Amazon workers in Germany, the company's second-biggest market after the U.S., with 11,000 warehouse staff and thousands of seasonal workers. On Monday, workers at Amazon's warehouse in Koblenz launched a strike amid a long-running dispute over pay and conditions, and on Wednesday, workers at three other German warehouses were called out on strike by labor union Verdi. An Amazon spokesperson told Fortune that the strike, which will run until December 24, would not lead to delays in Christmas present deliveries.
For customers, the important thing is making sure their holiday gifts arrive on time, and that packages show up at their destinations in a timely fashion. But Amazon is learning something that it and many other companies of its size have also encountered: Rapid growth doesn't come without some growing pains.