The night began, as many evenings all over the world do, with a Netflix search.
My wife and I had been going over our mental movie databases for a film our kids would like that was not Clueless. I say that only because we'd all watched Clueless and enjoyed it together several times already. We, the parents, were aware of many, many other films that are also excellent and are not Clueless. We were hoping to prove this concept to the kids.
And that's when it popped into my head: The Black Stallion. Released in 1979, the film had inspired and transfixed me at a time when I was finally—finally—old enough to begin seeing movies in the theater. On the big screen. And here was a movie that needed the biggest of screens: a quiet, meditative, gorgeously shot love story about a boy and his Arabian horse.
The film featured a young actor named Kelly Reno, playing the boy, Alec, with an impossibly cute, freckled, and expressive face. Mickey Rooney, the horse trainer, was at his wisely crusty best. Also in the cast was a kind-seeming and quirky actress with absolutely impeccable comic timing I'd never seen before. I couldn't know it at the time, but this was a person who would later alter my adolescent perception of the world.
I'm talking, of course, about Teri Garr.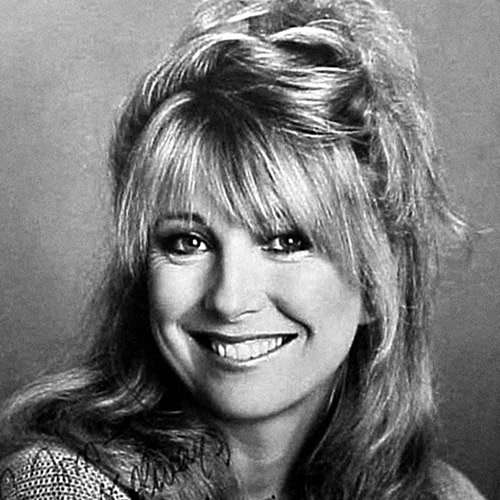 In the long and complicated history of Hollywood, there was a roughly 10-year period, beginning in 1974, when Teri Garr was arguably the most important performer in the country. And certainly in my heart. Following that first chest-thumping encounter in The Black Stallion, I took careful note of the other films Garr appeared in, several of which remain on my occasionally updated All-Time Best list: Young Frankenstein, Tootsie, The Conversation, Close Encounters of the Third Kind, One From The Heart, After Hours, and The Player. All but the last two titles hit theaters between the mid-'70s and 1985.
By any conceivable metric, then, at one point in her career, Garr had a serious run. I was far from the only person who enjoyed the Teri Garr oeuvre: a steamer ship's worth of Academy Award nominations and many millions in box office cash were heaped upon these films. Tootsie alone, made for a mere $22 million, brought in $177 million in ticket sales and video rentals.
Garr was an integral part of each production's success. And for good reason: she can go from silly to sincere to undone with the quiver of an upper lip. She was, in fact, nominated for a Best Supporting Actress Oscar for her work as Dustin Hoffman's sweet friend and spurned lover in Tootsie. For me, and here's where the major adolescent epiphany comes in, Garr illuminated how potent a brew of funny and sexy could be. Between her and Madeline Kahn, I don't think it's overstating the case to say that those two women created for me the model of a mate that led me, a decade later, to fall hard for my then-girlfriend, now-wife, the mother of our two daughters.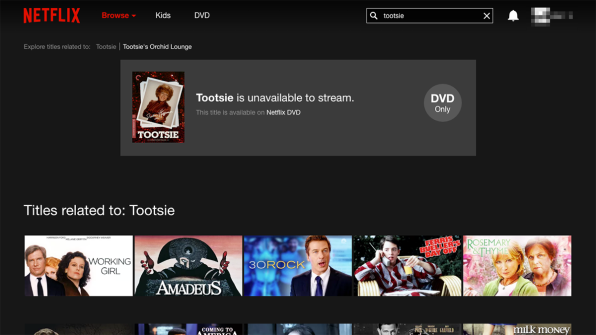 Which brings us back to The Black Stallion. Turns out, The Black Stallion is not available to stream on Netflix. And neither is Close Encounters. After Hours? Nope. Tootsie? Luckily, we'd shown it to the girls already, because that night it was not happening.
After several empty attempts, I decided to settle for any film featuring Teri Garr. I wanted to share with my kids the same transcendent joy I'd experienced while sitting in a Baltimore movie theater in 1979. As acting-curious kids themselves who've appeared in school plays, way-off-Broadway productions, and a web series, I thought they could learn something from the nuanced grace of a Teri Garr performance. But it was not to be.
"There are no matches for your search."
That's what Netflix was apparently telling me, though my eyes and mind struggled to make sense of what this simple sentence could possibly mean. Teri Garr. Teri. Garr. Teri with one "r" and an "i."
How could this be?
I had to find out. Okay, I had to find out after my editor said: You have to find out. So I emailed a quite responsive woman in Netflix's corporate communications department. My note read, in part: "I'm hoping to speak with someone at Netflix to find out why, when one searches for Teri on Netflix, no results are found. I have a hunch why that is, but would love some clarity on the logic (and/or algorithms) behind this."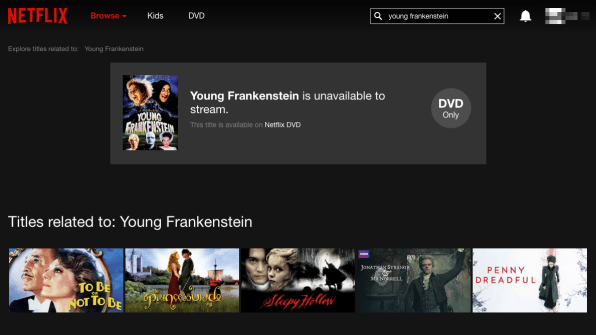 Yes, by this point I was more or less on a first-name basis with Teri. Less than two hours later, the very patient and extremely good-at-her job Netflix rep replied. An email exchange later, I had an answer: "Search results are based on title availability within that particular country's catalogue, not frequency of a search term. Hope that helps!"
In a way, it did help. My search for "Teri Garr" on Netflix yielded no results because there are no Teri Garr movies or television shows available to stream on Netflix. Intellectually, this makes perfect, tautological sense. But emotionally, this did not help at all.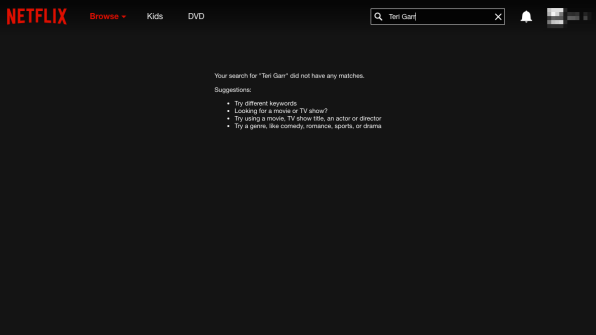 What kind of a world do we live in that says it's okay to have zero Teri Garr films available to stream on Netflix? I realize that people love to complain about what the dominant entertainment platform does not have in its library. And the truth is, like some 75 million subscribers to the streaming service, I love Netflix. Stranger Things was really good!
But this was different. This was Teri. We live in an often-bleak, always uncertain world. Sometimes a man and his family, on a cold winter night in December, just need a Teri Garr film to make things a little better.
And so I'm not asking here, Netflix, I'm begging: please add some Teri flicks to your available United States catalogue. For the love of all that is good and funny and delightful and charming, don't make me turn to Amazon Prime.
---
Update: after seeing this story, the Netflix rep wrote to clarify:
"It doesn't mean that we don't have any of the films or tv shows that Ms Garr has appeared in that are in the US catalogue. In fact, if you go through the titles on the IMBD page you sent within your Netflix account, you will see that we have a ton of them. The size of the role (i.e. major role) also plays a factor, and having a minor role doesn't mean you will appear in search results. Thanks!"