While there's plenty of disagreement about how big the virtual reality industry will eventually become, few people dispute that making the experience more social is key to its future growth.
Already there are numerous companies building businesses around social VR–Altspace, High Fidelity, even Facebook.
Now, Oculus, maker of the high-end Rift, as well as the software that powers Samsung's mobile Gear VR platform, has announced a new set of social tools designed to make it easy for friends to talk to each other while in VR and to do things with each other in a virtual world.
"While hardware is super important for VR," says Oculus product manager Madhu Muthukumar, "we know software is what will determine how people feel about VR. If we want people to enjoy VR, one of the biggest drivers is connecting people to friends."
Today, Facebook-owned Oculus unveiled Parties and Rooms. The former is meant to enable a multi-party voice conversation that can essentially ride on top of whatever each participant is doing with their Gear VR, whether it be playing a game, watching a movie, or just sitting around in a digital lounge.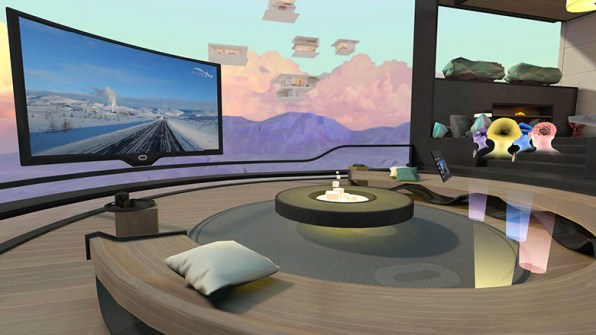 Rooms is that digital lounge, a place where up to four people can come together to watch videos, play simple games, or use any of a number of apps that have been integrated with the platform.
Parties and Rooms are meant to work together, though you don't need to be in a shared room to take part in a Parties call.
And while there's no reason that both services can't work on the PC-based Rift, Muthukumar says, Oculus has decided to launch them initially for mobile virtual reality in an attempt to take advantage of the fact that there are more than a million Gear VR users and that "we've had a year of experience building for mobile VR and we just know more about that."
Oculus envisions Rooms as a place to gather with friends, both for doing activities together or for simply hanging out in the same space.
When you're there, you'll have a custom avatar, and the system does a nice job of establishing presence by showing each avatar's placement relative to others–you can move around the lounge as you like–and building in spatial audio, as well as making it so you can see others' heads moving, such as when they look toward you.
The first thing to do in the lounge is watch video together. Initially, at least, it's only Facebook video–things that are popular on the social network or that you or your friends have shared. Over time, Muthukumar says, Oculus may expand that to include outside video sources.
There is a work-around that will allow you to watch things like YouTube, however. More on that shortly.
There's also a games table that has a selection of very simple games–really just things to play together while you're chatting with friends.
In addition, there's an app area, where any tool–game, social experience, movie viewer, etc.–that has been uploaded to what's called the Coordinated App Launch can be used. They can be free, or paid, so long as they're social.
One example is Altspace, which is available through the system, and which has its own social gathering areas–and an ability to watch YouTube videos together. Altspace also hosts celebrities like Reggie Watts for parties.
There's also a slew of games, and other titles, and more will be added over time.
In some cases, a user might not have the app, and will have to download it, a process that can take time. Muthukumar says that would be the ideal time for other friends to go play a social game or watch videos together while they wait for their third friend to install the app.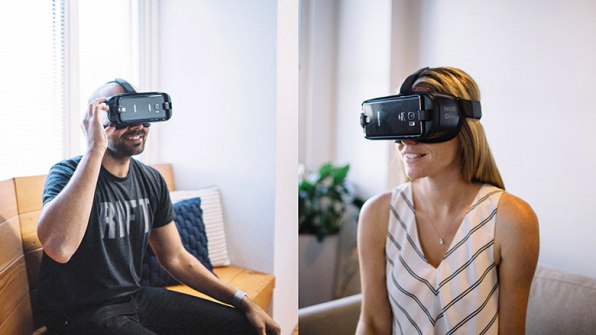 It is interesting that Oculus is developing its own social virtual reality experiences, even as Facebook is making a big social VR push. Muthukumar chalks that up to everyone involved believing that "adding friends in VR is what's going to make it magical."
He also noted that the folks at Oculus and Facebook Social VR work together. In other words, they're not developing at cross-purposes.