The first thing you might notice about American Express's new creative director for its Platinum Card is his hat. The second thing is that it's Pharrell Williams.
Pharrell isn't the first pop star to be tapped as a creative director for a major brand–celebrities from Alicia Keys (Blackberry) to Justin Timberlake (Bud Light Platinum) to Lady Gaga (Polaroid) to Rihanna (Puma) have "creative director" on their resume these days–but he is the first person, famous for his recording career and outsized persona or otherwise, to hold that title for AmEx's Platinum Card.
That can mean different things, depending on the brand, the celebrity, and the situation. There are relationships in which the celebrity creative director is essentially just a spokesperson for the brand, and others where the partnership is more collaborative. But Janey Whiteside, American Express's Executive Vice President and General Manager of Global Charge Products Benefits and Services, says that the reason they went with Pharrell for this role is because they were confident that he'd bring meaningful contributions to the company.
"He's a natural choice for us. When we think about Pharrell, you know him as a musician, but there's so much more than the performer part. He's a producer, he's an artist, he's a designer. He really has a visionary outlook on the world. He operates on a wide range of disciplines–music, art, film, technology. Partnering with someone with that outlook and that insight and who's connected around such a range of disciplines was very important to us," she says.
There are other multidisciplinary artists, but what made Pharrell a strong fit for AmEx is both his connection to the brand–he's a longtime cardmember–and his insight into what it could be used for.
"I was impressed by the seriousness with which he approached this," she explains. "He was very clear from the outset that he was not interested in the sort of relationship where he was just a spokesman. He wanted to feel emotionally attached, and to find several areas that were important to him. That helped me believe that he thought about how he wanted to have an impact, and how American Express could help the greater good."
That's the sort of thing that sounds like corporate speak–everybody wants to be doing good in the world as they market their product, if it doesn't cost them anything–but it's the only thing that Pharrell seems interested in talking about when he talks about the decision to get involved with AmEx from his end.
"They wanted to enhance the experience for clubmembers, which is interesting on a creative level," he says. "But what I really loved about it, and what is far more incredible, is them bringing more light to their philanthropic arm, and creating experiences where people are able to give back."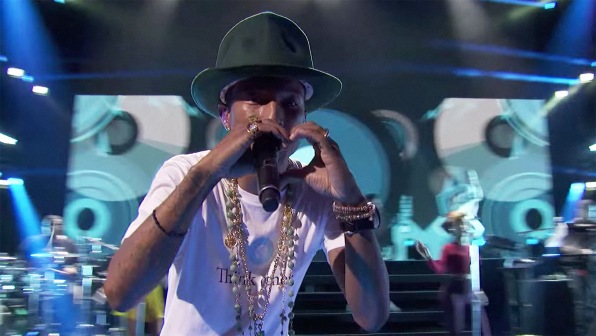 Pharrell says he can't go into the details yet, but everything he does say about his collaboration with AmEx deals with that philanthropic angle. "I'm very, very excited about it. There's a lot of good work that they do, but they finally understand that it's important to highlight those things," he says. "At the very least, their competitors will look at it and decide that's something that they need to do, too. Lord knows we need good will, and I think that that's the new wealth. The new wealth is experience, and that experience can't just be for a small percentage of people. It's affording that experience for other people who might not be able to afford it."
He may not go into those details, but it's not too difficult to imagine what he might be talking about. American Express offers unique opportunities to its Platinum Card members–through the "American Express Unstaged" music series, its "By Invitation Only" live experience series that offers things like winemaking tours and VIP access at music festivals, "Membership Experiences" that give access to other events, and more–and it sounds like a huge part of the appeal to Pharrell is the opportunity to share the wealth.
"This is about enhancing the experience of people who hold the card," he says of his role at AmEx–but his interpretation of what that looks like in a practical sense is offering them not just an exclusive event, but also the chance to participate in sharing their good fortune. "On a much more grandiose level, one of the greatest experiences a cardholder can have is knowing that something they're doing is allowing other people who may not be able to afford those enriching experiences in the same way. On a philanthropic level, it's a beautiful thing."
Pharrell approached AmEx with the idea, only to find that they had already been talking about something similar–which made the decision to work with them an easy one.
"I try not to do anything or take on anything that only benefits me. It needs to benefit others. If you can find a way to actually benefit other people, you have a dream job," he says. "I always want to know that we're doing something with some goodwill in. I don't want to be associated with any project just because I'll get to be creative and make money. Creative, make money, sure, but there has to be some goodwill in there somewhere. There has to be some sort of light for other people."
All of that makes for an interesting partnership, and one that both parties seem to be happy with. "In every conversation you have with him, you come away inspired," Whiteside says. "He really is a visionary, and has interesting, broad-based perspectives on creativity, artistry, and innovation in general. And then very specifically, when he says, 'This is where I was thinking that you, American Express, might be able to play a role,' every one of those conversation stimulates X number of other conversations, so for sure it juices up our creativity and our desire to want to push the boundaries."