If you lie on a bed inside one of these new micro-apartments, your head is next to the kitchen counter, and if you sit up, you can reach out and touch the desk on the other side of the room. The entire apartment, at 8 feet by 20 feet, could squeeze into a long parking space.
But nine-foot ceilings, large windows, and clever design–inspired by capsule hotels–make the space feel comfortable, not cramped. And for the target residents, the homeless in San Francisco, the clean, high-end design bears no resemblance to the city's dilapidated SRO hotels or a bed in a shelter.
It's also remarkably affordable to build. San Francisco-based developer Panoramic Interests, which designed the new Micropad unit, hopes that the apartments could help the city solve its homelessness crisis. Roughly 7,000 people (or, by some counts, nearly 10,000) are homeless in San Francisco now.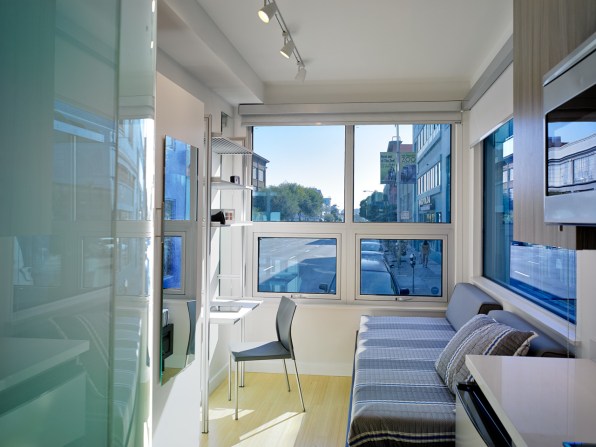 Like many cities, San Francisco believes in a "housing first" approach to homelessness. Evidence suggests that if someone is struggling with chronic homelessness, the best way to help is the obvious: Start by giving them a place to live. But the city's incredibly high cost of construction limits how many units can be built.
"Conventional construction is really expensive, especially when you do density, mid-rise stuff like a concrete building going up seven or eight floors," says Patrick Kennedy, owner of Panoramic Interests.
By building the Micropad in a factory, at a size that easily fits on a standard truck (and can be quickly assembled, Lego-like, when it arrives), each unit can be 40% to 50% cheaper than a typical "supportive housing" unit built by the city now.
"Our whole plan is predicated on no subsidies," says Kennedy. "And no dependence whatsoever on low-income housing money. It would be entirely privately financed."
Despite the focus on affordability, the design doesn't skimp on quality. Several of the details are inspired by the company's experience building other micro-apartments. An armoire has hangers that double the storage space for clothes; lighting helps the space feel larger. A "gear wall" in the entryway can store heavy equipment.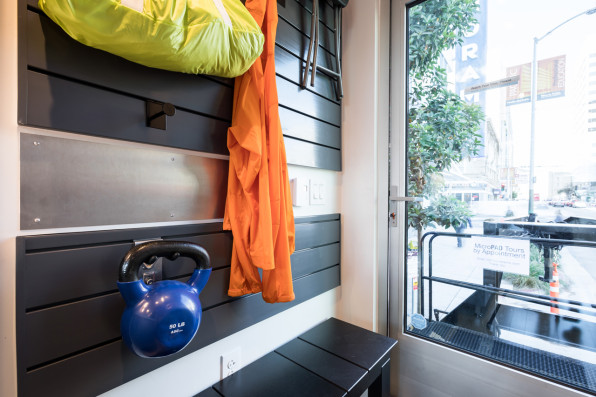 There's also a UV light under the bed that kills bedbugs, which are often found in shelters. The apartment has easy-to-clean surfaces that make it pet-friendly. It's also designed to prevent fires and flooding, and to keep noise low in the building.
"We like to think that Micropad gives you everything you need to provide for housing in urban areas, but not one square inch more," Kennedy says.
The goal is to build a unit that could be duplicated 10,000 times in multiple buildings (each 2 to 12 stories high); that standardization would also help streamline the permitting process. "Once we get one of these buildings approved, it won't be automatic, but it will be much quicker to get that next one approved," he says.
In theory, a Micropad building could be built in unused air space over a parking lot–by propping several stories on a concrete platform, the parking lot could still be used underneath. The company initially hoped that the city would provide a parking lot or other city land to save costs, but that didn't happen; local labor also pushed back against the prefab construction. But Kennedy says that even without the gift of land, it will be economical to build.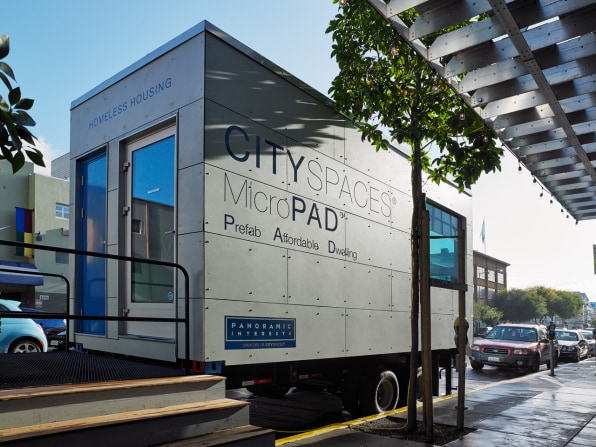 The company is currently looking for the location of its first building, and then plans to lease it to the city as a master tenant, at half the cost of other supportive housing.
The first prototype Micropad is currently on display near San Francisco's Civic Center. "We want people to see it," Kennedy says. "Because in the abstract, most people have a knee-jerk reaction to the notion of a 160-square-foot dwelling. But they don't know that there are 30,000 SRO rooms that are much smaller than this, and certainly not as new, and don't have bathrooms, kitchens, high air quality."
Beyond San Francisco, Panoramic is also considering building Micropad buildings in other cities, including Los Angeles, where more chronically homeless people live than anywhere else in the country.
[All Photos: via Panoramic Interests]