The best way to aggravate a bully is ignore him. But every time Mad magazine throws a picture of Donald Trump on its cover, sales jump.
When the first Trump cover came out last year, it featured the then-presidential candidate with similarly coiffed Mad mascot Alfred E. Neuman as topping the 20 Dumbest list of 2015. Sales doubled.
"We were surprised," says Mad editor John Ficarra. "We already had Alfred E. Neuman on the cover. Who knew that if we doubled the number of idiots on our cover we could also double our sales?"
But it happened again. June's "Brainless Issue," featuring Neuman springing out of Trump's head like a jack-in-the-box, saw a 16,000-issue bump in sales.
And it wasn't just covers. Trump gags on Mad's daily blog, the Idiotical, and a Mad Dumps on Trump digital book always spiked in unique users.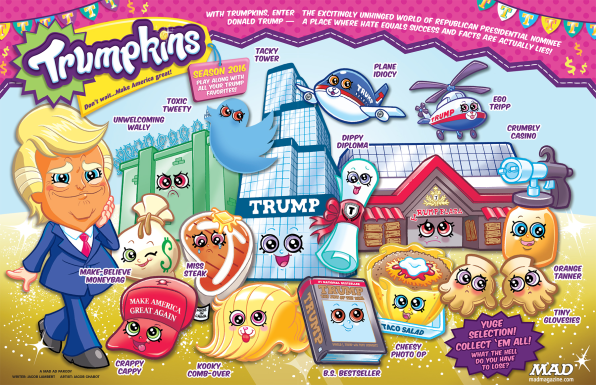 All that was before Trump won. This time, faced with the post-election "20 Dumbest People Events and Things of 2016" issue that comes today, the Mad men were in a quandary.
"We're sick of Trump, but he just keeps giving us material," says Ficarra. "There's such Trump fatigue in New York, we were consciously trying to find a way not to put him on the cover." His staff found a work-around by depicting a nauseous Neuman throwing up in a Trump "Make America Great Again" cap. "Next time, we might have Alfred holding a sign that says, 'No Trump in this issue—except pages 6, 12, 16, 18 . . .'"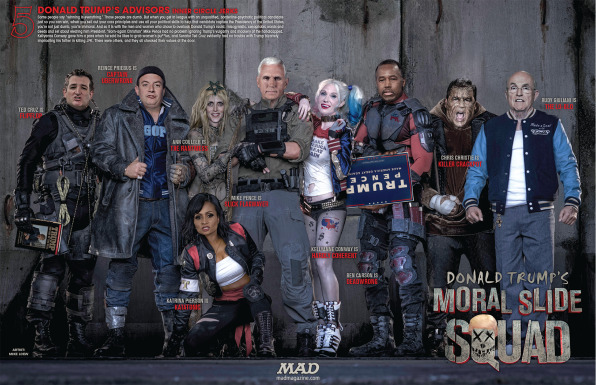 This issue looks at Trump's top four most ridiculous actions in past year. In the spirit of People's Sexiest Man of the Year cover, Mad nominates Trump Deplorable People magazine's "Sexist Man Alive." Spoofing the 1984 cult movie Toxic Avenger, a monster-morphed Trump is "The Toxic Contender." Mad expects a similar jump in sales likely due to a catharsis. "People are nervous about him, and this is a way of relieving their own stress," says Ficarra.
"The truth is, we're an equal opportunity offender, but people are so divided now they don't see the humor," he adds. "Every time we've had Trump on the cover or blog post, we'd get hate mail. It's always been this way—people accused us of being anti-Bush, even though we had the same amount on Clinton. But it's just ramped up this time."
Particularly concerning for a satirical magazine is an incoming president who is famously thin-skinned and considers the First Amendment optional.
"This is a person who wants to take away citizenship for burning the flag," says Ficarra. "Yes, we worry about everything about this administration. Trump has so many generals in his cabinet that when he finally declares martial law, he'll already have them lined up."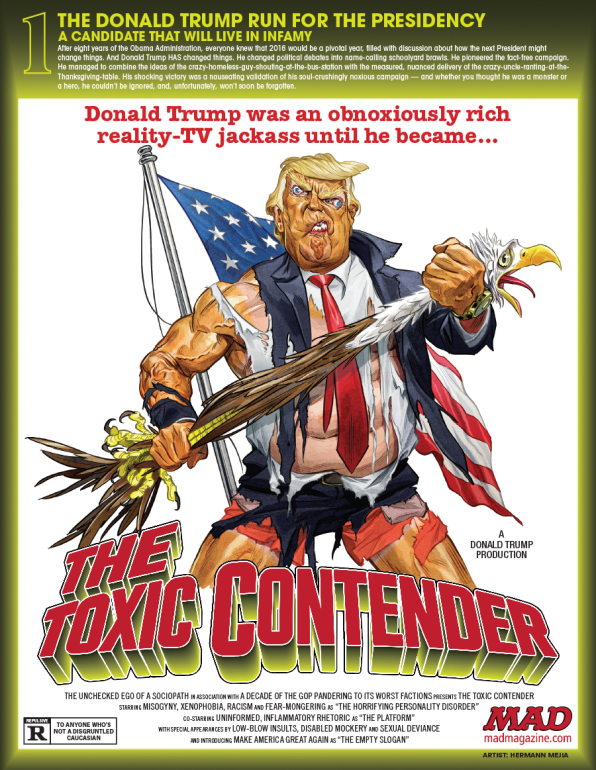 "I think there's now more increased focus on the press. The guys at the New York Times are equally concerned. But we have to keep doing what we do," he adds. "TMZ's Harvey Levin did a Fox special on Trump that showed his table with stacks of magazines that had him on the cover. Some were complimentary. They showed one that wasn't, and it was Mad. I was so happy."
If you think this is just paranoia, keep in mind this is not Mad's first rodeo. "A lot of Mad guys worked on a Nixon comedy album during his administration, and many of them were audited the following year," says Ficarra.
"What, me worry?" he adds, citing the Alfred E. Neuman's catchphrase. "This time . . . maybe."