Okay, so the phrase "the Netflix of . . . " may be a tad overused at this point, but perhaps there is no better indication of how the subscription service model has taken off than the fact we could have put any number of platform names in that headline–Spotify, Dollar Shave Club, Birchbox, Frank+Oak–that cover your needs from coffee to fashion to face cream. Now, a small, independent American snowboard brand is bringing the monthly subscription model to the mountains.
Founded in 2004, Signal Snowboards manufactures all its boards in its own Huntington Beach, California, factory. In September, it launched a new platform that allows people to buy a new snowboard up front, or subscribe for $35 to $55 per month for 12 months. All subscriptions include Signal Care Warranty to replace or repair damaged boards, the ability to demo two additional boards at no extra cost during the season, and access to direct factory support. Signal founder, legendary former snowboard pro Dave Lee, says the move had as much to do with sheer survival as it did with innovation.
Over the last decade, Signal has clawed and scraped for every inch of shelf space it could get in brick-and-mortar retail. "I think there's basically a ceiling for a small brand–the bigger brands own a certain percentage of the retail market, and it's just really hard to get around that," says Lee. "We've been around since 2004, have had our ups and downs, and the most consistent challenge I saw was trying to get retailers to understand we could be a competitor, too. But it just doesn't happen, and they just didn't see it."
Lee sees the internet as the great equalizer. He's been tapping its power on the brand-building side for a while, across social, and a long-running web series called Every Third Thursday, in which he essentially opens the doors on Signal's R&D process (along with just having fun with crazy design ideas). But a few years ago Lee started thinking more seriously about shifting that digital approach into his retail strategy. "I met someone who had created a subscription box, and the things he was telling me what people loved about it–that monthly connection, lifetime value, having a community–sounded very similar to what I always envisioned our customers liking about Signal," says Lee.
Over the last two years, Lee had a small group of about 50 customers experimenting with a beta subscription service, tweaking it based on lessons learned over that time. As more and more people are buying their snowboard gear online, it's put a dent in the old-school, local snowboard shop community. For Lee, the subscription model's monthly contact and communication helps foster that sense of community, and also encourages accessibility to the sport and culture.
"The biggest lesson from the beta was making the platform easy to use, snowboards really easy to get, to afford, and making sure the customers are completely connected with the brand throughout," says Lee.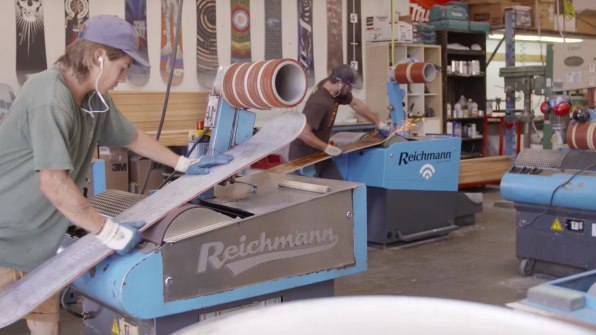 While just a couple of months old, Lee says the new platform has already transformed the company. Financially, it helps Signal avoid many of the pitfalls of a seasonal business–trying to predict production and revenues–and serving up more stability. For the first time in the brand's history, they've sold out of boards.
"Think about a seasonal business, where you're betting your business on three to four months of sales, but now with more predictable monthly revenues, we're super flexible," says Lee. "We're not even playing in the seasonal world anymore. We have no retailers and no distributors–we do it all direct, so if we want to make something, we make it, and we market it. And when it's gone, we move on. We can sell more boards than we can make right now. We've really struggled for 10 years, some good years, some bad, again that seasonal business can be very tough. But in a program like this, everyone feels better about it."
Another offer on subscription is a cat-boarding trip to Baldface Lodge in British Columbia, where Signal will host a handful of subscribers (who paid $260/month) to a snowboarding trip of a lifetime. It's already sold out. The brand has also signed a deal with Woodward at Copper Mountain for a similar snowboard camp subscription deal. And Lee's plans for the subscription service aren't done yet.
"We're also building out a concierge service where, if you're going to Park City or Snow Mass or wherever, you'll be able to call in and our team will help you find a great restaurant, let you know our crew's favorite runs, or whatever you need or have questions about," says Lee "It's all about making your life easier to go snowboarding."
Lee sees Signal as a decade-old startup, and is hoping the new model taps into the same desire for convenience and community that so many other small brands have been able to harness across other industries. A big part of that is actively trying to broaden the brand's appeal beyond snowboarding's traditional hardcore audience.
"In snowboarding, I think only about 10% of snowboarders are the ones that read all the mags, watch all the videos, and really pay attention to the industry," says Lee. "The other 90% are just people who like to ride snowboards. Those people are an untapped resource, and are also people who could use a concierge service, who need some advice finding the right board, or how to progress their riding. The main goal is accessibility and increasing participation. With that, everybody wins."