When it's time to get things done, interruptions can be the bane of a productive person's existence. Email and instant messages, phone calls, and co-workers with "just a quick question" can easily eat up hours of our day and, basically, make our work lives hell.
But it's possible to develop effective strategies to manage interruptions and train your co-workers and even supervisors to give you some space while you finish your work. Here are four real-life examples of tactics that worked.
When team members at branding agency Motto want to block out interruption-free time, they grab the "Shhh" sign. Initially a promotional item sent by a printing company, one of Motto's staffers tucked the bright orange sign into an equally bright orange letter-holder shaped like a dog. There's only one in the office, so it's on a first-come, first-served basis, says cofounder Ashleigh Hansberger. But when the sign is planted on someone's desk, it signals "back off" and "keep it down" to co-workers without saying a word.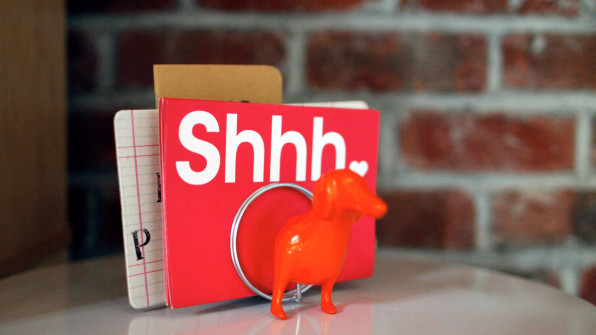 "It's good for telling other people not to distract you, but then we also have to manage our own distractions, like email and text notifications—the ones we have control over," Hansberger says.
Jake Tully, who works in public relations for TruckDrivingJobs.com, a job listing website for people seeking jobs in trucking, conducted a workplace interruption experiment without even realizing it at first. Sometimes, when he was at his desk, he would wear earbuds. And, sometimes, he would opt for larger, noise-canceling earphones. There wasn't really any rhyme or reason to it, he says. It was just whatever he felt like doing that day.
But, soon, he realized that people were less likely to interrupt him when they saw he had the larger headphones on. When he was wearing the earbuds, they were more likely to take his attention away from what he was working on. "I guess, mentally, people see [the ear buds] as more casual," he says.
So, he adopted the earphones as an interruption-management tool. Now it's well known that when Tully has the big headphones on, he means business. When he's sporting earbuds, co-workers can tap him for what they need.
Some days, business consultant Al Levi felt like he couldn't get anything done. At the time, the author of The 7-Power Contractor was part of the second-generation leadership team at his family's thriving plumbing, heating, and air conditioning company and employees were often interrupting his day with questions and requests.
So, he began a scheduling system with designated hours for specific types of inquiries. Of course, if something was truly urgent, he was available. But requests for help or other discussions that were job-related and didn't require an immediate response needed to be scheduled during specific hours. He also had scheduling slots after 5 p.m. for inquiries that weren't urgent and weren't related to the employee's assigned tasks, such as discussing raises or promotions, etc.
The system gave him back hours of uninterrupted time and conversations were more focused. He found that many inquiries were resolved by the employee before the meeting they requested. In addition, the after-hours meetings were appreciated by some "because you don't want to discuss everything during office hours," he says.
At QuickBooks consulting and analytics firm Bison Analytics, CEO Kurt Steckel says he uses "the "block and tackle" method to keep interruptions at bay. His team has daily half-hour morning staff meetings that are designed to allow people to ask questions, get advice, and resolve issues. Employees know that they'll have access to him and each other. If the question can wait until the morning meeting, they hold it until then.
Beyond that, Steckel has also formalized internal communication to limit interruptions. Everyone knows to:
Email if you don't need a response within 4 hours

Send an instant message via Slack if you need a pretty immediate response

Call if there is an emergency
The escalation strategy makes people think through how important the inquiry really is before taking up someone else's time. In addition, it helps his team get answers quicker when they really need them. "We all know to answer internal calls and chats because they are invariably important," he says.