In the past, all it took to have a cool office was a foosball table, a beer tap, and a few couches. Today companies are looking for ways to boost creativity, spark innovation, and motivate employees. Additionally, tech companies (which have carried the brunt of those foosball stereotypes) are thinking of their workspaces as physical representations of their brand–and as tech matures so too do its offices. In 2016, office design grew up and put on a tie. But the best examples we saw still maintained some punk soul. Here are our picks for the coolest workspaces of the year.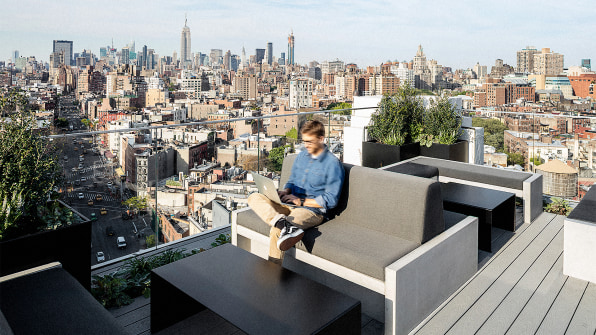 A Web Publisher Finds A New Home In An Old-School Printing Press
Squarespace's sophisticated new office in the West Village feels like a work of modern art, thanks to its sculptural architectural detailing, like a wood-clad staircase and steel facade. But it's not about good looks. The designers wanted to create a space that could house all 320 of its NYC employees under one roof. Before this they were spread across six floors in four buildings. Now there's ample room for quiet work and collaboration, plus a pretty sweet roof deck.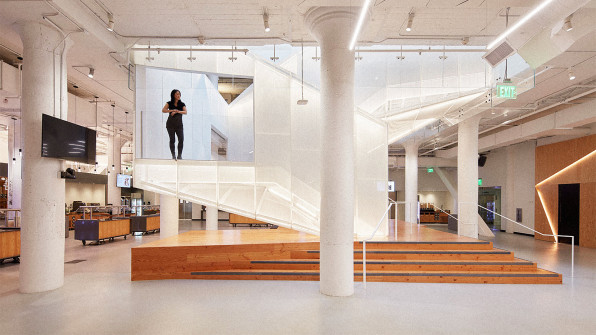 Pinterest's New HQ Mirrors The Platform's Evolution
For its new San Francisco headquarters, Pinterest collaborated with local architecture firm Iwamoto Scott. The space–which occupies a former John Deere factory–is an exercise in subtlety. "At the time, Pinterest was undergoing a significant redesign of the website itself, moving to a more streamlined, pared-down aesthetic," architect Lisa Iwamoto told Co.Design. "It was a cultural shift for the company, moving away from what people had been more used to—the content, the DIY, craftsy feel of Pinterest to the platform of Pinterest. That was something that the architecture was also trying to achieve."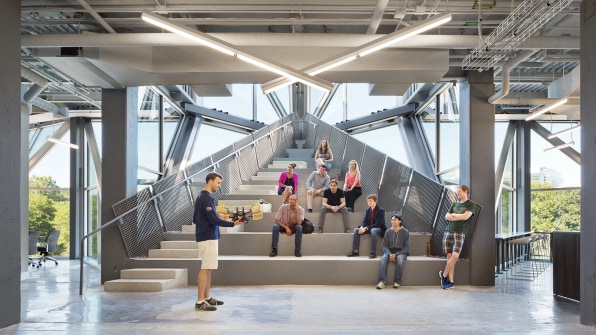 A Building Engineered For Innovation
Is innovation something that can be designed? The architects at HWKN, the firm behind the Pennovation Center at the University of Pennsylvania, think so. By constructing the space to foster social interaction (the idea being that innovative ideas happen when people who normally wouldn't talk put their heads together), retaining a raw aesthetic, and adding hyper-modern interventions into an old building, HWKN's principal Matthias Hollwich thinks he achieved success. "If you have to drill into the wall, be my guest and do it," he says. "The architecture needs to be raw and solid so manipulations can be done without hesitation. Idea creation needs to overrule architectural preciousness."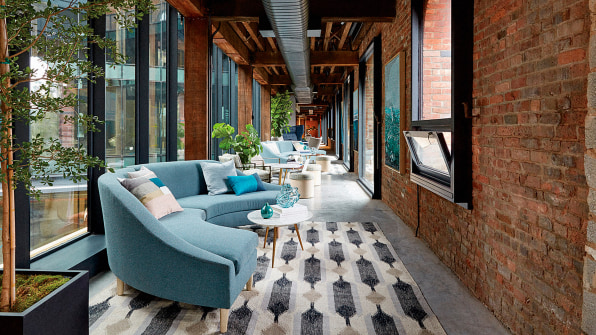 A Showcase For Artisan Craft
West Elm started as a home design retailer, but in the years since it's evolved into a hotelier, a contract furniture company, and a champion of independent design and artisan craft. The latter two traits have helped distinguish the brand in the marketplace, and it proudly displays the fruits of those collaborations in its new DUMBO, New York, headquarters. Peter Fowler, VP of workspace and hospitality at West Elm, puts it succinctly: "People are looking to move away from commoditized, white, techy products in offices."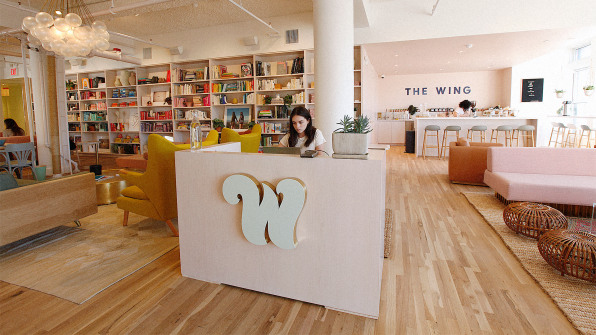 A Workspace Where No Boys Are Allowed
The Wing–part social club, part coworking space–opened this autumn in an area of Manhattan formerly known as Ladies' Mile. Decked out in pastel furniture, festooned with whimsical wallpaper, and branded by Pentagram, the space seeks to bring back women's clubs, which were popular in the early 20th century. "Being feminine is not what the Wing is about and it's not what the design is about either," Oberman says. "The design is about strength and language and humor and diversity."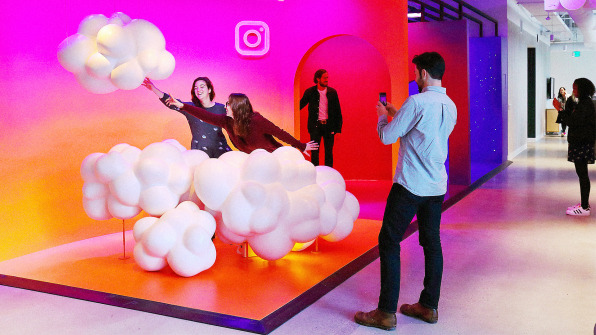 Instagram's Camera-Ready Office
Inside Instagram's new Menlo Park, California, office, you'll find desks and conference rooms, but you'll also find meticulously thought-out sets prime for picture taking. And just like the app unveiled prismatic new branding in 2016, the space shares the rainbow connection. The architecture firm Gensler wanted it to feel like a 3D version of the app. "Offline, that translated into different textures, bright colors, and lighting," Instagram's head of design Ian Spalter told Co.Design.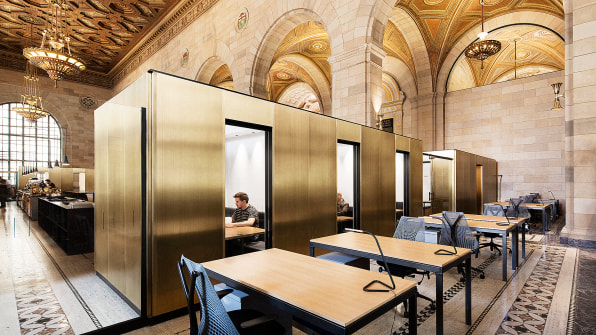 To The Vault!
"I think what's important for aging architecture is to bring it to life by having a new function," says Henri Cleinge, the architect behind a new Montreal coworking space called the Crew. "It's important not to treat the existing as if it were a museum." The Crew is located in a 1927 bank, and, in renovating the space, Cleinge treated workspaces and conference rooms as gilded boxes within the historic shell, preserving the bank's grandeur while offering privacy.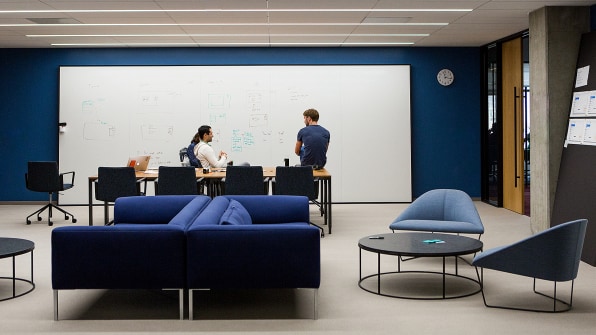 Dropbox's Split Personalities
When Dropbox interviewed its employees about what they wanted from a new office in San Francisco, the company discovered that they wanted spaces that reflected the different ways they work throughout the day. Dropbox took heed. Done in collaboration with Rapt Studio, the resulting space has a room for every mood, ranging from unadorned concentration spaces to rooms inspired by the interiors of Italian opera houses. "It's not about the things you fill a room with, whether that's marble, or antiques, or whatever," Glara Ahn, Dropbox's spaces design lead, told Co.Design. "It's about the human who is going to be there, and where they find their happiness."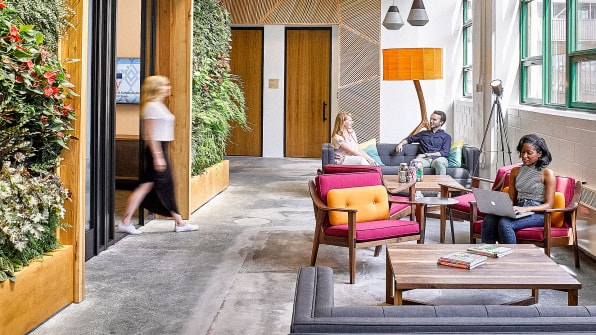 A Beautiful Office With Serious Design Cred
Etsy's splashy new home in DUMBO aims to open people's eyes to more inventive—and environmentally friendly—design. To construct the space, the architecture firm Gensler adhered to the Living Building Challenge, one of the strictest sets of green building guidelines. The hope is that the office will inspire those who walk inside to see how gorgeous green design can be. "We can have greater impact in a ripple effect," architect Amanda Carroll told Co.Design.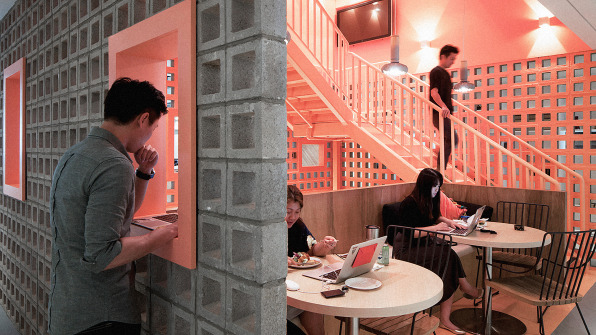 Think Locally, Do Business Globally
Though Airbnb has morphed into a global powerhouse, the core proposition is a business built around the relationship between guests and hosts, and a very localized experience that travelers won't get at a corporate hotel. Riffing on that notion, the company hired local designers to tap into the vernacular for each of its new offices. We're partial to São Paulo's, which riffs on the work of Brazilian landscape architect Roberto Burle Marx.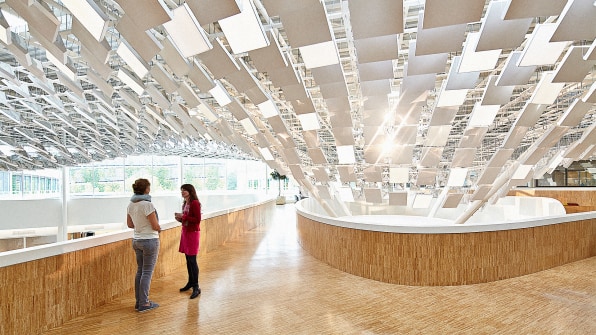 A Bright Idea For Boosting Productivity
The lighting company Philips has its headquarters in a 1950s industrial building in Eindhoven. The irony is that it was kind of dim inside. To brighten up the space, and offer some acoustic insulation, the company constructed an ethereal, sculptural canopy.
Read more Co.Design highlights from 2016:
The Worst Design Of 2016 Was Also The Most Effective
The Best And Worst Branding Of 2016
The Best And Worst User Interfaces Of 2016
The Most Inspiring Interior Design Of 2016
The Year Dark Patterns Won
The Year's Most Optimistic Architecture
All The Ways AI Didn't Revolutionize Our Lives In 2016
5 Photo Essays That Captured Our Changing Planet In 2016
Explore 14 Hidden Worlds, From Porn Sets To Religious Trade Shows
Designers: 2017 Is The Year To Find Your Purpose