The majority of CEOs in charge of over 200 of the country's largest foundations don't think their industry is making a significant difference in the world, according to a new report by the Center for Effective Philanthropy. Why are they still going to work each day? Most still think significant progress is possible.
That's a hard realization considering the gap between current reality and future potential means those most in need of philanthropic aid may not be receiving it in a truly meaningful way. In other words, a lack of strong leadership may be leaving people needlessly sick, suffering, or in a position where their rights are violated.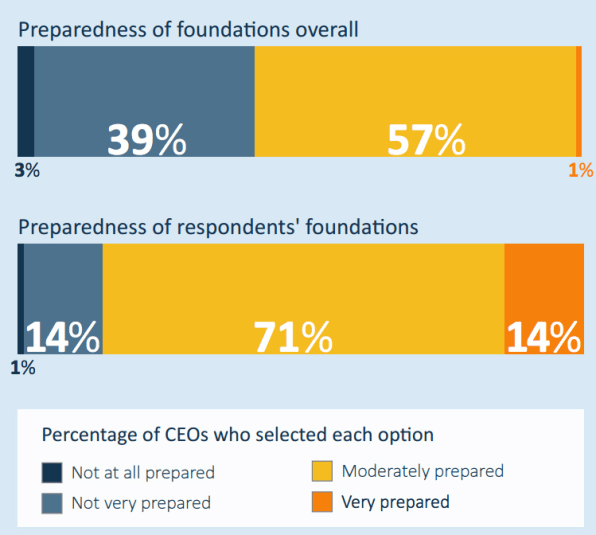 This is the knock that's existed for a long time about foundations, many of which spend only a sliver of their endowments on arguably safe ways to continue to exist in perpetuity. "My view is that foundation leaders actually may be underestimating the ways in which they have contributed to change on key issues," says Center for Effective Foundation president Phil Buchanan, who hedges that statement immediately: "Historically, foundations have not done as well as anyone would want them to. Both things are true."
Cue the excuses: "We have too many focus areas, creating shallow knowledge in these areas and too much division of our resources," one leader says anonymously in the report. "We still have a passive 'grantmaking' culture and not enough of a 'whatever it takes' mindset," adds another.
Technically, the report is called "The Future of Foundation Philanthropy." It goes on to point out three main cause areas that leaders seem most concerned about: wealth and inequality, climate change and the environment, and education. At that same time, the CEOs say there are three main roadblocks stalling the progress at large: "internal challenges . . . the external context of the work . . . and a lack of collaboration." (Basically, everything.)
Now cue the finger pointing: While nearly 60% of respondents say that foundations will need to change by a large extent to tackle them, only around 15% consider that very likely. Why? Most viewed the industry as a whole as less prepared for change than their own operations.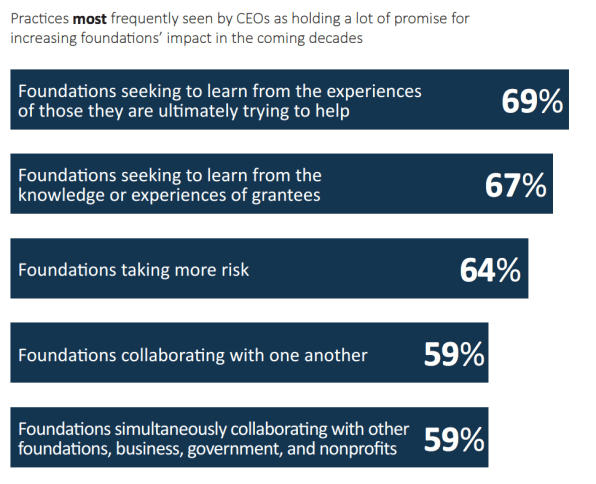 What's equally surprising is that these group leaders don't think the sector really needs to switch tactics to be effective. There's not call to embrace, say, impact investing or becoming a limited-life agency in order to spend down more of those endowments. Instead, the CEOs think that everyone should be doing better at listening to grantees, taking more programmatic risks, and collaborating with each other. "One of the most surprising findings was when we asked CEOs [about] the biggest barriers to making progress in their work, most of those barriers were under their control to change," says Ellie Buteau, the lead author of the report.
Admitting that might be an issue: While it wasn't a survey question, most respondents shared concerns about the each other's lack of humility. (It's hard to think you're doing things wrong because grantees don't often talk back to those in charge of the money.) For his part, Buchanan is trying to remain hopeful. "You can look at it two ways. 'Why don't they do these things, for crying out loud?' which I think is a fair point. The other point is they're looking hard at themselves and saying 'We can do better.' In my view that's better than being complacent."
Larry Kramer, the president of the William and Flora Hewlett Foundation, which commissioned the report, echoes Buchanan's initial assertion. He thinks that the industry generally overestimates what it should be accomplishing, which leads to an underestimation of its overall value. "There is a general low-grade self-loathing that runs through philanthropy that I'm not sure is warranted," Kramer says.
After all, the sector itself exists to address the sort of large, weighty and complex problems that governments and businesses may not be willing or equipped to handle. Doing that takes time. "Plenty of change has been happening and will continue. Once you adjust for what should reasonably be expected, philanthropy does a pretty good job in my view," he adds.
This could explain why head honchos tend to see others and not themselves as the problem. Simply put, leaders know pretty well what hurdles are slowing progress and probably try hard to plan around them. Without that inside view of other groups, everyone else may just seem ineffective and plodding.