It's been nearly a decade since Ragstock's Chicago-based store manager and buyer asked the company to send over any holiday sweaters they came across.
After all, it wasn't uncommon to find the sometimes comically ugly apparel—typically hand-knit by relatives, decorated with holiday paraphernalia, and given as gifts—passing through the new and vintage clothing chain's sorting facilities.
"He had some customers asking for them, so we put a rack in his store, which sold out almost immediately," says Libby Finn, president of the Minneapolis-based company. "From there we started saving all of those holiday sweaters year-round."
Today, Ragstock sells holiday sweaters at all 34 of its locations across the Midwest, and through its online store dedicated entirely to the holiday sweaters, thesweaterstore.com.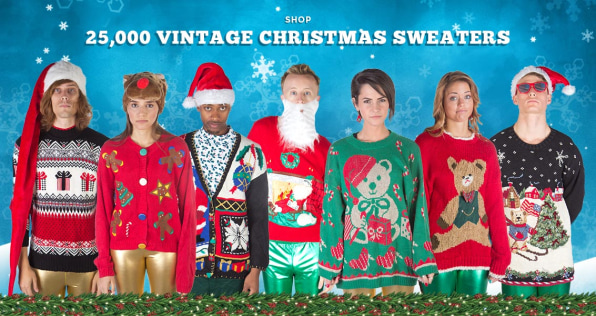 "It just continued to grow and grow and grow, and eventually we got to where we are now, which is completely mainstream. You can get these sweaters everywhere," she says, adding that traffic to the website directly from searches for or related to "ugly sweaters" grew by 200% between 2012 and 2015.
Once a seasonal, handmade product that was either found wrapped under a Christmas tree or at the bottom of a vintage clothing bin, today ugly holiday sweaters have morphed from cottage industry to seasonal industry to a year-round enterprise potentially worth millions of dollars.
Online retailers now spend 10 months of the year gearing up for ugly holiday sweater season, while major retailers across the country, such as Macy's, Target, and Walmart, dedicate large portions of prime rack space to the annual holiday trend. Competition has even begun spurning innovation, with 2016 seeing the creation of a number of new tech tools dedicated to ugly holiday sweaters.
Ragstock, for their part, has been hard at work since last holiday season developing a Tinder-like app to help customer's swipe through thesweaterstore.com's more than 25,000 unique designs. "We really started working on The Swipe-a-Sweater app after Christmas last year when we realized this business is huge and everyone is in on it, and we had to find a way to stand out from the crowd," says Finn. "It takes a lot of preparation and planning year-round, even for what seems like a small window of a season."
And competition has only gotten more intense in recent years.
"We knew this year would be a huge transition," says Fred Hajjar, who cofounded UglyChristmasSweater.com with his brother Mark in 2012. "We found out that Target and Walmart were doubling to tripling their seasonal ugly Christmas sweater inventory, and then you've got Kohl's, Macy's, Sears, and JCPenny all jumping on the bandwagon too."
The Hajjars have been gearing up for holiday sweater season since February of last year in hopes of standing out among a growing field of competitors. While their business has traditionally relied on strong search engine optimization, which lands the site among the top two positions for Google searches related to "ugly Christmas sweaters," they now pursue a more robust marketing strategy.
"We're doing search engine optimization all year round, we're always getting new products, checking out what our competitors are doing, creating social media buzz, and based on that figuring out a plan to put in place," says Hajjar. "The biggest thing we did this year was the customizer, which is basically software that allows you to make your own fully custom fully knit sweater within a week's time."
Though it may seem outlandish to dedicate 10 months and 45 staff members to such a seasonal industry, that brief selling window represents a major financial opportunity for the company, which was launched in a college dorm room.
In 2014 Hajjar told Fast Company that UglyChristmasSweater.com had raked in $3.5 million that year. He now adds that the site's earnings grew to $4.8 million in 2015. "This year we're projecting five to five and a half [million dollars in sales]," he says.
Perhaps the greatest testament to how big the ugly holiday sweater market has become are the number of celebrities and entertainment brands selling their own designs.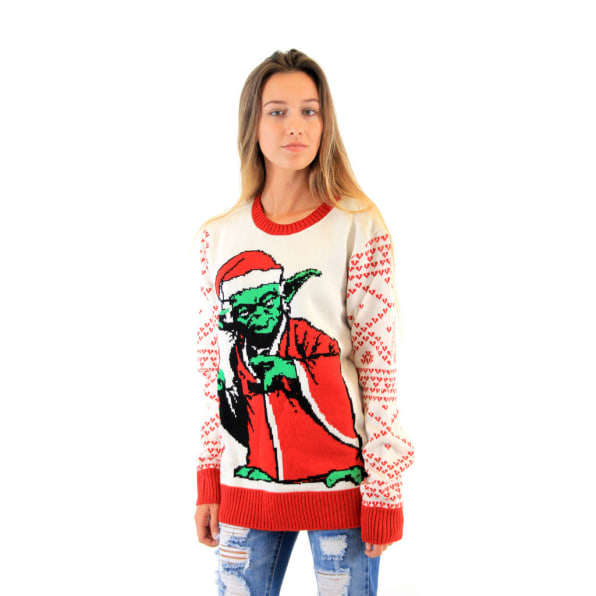 Icons like Britney Spears and Beyoncé now sell their own holiday-themed apparel, while Star Wars, Marvel, Disney, and other characters have been licensed for use on holiday sweaters. You can even find official team logos, athlete names, and numbers knitted onto "ugly sweaters" designed by all four major American sports franchises—the NFL, NBA, NHL, and MLB.
Whether you're a fan of The Big Lebowski, Looney Toons, or Guns N' Roses, there is a licensed holiday sweater for every taste.
"At Lord & Taylor, we've embraced the ugly sweater trend and expanded our assortment this holiday season by partnering with Whoopi Goldberg on an exclusive limited-edition capsule collection," says Stephanie Solomon, vice president and fashion director of Lord & Taylor. "There are so many ways you can incorporate these whimsical designs into your wardrobe, and we certainly feel this ugly sweater trend will continue to be popular for holiday seasons to come."
Solomon isn't the only one that believes the annual tradition has evolved from a temporary fad to a fashion staple. Hajjar admits that if you had asked him 12 months ago how many more years he would continue to make millions selling ugly holiday sweaters, "I would have said this is only going to last three to five more years," he admits, adding that his answer has since changed. "It's just getting so much traction with corporations and ugly Christmas sweater parties all over the place, I don't see it ever stopping."