In the new two-Kleenex drama, All We Had, Katie Holmes plays a single mother making her way in the world. It's a role she knows in and out, thanks to the stringent demands of her director: herself.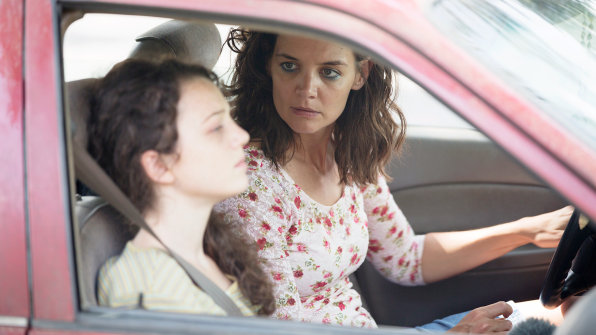 The veteran actor's debut as a filmmaker is about an alcohol-abusing nomad and her precocious daughter, who are struggling to build a life together while the financial crisis of 2008 looms overhead. Although Holmes's connection to the character clearly shines through in her performance, it wasn't any personal experience that drove her to direct All We Had, which is now available on iTunes.
"I chose this project not because I'm a mom," she says. "I chose it because I felt like this story had value in the way that these characters treat each other and the way that they learn from their experiences and carry on. I thought that was something special and valuable to put out in the world."
Holmes has kept a relatively low-profile recently, appearing in occasional films like The Giver and, well, the Adam Sandler gender-bender Jack and Jill. For at least the past 10 years, though, she's been quietly working toward a leap into directing. Prior to All We Had, her biggest step toward this goal was the ESPN 30 for 30 entry, Eternal Princess, which she directed in 2015. The short documentary followed the life of Olympic gymnast Nadia Comaneci.
"I felt like [making Eternal Princess] gave me some confidence," Holmes says. "Just the process of telling that story and crafting it and editing; picking the music, finding a poetry in that. It all gave me confidence to try a narrative and the size of this story felt doable to me for a first-time feature."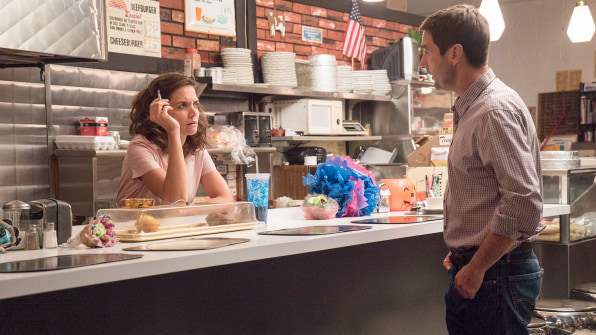 As Holmes became more convinced it was time to direct her first film, she sat down with the book department at ICM, her talent agency, and worked her way through a towering pile of books she could potentially option. Of all the available offerings, the one that truly spoke to her was the 2014 novel, All We Had, by Anne Weatherwax. She fell in love with all the characters, but especially the unconventional mother-daughter relationship that forms the heart of the book.
"It isn't a traditional mother-daughter relationship," Holmes says. "Sometimes Rita's the daughter and Ruthie's the mom. And I liked that these characters are going through some very hard things but there's a resilience to them and a quality of humanity."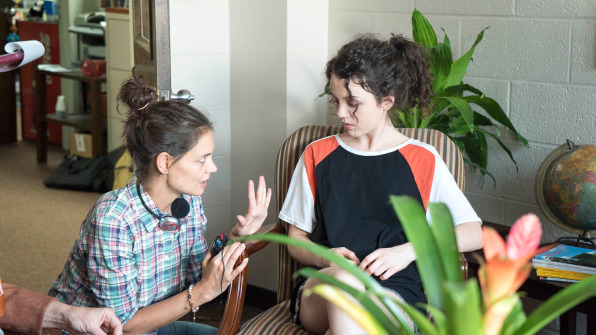 To flesh out these characters' humanity and add depth, Holmes had to get the details just right. As an actor, she had to decide how her character would put on lipstick while driving, how she would walk when intoxicated, and how to fix her eyes into a desperate plea. As a director, she had to make these kinds of decisions for everyone else. She chose a crack team of production and wardrobe designers, to ensure that the trailers looked authentically crappy and that Rita's zip-up jean dress looked believably Walmart-worthy. She also spent a lot of time with her cast and crew prepping prior to the traditional four-week prep. She held screenings of films like Panic in Needle Park for wardrobe inspiration, and she also screened John Cassavetes's Woman Under the Influence and Peter Bogdanovich's Paper Moon, to spur discussions on how to approach performances.
The long prep time is something Holmes picked up from some of her favorite acting experiences. When she starred in the Broadway production of Arthur Miller's All My Sons, director Simon McBurney insisted on eight weeks of rehearsal time. Like a lot of her fellow actors who have made the leap to directing, Holmes credits the experience of learning from great directors on set over the years as indispensable training. One of the ones she especially wanted to emulate was Pieces of April director, Peter Hedges.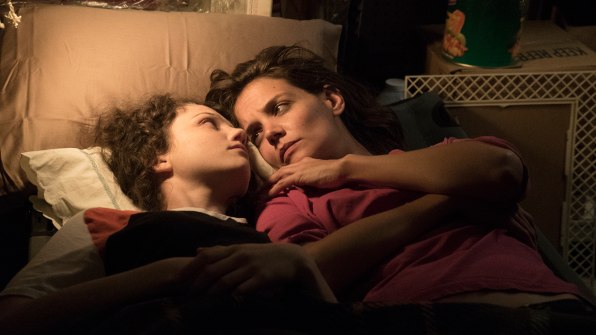 "The environment on the set of Pieces of April was very calm and he was right there in front of us with the camera while we were performing, and you felt supported and valued and it felt really good," Holmes says. "I just felt, 'Oh, these people are getting the best out of me', and I wanted to create that with All We Had. I wanted to be as prepared as possible and be as available to have a calm set. I wanted my actors to feel supported."
As much as she supported her fellow actors, though, Holmes also made it a point to support her lead character—by not judging her. Some of Rita's parenting decisions in the film are questionable at best, but through performance and control of tone, Holmes never robs her of empathy. Instead, she finds her character's humanity and uses it to help the audience understand Rita's choices. It's something she's learned to do over the course of her career—although her personal life can't help but play a part as well.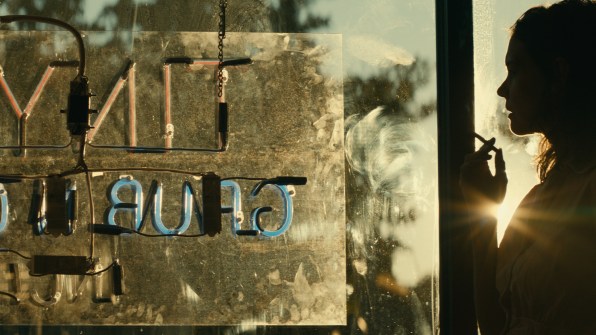 "My experience as a mom has informed so many of my decisions as a human being, but these two characters were so specific to this time, to this journey, that once you sort of give in to the role, it's really its own thing," Holmes says. "You walk into it saying 'I know how to be a mom, I'm a mom.' But then you're on set and it becomes something else. It has to. It becomes its own organism."