If you want to peer into the future of Amazon, don't stop with the Echo connected speaker.
Instead, consider all the other devices Amazon wants to imbue with Alexa voice controls, from thermostats and light bulbs to smart TVs and connected cars. The goal, presumably, is to make Amazon's virtual assistant ubiquitous, even when there's no Amazon hardware in sight.
But so far, that vision has been slow to materialize. Although Amazon first announced Alexa's availability for third-party devices in mid-2015, you can count on one hand the number of products that take advantage–including an intercom, a smartwatch, and a jumbo-size tablet. (GE also just announced an Alexa-enabled desk lamp, available next year.)
Even for the devices that have arrived, hardware makers haven't received much guidance on the challenging task of supporting Alexa voice commands from across the room–rather than by making users push a button on the device–so for the most part they haven't bothered. And Alexa is a much less compelling experience if it isn't hands-free.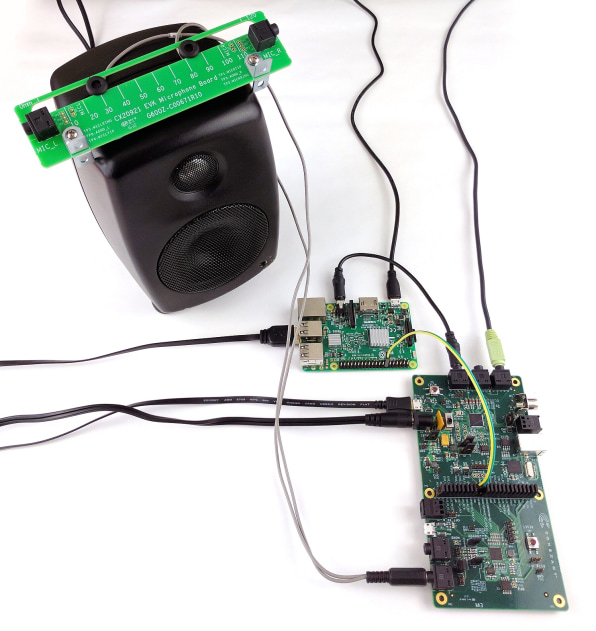 All this could change now that Amazon is partnering with Conexant, a maker of voice processor chips and software, on a development kit for Alexa devices. By hooking up a Raspberry Pi mini-computer with one of Conexant's dual-microphone kits, hardware makers can start prototyping Alexa-ready gadgets in a matter of days, rather than months, and they won't have to figure out the tricky technology of far-field voice recognition on their own.
"In the past, there were disparate components that [engineers] had to put together to determine what the right audio front-end was for them to connect to Alexa," says Priya Abani, the director of Amazon's Alexa Voice Service program. "This basically will make it easier for device manufacturers to enter Alexa into their products, by providing a good-quality, cost-effective reference solution."
The voice processor inside the Alexa developer kit has been available for about a year, but Conexant president Saleel Awsare says the company has now fine-tuned the microphone placement and voice recognition algorithms for Alexa, which should help separate voice commands from music and background noise.
Conexant is also working with Amazon on a certification program to ensure that products meet Amazon's voice recognition accuracy standards, and is setting up a process for hardware makers to turn their prototypes into commercial products. The details are still a bit murky, but Awsare expects that we'll start seeing a lot more Alexa-enabled product announcements in the next few months.
"It's the first step of a multi-step process, but having an Amazon-certified, two-microphone, hands-free kit available for the market is huge. It's a game-changer," he says.
That's not to say Conexant's development kit will address all potential Alexa products. Awsare says it's mainly aimed at devices that connect to outlet power–think smart home hubs, high-quality speakers, and connected appliances–rather than battery-powered devices such as smartwatches and portable Bluetooth speakers.
"We have a different product offering, and we won't go into it today, for a very low-power application," Awsare says. "That is something you will see–maybe for Alexa–in the next six months or so."
Amazon is also working on other ways to speed Alexa's adoption. Last week, the company announced a partnership with Intel on a smart speaker reference design, which can also include various radios for controlling other smart home devices. The two companies are still ironing out the details, but Abani says the goal overall is to make sure hardware makers have a path to market regardless of whose chips they decide to use.
"For us, the magic is to offer this portfolio, so that when other [device makers] decide to add Alexa to their device, it should not be for the lack of Amazon working with that partner that they were not able to do that," she says.
Amazon isn't alone in its pursuit of hands-free voice assistant ubiquity. Google has also been talking to hardware makers about integrating its own Assistant tech into more devices, following last month's launch of the Google Home connected speaker. But as we're seeing now with Alexa, that hardware can't proliferate unless there's a system in place for easy prototyping and development.
When I ask Awsare if Conexant's development kit work might eventually benefit Amazon's rivals, he says the focus is really on Alexa.
"This did not happen in a month or a week," he stresses. "We've been working together for nine months, and we are very excited as to how far [ahead] Amazon is compared to anybody else in creating this ecosystem."