When Daniel Lubetzky's father was in a concentration camp as a child during the Holocaust, a series of small acts–such as a guard secretly throwing him a potato–saved his life. The stories he heard of that experience as he was growing up inspired Lubetzky when he launched Kind Healthy Snacks, the fast-growing snack bar company, which says its added mission is promoting kindness.
"It's really driven by the recognition that we were not put on this earth to make money, but to make this world a little bit better," he says. In a new award, Kind Foundation, the company's nonprofit arm, just gave out $1.1 million to honor seven people for being kind.
Lubetzky sees this work as a way to help respond to the fear and gaps in understanding created by terrorist groups like ISIS. "We cannot win against an ideology just with military force, we need to offer a counter-ideology," he says. "The antidote is an ideology of kindness, an ideology of empathy, an ideology that helps us one little piece at a time discover each other's humanity."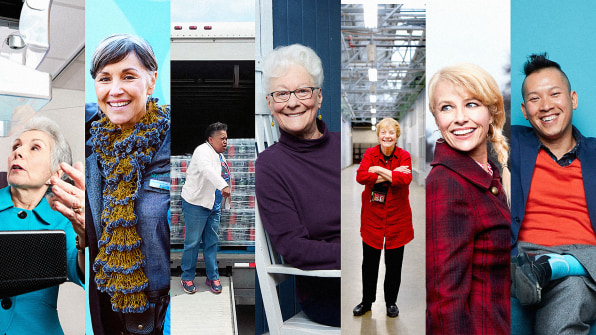 Doniece Sandoval, founder of Lava Mae, an organization that brings mobile showers to homeless people in San Francisco, won the "Kind People" grand prize of $500,000.
"It will help us fuel our ability to design and create a toolkit–sort of mobile showers in a box–that we can make available for people absolutely free, so that they can create this in their communities," says Sandoval, who has received more than 1,000 requests from other cities to recreate similar programs.
Six others won $100,000 prizes.
Jo Dee Davis, who began volunteering at an Ohio prison 16 years ago, founded an organization called Healing Broken Circles, which helps inmates heal and outside communities better understand the justice system. She helped launch art programs, education and training for reentry, and the first TEDx series in a prison,
Lam Ho is using his Harvard Law degree to help underserved communities in Chicago. His organization, the Community Activism Law Alliance, works with undocumented immigrants, day laborers, sex workers, and others who often aren't reached by traditional legal aid clinics. The organization partners with other nonprofits in the lowest-income neighborhoods.
When the City of Detroit started shutting the water at up to 900 homes a day in 2014 because people were behind on their bills, Monica Lewis-Patrick started organizing. Lewis-Patrick, one of the co-founders of a grassroots organization called We the People of Detroit, has fought for everything from voting rights and workers rights to resisting the mayoral takeover of schools. She testified at the U.N., which concluded the water shutoffs were a violation of human rights, and helped establish emergency water stations.
Sandra Goldberg, a breast cancer survivor, founded A Silver Lining Foundation to help other women with the disease. She helps fund breast screenings, biopsies, and educational workshops for uninsured and underinsured women.
When school ended for the summer in her rural Washington hometown, Phyllis Shaughnessy, age 75, started hand-delivering lunches to low-income students in the area who rely on free lunches at school to have enough food during the rest of the year. For 11 years, a U.S.D.A. grant helped fund her work, but when the grant changed in 2014 to require the meals to be served in a single location, she got a caterer's license and started packing meals herself. Her organization is called Green Lantern Lunches.
Jodi Rae Ingstad, who works at a nursing home during the day, calls herself a "joyologist." In her off-hours, she volunteers with the homeless, the elderly, and families in need in her rural North Dakota community.
Read more about the winners here.